Welcome to my Solitaire Kings app review!
I bet you already played a patience game either on your smartphone or on your pre-historic Windows 95.
Well, I played it countless times during my lifetime, but only because I wanted to kill time and boredom!
Now, lots of people are installing Solitaire Kings because it has been advertised as an opportunity to win hundreds of dollars.
The developer awards virtual cash just for arranging the cards in sequence from ace through the king.
Also, he uses PayPal and Amazon logo to make players believe they can eventually withdraw the money using both platforms.
The million dollars question is: Does it really pay? Is Solitaire Kings a real or fake money app? Keep reading to find out!
Before you leave this page, find out my top-rated gpt site! Members are making 200 USD on the side by completing simple tasks such as app offers and surveys. Withdraw the money easily via PayPal or gift cards. Click here for full details. 
Solitaire Kings App Review
Full Name: Solitaire Kings (Early Access)
Developer: Linquat
Eligibility: Worldwide
Price: Free (no in-app purchases)
Overall Rating: 

1/5
What is Solitaire Kings?
Solitaire Kings is another classic patience game trying to make people believe they can win easy money 100% risk-free.
There is no information about the individual or company that operates this application.
The only thing we know is their email and the fact that they operate other money games, including this popular number merge game.
During the past few years, I've tested and reviewed lots of similar games such as Solitaire Jackpot, Cash Solitaire, and Super Wow Solitaire.
Unfortunately, none of them provide real cash rewards for those who reach the cashout limit!
How Does Solitaire Kings Work? 
Games like Solitaire Kings make profits by showing video ads while you are playing.
By offering virtual cash, the developer persuades more people to play for longer and, therefore, maximize revenue.
Installation and Permissions
Solitaire Kings can be played immediately after you install the app on Google Play.
Be aware the developer will have unrestricted access photos, media and files on your phone as stated in the permissions section on Google Play.
They do provide a Privacy Policy, but it's brief and most likely doesn't comply with regulations in many developed countries.

So, if you care about your data and privacy, better stay on the safe side and avoid Solitaire Kings.
How To Play Solitaire Kings? 
If you are not familiar with Solitaire games, the first thing you should know is that cards are ranked from high (Ace) to low (King).
Here is the correct sequence:
A, 2, 3, 4, 5, 6, 7, 8, 9, 10, J, Q, K.
The goal is to build up four piles of cards containing the following suits: spades (♠), diamonds (♦), clubs (♣) and hearts (♥).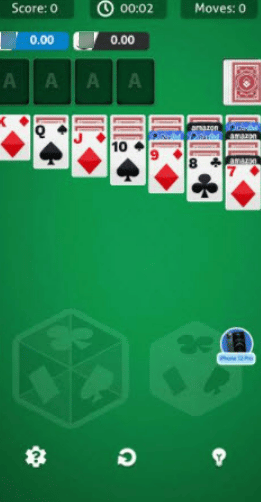 You can accomplish this goal and win the game by rearranging the face-up cards in the tableau. You must lay them out in the right order and alternate between black and red. 
If you feel stuck, you can tap the light bulb to get a hint.
Occasionally, you may find cards with the PayPal and Amazon logo in the tableau.
Once you uncover those cards, Solitaire Kings will give you a specific amount of virtual cash if you tap "get" and watch the ad.
More rewards will be offered when you move an Ace to the pile or when you win the solitaire.
The cash will be added into two separate balances depending on whether it comes as "PayPal" or "Amazon".
How Do You Get Paid? 
You can supposedly cash out once you reach $1000 and $800, respectively. Solitaire Kings doesn't mention how long it takes to receive the money or gift card. But as you will see later on, it doesn't really matter!

Win an iPhone 12 Pro 
As if cash prizes were not good enough to attract a significant audience, Solitaire Kings also claims you can redeem the sought-after iPhone 12.
It says you need to complete 88 levels and watch 300 videos to win the apple product worth $1499.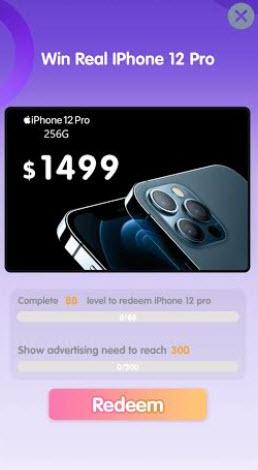 Is Solitaire Kings Legit? Does it Pay?
No, Solitaire Kings does not give away cash or iPhones even if you fulfil all their requirements.
By launching the app on "Early Access", the developer prevents users from publishing reviews on Google Play. So, you cannot read what others are saying about the application!
If they can avoid people spreading the bad words and saying how they regret playing Solitaire Kings, they will surely do!
But make no mistake. It's impossible to make real money when the game developer is suggesting player can win hundreds and even thoughts of dollars.

This reward platform is going viral! Cash out via PayPal, Visa, Gift Cards, and in-game currencies - Click here to find out how to generate an extra $10+ per day! 
You should not take this seriously since the earning potential is very unrealistic. 
There are two likely outcomes here: Solitaire Kings will either stop giving cash rewards before you reach the payout threshold or they will simply ignore your payment request. The same applies to the iPhone 12 prize.

If you want to make real money and make sure you get paid for your time, check out my Prizerebel review. 
Is There an Alternative to Solitaire Kings? 
If you want to play a free solitaire game that actually pay, try Bitcoin Solitaire. The company transfer BTC to your Coinbase wallet within just a few minutes.
The problem is that rewards are extremely low. In fact, it doesn't even pay for the data you spend watching video ads.
Another legitimate option is Solitaire by WINR Games. This Canadian company allows you to enter prize draws for a chance to win big cash prizes.
The chances of winning are significantly low, but if you don't want to waste your tickets, you can exchange them for cash and withdraw via PayPal.
Conclusion 
Don't play any Android or iOS game with the expectation of transferring hundreds of dollars to your PayPal account.
That's an illusion to lure people into playing a non-original game and watching a ton of ads that only benefit the developer.
Those virtual dollars have no currency value and besides, Solitaire Kings has no obligation to pay anyone.
Verdict: Not Recommended 
Final Words
Thanks for reading my Solitaire Kings app review! I hope it helps to raise awareness and save your time. If you want to share thoughts on this game or would like to suggest another application, please leave us a comment below.
Peace!