Welcome to my Super Onet Party app review!
In today's post, I will dissect another casual "money" game developed by Win Win easygame2020.
With Super Onet Party, you earn virtual dollars by destroying blocks with the same images. Then, you can supposedly cash out via PayPal and Amazon gift cards once you the countdown ends.
The possibility of earning hundreds of dollars quickly seems too good to be true, even for the developer himself.
So, will Super Onet Party reward you for all the time you spend playing and watching video ads? Is it legit or Fake? Keep reading to avoid regrets!
Before you leave, check out the step-by-step program that helped me build an affiliate site and quit my job in 2019. It's free to join, and you don't need any previous experience.
.
Super Onet Party App Review
Full Name: Super Onet Party (Early Access)
Developer: Win Win easygame2020
Eligibility: Worldwide
Price: Free (no in-app purchases)
Overall Rating:

 1/5
What is Super Onet Party? 
Super Onet Party is a mobile game where you tap two same images to connect and eliminate the blocks.
As you play it, you will collect cash coupons that can be redeemed via PayPal or Amazon gift cards. They also claim to give you the new iPhone 12 worth $1499 if you pass 300 levels.
According to the app description on Google Play, Super Onet Party has thousands of levels. So, it gives you the impression you can get rich just by matching images.
The app is almost identical to Royal Onet, which provides the same gameplay and reward system. The only difference is in the images.
How Does Super Onet Party Work? 
Installation and Permissions
Super Onet Party is only available on Google Play for Android devices.
Once the app is installed on your phone or tablet, you automatically grant access to your files, such as photos, videos, and documents.
What's worrying is that the company can read, modify and even delete your files. Therefore, you should think twice before installing this application if you care about your data and privacy.
How to Play Super Onet Party?
Just tap two blocks with the same images to connect and eliminate them. You need to be strategic because the connection should not run over another block.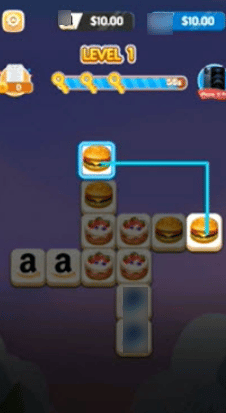 The goal is to destroy all the tiles and complete the level before within 60 seconds. Once you finish, you will collect up to 3 keys depending on how fast you clear the stage.
You can use the keys to open chests and collect either PayPal or Amazon dollars. But of course, you must always tap the "Get" button and watch the advertising to claim your reward.
By opening only 4 chests, you will get $50!

Some bocks display the PayPal or Amazon logo. Super Onet Party will offer you more virtual dollars once you connect and destroy them.
Use the tools to make faster progress in the game.
Bombs: eliminate all the blocks with the same images.
Refresh: chance the block arrangement.
Hammer: destroy two same blocks regardless of their location.
How Do You Get Paid? 
Super Onet Party claims that all the money you collect within 24 hours can be redeemed to Amazon or PayPal.
You must fill in your email address and wait for the countdown to end. However, you can cash out immediately once your balance reaches $1,000. Well, that's what they say!
As I mentioned, Super Onet Party also entices players with the new iPhone 12 Pro. You must complete 300 levels to be able to redeem this expensive Apple Product.
Is Royal Onet Legit? Does it Pay? 
Super Onet Party says you can cash out all the money within 24 hours. However, once the time is up, they will tell you that the payment is processing and will complete in 108+ hours.
Now, you can reduce the review time by 30 seconds by watching a video ad, but will you receive the money?
No, you won't! The company will not pay you a single penny regardless of how long you play. The prizes are completely fake!  
They are basically luring people into watching more ads with the expectation to cash out. However, there is no commitment to reward players who complete all the requirements.
It's essential to understand the developer cannot pay you hundreds of dollars because he relies solely on ads that earn him just a few cents per view. 

Yes, it would be possible to give rewards, but only to a few people through regular sweepstakes. There are many apps that organize legitimate giveaways, but that's not the case with Super Onet Party.
Conclusion 
Don't waste your time playing Super Onet Party unless that's exactly what you want. The developer is just trying to maximize his profits by getting people to play for longer with the expectation of winning real money.
The game says you can redeem all the money after 24 hours, but that doesn't mean the money will be transferred immediately thereafter.
After the time is up, you will have to wait for over 10o hours to receive the payment unless you watch videos to reduce the waiting time.

This reward platform is going viral! Cash out via PayPal, Visa, Gift Cards, and in-game currencies - Click here to find out how to generate an extra $10+ per day! 
Unfortunately, you will never get paid a dime because this is not a sweepstakes app, and the developer cannot afford to pay everyone.
I think people should avoid installing these "money" games even if they just want to play for fun. The reason is that there is always another similar game that doesn't interrupt you with fake cash and misleading ads.

Verdict: Not Recommended
Earn a Full-Time Income Online
If you wish to earn an extra income online or even earn enough to pay for all your living expenses, I suggest you grow an online business.
In 2015, I built a website that attracts thousands of visitors daily and earns me over $1,700 per month. I write content and help answer people's questions about mobile applications.
However, there are many other profitable niches you can tap into! This excellent step-by-step training will show you how to turn your passions and interests into a lucrative internet business.
Click here to learn more about the program and my personal experience with it!
Final Words
Thank you for reading my Super Onet Party app review. I hope it was informative enough! So, did you wait for the payment? Leave us your testimonial in the comment box below!
Peace!