Welcome to my Word Master app review!
I just came cross an advertising about a crossword puzzle game that supposedly pays hundreds of dollars. 
The video ad was showing a girl with stacks of cash in her hands, and a PayPal account with a $300 payment made by Word Master.
Check this out!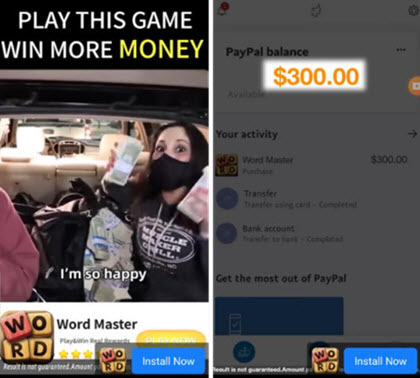 During the past 3 years, I reviewed countless games that make people believe they can win money effortlessly. All they have to do is collect enough virtual dollars to cash out.
In this review, I am going to expose this application and let you know whether it pays or not. Is Word Master legit or fake? Keep reading to find out!
Top Recommendation: Discover the step-by-step program that helped me reach $1,600 per month and quit my job in 2019. It's free to join and you don't need previous experience. 
Word Master App Review
Name: Word Master (Early Access)
Developer: phoenixbsn
Eligibility: Worldwide (18+)
Payout Threshold: N/A
Overall Rating:

1/5
What is Word Master?
Word Master is another word puzzle game where you must uncover the hidden words to collect virtual dollars.
It's great for improving your vocabulary and spelling! However, what may have attracted you to Word Master is the opportunity to make real money.
They advertise the app as an opportunity to earn hundreds of dollars withdraw via PayPal.
Word Master is only available for Android devices. There are other apps with the same name on Google Play, but the one I am reviewing here is operated by phoenixbsn.
How Does Word Master Work?
Just like most apps, Word Master is funded by advertising. So, the more you play, the more money the company earns from advertisers who are promoting their applications.
That's the main reason the developer is putting a dollar sign in front of numbers. They are luring you into playing and watching videos so you get the chance to win real money.
Permissions
Be aware that by installing Word Master on your device, you are granting permission to access your photos and files.
In my opinion, this is problematic since you are putting yourself at risk regarding data safety and privacy. You don't personally know the developer, so how can you trust he won't copy or delete important files on your phone?
How to Play Word Master? 
Just connect the letters blocks to unlock the words in the puzzle. Once you complete the level, you will receive a wallet with a specific amount of "fake" cash.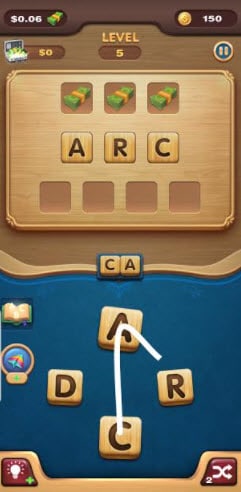 I am always earning $0.01 per level, but I have seen videos where the player makes over $10 at a time.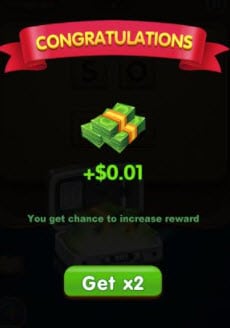 You can always increase the reward by tapping the green button and watching a video.
Sometimes, you will see cash and coin icons in the spaces. As soon as you uncover the word where they are, you will collect the rewards.
Whenever you feel stuck, use the hint tool or the paper lane to reveal letters. As expected, they will ask you to watch a video before revealing more than 3 letters.
How Do You Cash Out? 
Good question! From my experience, it's impossible to withdraw the money because the app has no cash out button.
Usually, most money games suggest you can receive the cash via PayPal after you reach the minimum payout threshold.
Well, that doesn't seem the case with Word Master because nothing happens when you tap the cash balance.
Top Recommendation: This step-by-step training helped me create this profitable site and quit my job 2 years ago. If you wish to work remotely and achieve location freedom, sign up for free and take massive action!
Is Word Master Legit? Does it Pay? 

No, it doesn't. I am confident that it's impossible to earn money from Word Master. There are two main reasons I believe it doesn't pay.
First, they don't provide any information about payments in the game. Second, I have reviewed hundreds of similar apps that don't pay a dime!
But there is more! If you check the Terms of Use, it says Cash Coupons have no monetary value. Besides, the developer may expire free coupons given to you at any time.
In short, he has no obligation to pay you, and there is nothing you can do to change his mind. Since Word Master assumes you agree with the Terms of Use, I cannot accuse them of fraud.
I agree the way they advertise the app is outrageous, but as far as I know, they haven't promised to give you any money.

This reward platform is going viral! Cash out via PayPal, Visa, Gift Cards, and in-game currencies - Click here to find out how to generate an extra $10+ per day! 
Is There an Alternative to Word Master? 
There is an incredible number of word puzzle apps on Google Play, but Word Words Words is one of the few ones that pay. 

Operated by a WINR Games, this app awards tickets that can be entered into weekly giveaways worth $3000+. The more tickets you have, the higher your chances of winning the prize.
Since the odds are against you, you can save the tickets and exchange them for cash. Once you accumulate $10, they will let you redeem via PayPal.
Check out the list of legitimate game apps here!
Conclusion 
Like any word puzzle game, Word Mater is great for killing time and improving your vocabulary.
Unfortunately, there is no evidence the developer is processing payments since he doesn't provide any cashout method.
All you get for playing and watching  clips are cash coupons worth absolutely nothing!
Avoid playing games like Word Master with the expectation to win money because most of them don't want to share the profits. They operate in another country and don't need to pay anyone!
Many people get angry and wished Google Play would ban these games. However, they are clever enough to operate freely, with no consequences.
That's why I keep spreading the message and warning my readers about them!
Final Words
Thanks for reading my Word Master app review! Have you played it? If so, how was your experience? Kindly share your thoughts in the comment box below.
Peace!