Welcome to my Moneyshot app review!
Moneyshot is another application that allows you to earn a little extra money by taking surveys and completing offers.
The developer has partnered with offerwalls and marketing research firms that provide daily opportunities.
Every time you complete a task, you will earn coins redeemable via PayPal, and gift cards from your favourite store.
I already tested and reviewed hundreds of reward sites and apps that work the same way. However, some of them are greedy enough to ignore your payment request.
So, does Moneyshot really pay? Is it a scam or legit app? In this review, I will explain exactly how it works and give you my honest opinion!
Top Recommendation: Discover the step-by-step program that helped me reach $1,600 per month and quit my job in 2019. It's free to join and you don't need previous experience. 
Moneyshot App Review
Name: Moneyshot
Developer: HOTPACE
Eligibility: Worldwide
Payout Threshold: $1
Similar apps: Earn Tap, Lucky Gift
Overall Rating:

3/5
What is Moneyshot?
Moneyshot is an Android app that gives you coins for playing games, completing surveys and sponsored offers.
You can use the coins to purchase gift cards or withdraw money to your PayPal account. The developer claims to deliver rewards to your email address within just 24 – 48 hours.
Moneyshot is owned and operated by HOTPACE, a company based in Zagreb, Croatia. It also operates another reward app called Bitfriend and three mobile games.
How Does Moneyshot Work?
Moneyshot works as a middleman between users and offer providers. Therefore, they get paid when you complete a task, and pass on a percentage of its profit in the form of coins.
The app connects you with marketing research agencies and advertisers who wish to get more exposure to their apps and products.
Installation and Registration
Moneyshot is only available on Google Play for Android devices. There is an app with the same name for iOS, but that one is a property management application.
After launching the app, sign up using your email address and choose a password. Unlike most reward sites, you don't need to confirm your email before you get access to the platform.
Calculator
Currently, 500 coins equates to approximately 1 USD. Before completing any task, I advise you to convert coins to dollars to know exactly how much money you will get.
The reason is that you want to focus on the highest paying offers and avoid those that don't pay well.

How to Earn Coins?
As I mentioned, Moneyshot connects you with 3rd party providers known as offerwalls.
There are currently 5 platforms where you can take part in marketing research studies and complete offers from advertisers. These are Adgem, AdGateMedia, Aye-T Studios, Pollfish and OfferToro.
Choose a relevant offer, read the instructions, and complete all the tasks to redeem coins. You can filter offers by "Easy Offers" and "Big Payout".
Most opportunities require that you install mobile game and achieve specific levels. So, you may have to play for a long time to get your reward.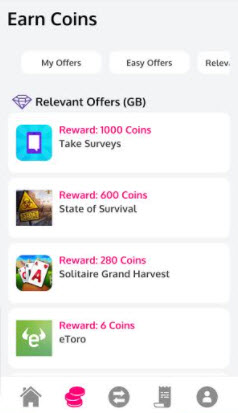 The only platform focused 100% on surveys is Pollfish. If you want to get paid for sharing your opinion with this company, you must first fill out qualification questions so they can check if you are a good match for the study.
The problem here is that you may get screened out halfway through the survey and waste a significant amount of time. Unfortunately, you won't get credited if they don't let you finish the survey.
Once you complete an offer or questionnaire, it can take up to 30 minutes to get rewarded. Moneyshot also awards chest drops that may contain random coins, PayPal money and Amazon gift cards.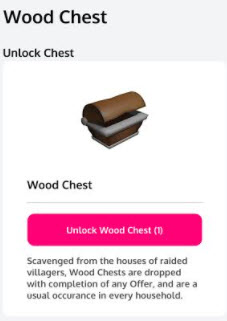 How Do You Get Paid?
Moneyshot allows you to trade your coins for cash and withdraw the money to your PayPal account. The minimum number of coins you can withdraw is just 500 ($1).
You can also use coins to purchase valuable items in the store, such as gift cards and games. The listing includes Amazon, Steam, and Google Play gift codes. For example, a 1 USD Amazon gift card costs 575 coins.
Giveaways  
If you consider yourself a lucky person, you can take part in giveaways by purchasing entries.

The price of each entry varies according to the cash reward. For example, an entry fee for the 90 USD cashout costs 50 coins.
Kudos to Moneyshot for showing the number of participants and the odds of winning each prize draw.
How Much Money Can You Earn With Moneyshot?
It's difficult to estimate the earning potential of this application since there are so many factors, including your location.
As expected, residents of first world countries usually earn more coins per offer and have more opportunities. Therefore, they can earn 3 times more than someone who lives in a developing country.

This reward platform is going viral! Cash out via PayPal, Visa, Gift Cards, and in-game currencies - Click here to find out how to generate an extra $10+ per day! 
However, even if you live in the US or the UK, you may have to spend a significant amount of time to rack up $50 – $100. You're certainly making less than half of the minimum wage!

Is Moneyshot Legit? Does it Pay?
Yes, the app is legitimate, and it does pay if you collect enough coins. However, the money or gift can may take way over 48 hours to arrive.
One user said his $1 cashout took exactly 20 days transfer to his PayPal account. That's a long time!
But there is something particularly worrying you should know before using Moneyshot. They may not give you coins even if you complete all the offer requirements.
The company replied to someone on Google Play by saying that if coins are missing, that is probably because the offer provider cancelled the reward.
In their own words:
"There is often nothing we can do about that. Moneyshot is just a middleman that knows nothing."
Conclusion 
Moneyshot is a legit reward app that pays you for completing offers and filling up surveys. Most opportunities revolve around downloading mobile games and playing until you reach certain milestones.
What I like about Moneyshot is that the minimum payout threshold is only $1. So, it doesn't take too long to cash out compared to other apps and GPT sites. 
The downside of using these applications is that you will spend a lot of time completing tasks with no payment guarantee.
To make matters worse, you don't know who is to blame for missing coins. HOTPACE claims offer providers simply refuse to pay, and there is nothing they can do about it.
My question is: How do we know if Moneyshot is playing fair with users? We will never know, since they can always blame their partners.
Earn a Full-Time Income Online
Instead of relying on greedy app developers and advertisers, I suggest you build your own online business!
Me, personally, I make a living by publishing content on my website. The page you are reading right now earns me passive income every month through advertising and affiliate marketing.
You can earn thousands of dollars if you attract a decent number of visitors to your site. This excellent step-by-step program took me by the hand and showed me exactly how to build a large audience.
Thanks to this training and support from the expert marketers, I finally made my dream of living the laptop lifestyle.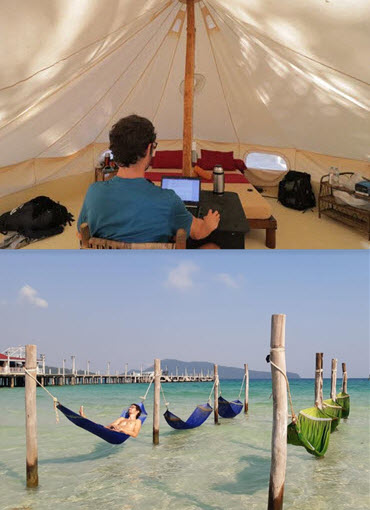 It's not complicated. Just go through the lessons and work consistently to achieve your goals!
Final Words
Thanks for reading my Moneyshot review. I hope it was helpful. If you have questions or thoughts about this application, feel free to use the comment box below.
Peace!