Welcome to my Frenzy Bubble Shooter app review!
I was browsing the play store in search for money-making opportunities when I found Frenzy Bubble Shooter.
The game is all about aiming at the bubbles of the same color and shooting to eliminate them.
It gives you virtual cash after completing each level and claims to transfer real money to PayPal when you reach $100.
There is an incredible number of apps making people believe they could win money just for playing a game or completing effortless tasks.
Unfortunately, most of them are not willing to pay anyone. They only care about making profits by bombarding you with advertising.
So, is Frenzy Bubble Shooter one of those fake money games? Does it pay or not? Keep reading to find out!
RECOMMENDED: Check out the step-by-step program that helped me build an affiliate site and quit my job in 2019. No special skills required! 
Frenzy Bubble Shooter App Review
Developer: MiniJoy Official
Eligibility: Worldwide
Payout threshold: $100
Price: Free
Overall Rating: 1/5
What is Frenzy Bubble Shooter? 
Frenzy Bubble Shooter is a bubble shooter game developer by Mini Joy Info Tech Private Limited.
I have reviewed a few other apps from this Indian company, such as this ball sorting game. They all suggest players can cash out to PayPal once they achieve a specific amount of virtual dollars.
With Frenzy Bubble Shooter, the goal is to save all the pigs before running out of bubbles.
How Does Frenzy Bubble Shooter Work?
Frenzy Bubble Shooter is available for free on Google Play. After launching the game, it will offer you $30 as a welcome bonus.
There are daily check-in bonuses of $0.50, $1, $2, $4, $8 and up to $100 for those who play for 7 consecutive days.
All you have to do is aim and shoot at the same color bubbles to eliminate them and save the pigs. I don't know why, but the developer calls them elves.
You need to save a specific number of elves on each level with a maximum of 30 bubbles. The game is over if you run out of bubbles.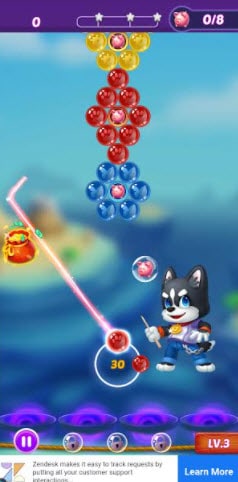 Every time you pass the level, you will receive virtual dollars, and you can always double rewards by watching a video ad.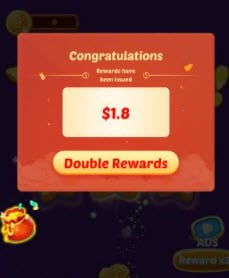 Frenzy Bubble Shooter also features scratch off cards and slot machine, so you have the chance to win more cash rewards.
>> Find out legit game apps that pay you real money! 

How Do You Cash Out? 
Tap the withdraw button located in front of your cash balance. Then, you can withdraw the money once you have at least $100 in your wallet.
There us a green button which says: "Click to speed up – 50 times left today". It doesn't explain what happens if you watch 50 videos.
Will the game offer bigger prizes so you can cash out faster? I don't think so!
Note there is a red card on the left side of the screen with the saying: Cash out $5. It also has a countdown from 146 hours and a few minutes.
If you tap this icon, you will discover you can withdraw $5 instantly when the progress bar reaches 100.
You can earn progress points by achieving specific milestones on Day 1, Day 2 and so on. For example, on Day 1, you will get 10 points once you reach level 10.
Frenzy Bubble Shooter always shows the PayPal logo next to the withdrawal button. Therefore, I suppose people can cash out via PayPal once they reach 100 before the deadline.
Is Frenzy Bubble Shooter Legit? Does it Pay? 
Everybody wish that a game like Frenzy Bubble Shooter could pay $100 or more, but that's just an illusion. You will not receive the money even if you reach $100 or complete the progress bar.
Apps that reward users always provide information about payments in the Terms of Service page. But if you read the ToS on their official website, you won't find any evidence that the company pays.
So, I suppose there is not even a chance of winning. Otherwise, they would at least state that winners are selected at random and there are no guarantees.
But no. It's as if Frenzy Bubble Shooter was just like any other game without the cash incentive!

I have seen lots of reviews and couldn't find a single person who got paid. Many people complain their kyc is "pending" forever and the money never comes.
Also, they try to contact the company, but they do not respond. So, there is no chance of getting your reward regardless of how long you play.
Conclusion 
Frenzy Bubble Shooter is just another game that lures people into playing for longer and watching lots videos. But the rewards are fake! 
It's great for killing time, but if you need money, you are in the wrong hands!

This reward platform is going viral! Cash out via PayPal, Visa, Gift Cards, and in-game currencies - Click here to find out how to generate an extra $10+ per day! 
The developer is the only one who profits by displaying advertising while you are playing. In other words, they make real money and give you fake dollars as a courtesy!
Game developers are using this tactic for many years! They create a fantasy scenario where you can cash out if you reach the payout threshold.

However, they make it impossible to cash out or simply ignore your payment request when the time has come.
Verdict: Not Recommended
Earn a Full-Time Income Online
Today, many people are trying to grow alternative income streams from home. The main reason is that they want the freedom to work whenever and wherever they please.
One of the best strategies is to create content that attracts a large audience in search of information.
For example, you could build a website and write content that ranks on Google when someone searches for a specific question, product, or service.
There are many things you need to learn in order to set up this business and attract a decent number of visitors.
If you would like to learn how to set up this business and generate excellent commissions, check out my top recommendation.
That's the same program that helped me create a profits site and quit my job in 2019!
Final Words
Thanks for reading my Frenzy Bubble Shooter app review. I hope it helps!
Kindly share your thoughts about this game in the comment box below to enrich the discussion and raise awareness.
Peace!