Welcome to my Fruit Synthesis app review!
Over 10,000 people have installed Fruit Synthesis in hopes to earn PayPal money and gift cards.
This game may have hooked you after you saw a video ad showing that you could win over $2000.
You are here because you don't want to waste time with fake money games that only enrich developers based in God knows where.
So, will Fruit Synthesis let you cash out? If so, what are your chances of making real money? Is it a scam or a legit application?
Let's find out!
Don't forget to check out the step-by-step training that helped me build a lucrative site and reach $1,600 per month. Join for free and get started today! 
Fruit Synthesis App Review 
Full Name: Fruit Synthesis – Free Casual Games (Early Access)
Developer: Guo Hao
Eligibility: Worldwide
Price: Free
Overall Rating: 

1/5
What is Fruit Synthesis?
Fruit Synthesis is an addictive game in which players merge identical fruits into larger ones.
The game is very similar to Merge Fruits, Big Watermelon Merge and many other 2048 games.
As you play Fruit Synthesis, they will offer you virtual cash and coins that you can withdraw via PayPal and gift cards.
Also, they allow you to take part in giveaways for a chance to win Samsung phones, Nintendo Switch, iPads and more!
How Does Fruit Synthesis Work? 
The game is available for free on Google Play as Fruit Synthesis. However, it will create an icon with the name "Merge Fruit".
A fruit will appear randomly at the top of the screen. Just tap where you want it to fall and try to touch it with an identical fruit at the bottom.
Whenever two identical fruits collide, they will both merge into another larger fruit.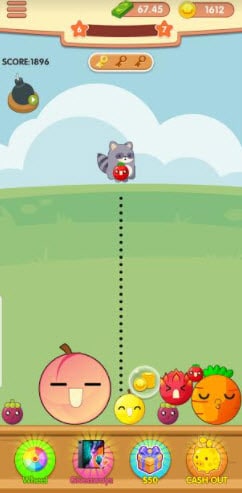 Eventually, Fruit Synthesis will drop bubbles with coins, dollars and keys. You can multiply your earnings by tapping the "random" button and watching a video.
Once you collect 3 keys, they will encourage you to open chests and earn more prizes, including puzzle pieces. More on that later.
Bear in mind that if any fruit touches the dotted line at the top, the game will be over. But this is not a big issue since you can restart as many times as you want.
After the progress bar reaches 100%, it will activate the slot machine and you win more rewards if it matches 2 symbols.

Fruit Synthesis also features the lucky wheel so you get the chance to win more cash and coins.
How Can You Cash Out? 
Fruit Synthesis suggests that you can withdraw the money after watching 100 videos and being active for 7 days.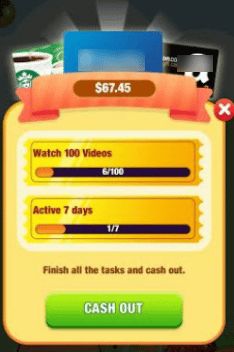 You can also cash out $100 via PayPal and Paytm once you earn 5 million coins.
According to the app instructions, the reward will be sent to you within 7 business days. They say you should email them if you don't receive it.
Redeem Gifts
By tapping the "Giveaway" icon, you will find the opportunity to win sought-after prizes such as smartphones, Apple products, Louis Vuitton bags and more!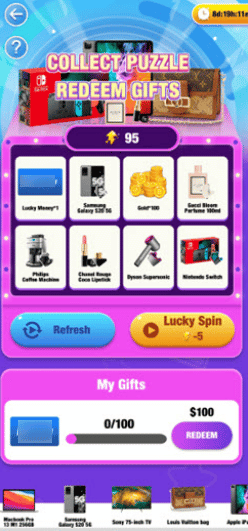 To redeem redeem gifts, you must collect a specific number of puzzle pieces by tapping the "Spin" button and watching the video.
Is Fruit Synthesis Legit? Does it Pay? 
Nope. There is no chance of earning real money from Fruit Synthesis. So, don't bother emailing the developer to request your payment because you won't get it!
I am very familiar with the so-called "money games" and their tactics to lure people into watching sponsored clips.

They make people believe they earn those eye-catching prizes so long as they fulfil all the requirements. But unfortunately, the developer cannot afford to pay hundreds of dollars to every player who completes the tasks.
You may think only a few lucky users get the reward. However, there is no evidence the developer is organizing regular prize draws.
Despite the way Fruit Synthesis has been advertised, I cannot accuse the company of fraud. That is because the terms and conditions states the provider does not guarantee profits to the user. 
So, they assume you read that document and agree with it even though you din't.
Conclusion 

This reward platform is going viral! Cash out via PayPal, Visa, Gift Cards, and in-game currencies - Click here to find out how to generate an extra $10+ per day! 
Lots of people enjoy playing merge games like Fruit Synthesis. It's great for killing time, but players won't receive a single penny even after watching hundreds of videos.
Sadly, users are still playing the game with the unrealistic expectation of winning real money.

It's important to know that game developers cannot afford to give away thousands of dollars unless it's a one in a million shot.
Those that offer money with the condition of reaching specific requirements are usually fake.
Verdict: Not Recommended
Earn a Full-Time Income Online
People from all walks of life are generating a decent income by providing helpful content to the internet. In my opinion, content marketing is the most powerful way to make money online.
That's the business model that allows me to work from my laptop and bring in over $1,600 month after month. 
This excellent program showed me step-by-step how to set up this type of business and apply effective SEO techniques to rank on the first page of Google.
It's not complicated, but you must be willing to learn and work consistently to make your dreams come true!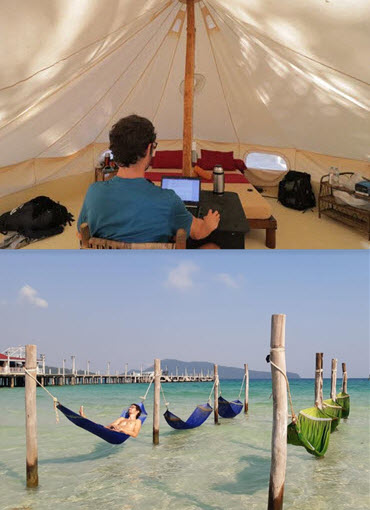 >> Check out my #1 recommendation and join now for free! <<
Final Words
Thanks for reading my Fruit Synthesis app review. I hope it was helpful. Kindly share your thoughts about this game in the comment section below.
Peace!