Welcome to my Veggie PopStar app review!
Today I would like to expose Veggie PopStar, a block puzzle game that claims to transfer hundreds of dollars to your PayPal account.
Not only that, but players can also win an iPhone 12 Pro once they meet certain requirements.
According to the app rules, the higher the level you achieve, the more your chances of getting cash rewards.
As you may have heard about fake money games on Google Play. Most of them entice people with awesome cash prizes, but they never pay out even after watching hundreds of videos!
So, can you trust Veggie PopStar? Is it legit? Does it pay or not? Keep reading to find out!
Top Recommendation: Check out the step-by-step program that helped me reach $1,600 per month and quit my job in 2019. It's free to join and you don't need any previous experience. 
Veggie PopStar App Review 
Full Name: Veggie PopStar – Blast Game (Early Access)
Developer: Puzzle! Game LLC.
Eligibility: Worldwide
Price: Free
Overall Rating: 

1/5
What is Veggie PopStar?
Veggie PopStar is casual puzzle game where you eliminate blocks representing vegetables and fruits.
Just tap on a batch of two or more identical blocks to destroy them and clear the stage.
As you play Veggie PopStar, you will collect virtual dollars and diamonds redeemable for real cash rewards.
You may have noticed the developer provides Early Access to the game. That means he is not open to criticism yet, and may never be!
I lost of count of how many similar games I tested and reviewed with the mission to warn people. BigBang PopStar is probably the most popular app of its kind!
How Does Veggie PopStar Work? 
Installation and Permissions
Veggie PopStar is only available for Android users through the Play Store. Bear aware it requires intrusive permissions to operate on your phone or tablet.
I think the most problematic one is the possibility of accessing content on your USB storage.
The company can read, modify and even delete personal data such your photos and videos.
So, think twice before installing Veggie PopStar and decide for yourself if you want to take any risks.
Sign in
Every day you launch the game, you can earn a sign in bonus by tapping the "Claim" button and watching video.

How to Play Veggie PopStar? 
Find two or more identical blocks close to each other and tap to blast them. The more veggies you destroy, the more points you will earn.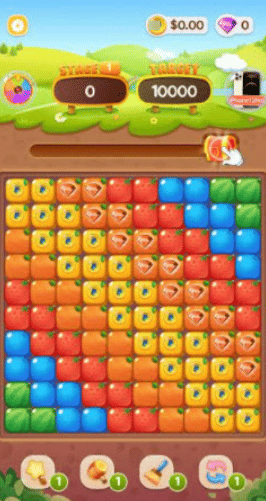 Veggie PopStar will almost always give you a PayPal card after destroying blocks. However, the cash will be credited to your balance only if you watch the video until the end.
The pass the level, you must clear the stage and accumulate the minimum number of points (Target).
You can use four different tools to eliminate blocks easily:
Lightening: Destroy 5 blocks randomly.
Hammer: break select one 1 block.
Brush: select one block to change its color.
Reset: randomly rotate the position of all blocks.
Whenever you clear the stage, Veggie PopStar will offer you 4 cards to claim big PayPal gift cards. Flip the card, watch the video and collect the reward.
You can earn more rewards by spinning the lucky wheel or blasting blocks with the PayPal logo.
Win an iPhone 12 Pro
Most money games double down on the delusion by offering Apple products to those who fulfil certain requirements.
Veggie PopStar is no different! It says players can redeem an iPhone 12 Pro after completing stage 100 and viewing 200 ads.
How Do You Get Paid? 
Tap the cash balance and you will find a list with several payout thresholds ranging from $300 to $1,000.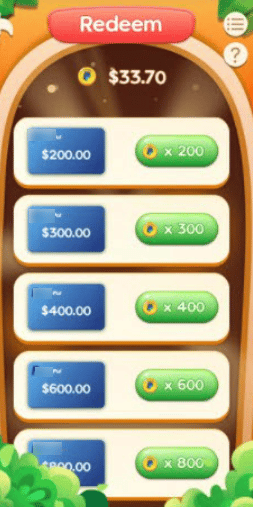 Once you reach $300, you can input your email address and request the payment via PayPal.

Now, here is the catch. After tapping the "Redeem" button, they come up with another requirement.
This time, you must watch 100 to activate within 72 hours in order to activate your order.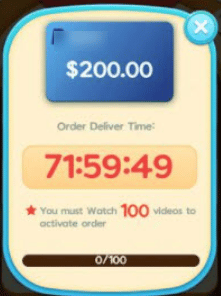 Lots of games are using the same tactic to get players to watch even more ads! Here are just two examples:
Well, it doesn't stop there. Veggie PopStar also allows users to convert diamonds to Google Play and Amazon gift cards. For example, you need 980,000 diamonds to redeem a $100 Amazon voucher.

This reward platform is going viral! Cash out via PayPal, Visa, Gift Cards, and in-game currencies - Click here to find out how to generate an extra $10+ per day! 
Is Veggie PopStar Legit? Does it Pay? 
No, there is no hope of earning hundreds of dollars just by eliminating blocks and watching video ads.

Otherwise, it wouldn't take long for people to quit their jobs, causing labor shortages in every industry.
Veggie PopStar differs from games that stop giving cash after players reach a specific amount.
Instead, you will accumulate $200 in a short period only to find that you need to watch 100 videos to cash out. Not only that, but you must comply within 72 hours!
But guess what? You won't get paid even after spending many hours watching those videos. It's atrocious, to say the least!
Conclusion 
Veggie PopStar is an addictive and fun game for those who want to kill time. However, it should not be played with the expectation to earn money since the app doesn't pay a dime.
If you already played it and are now waiting for money, just forget about it and move on with your life!
Don't waste your time and energy trying to find a solution because there is nothing you can do about it.
Earn a Full-Time Income Online
There are many ways to make money online, but the one I recommend the most is content marketing.
Anyone can grow a digital asset that pays month after month after following simple steps. Your job is to provide helpful content that ranks and attracts visitors (traffic) to your site.
This excellent program helped me set up this type of business from the ground up and apply powerful SEO techniques to climb on the first page of Google.
It's not complicated, but you must be willing to work hard to make your dreams come true!
This is me, working from a remote island in Cambodia and reaping the benefits of my efforts.
>> Check out my #1 recommendation and join now for free! <<
Final Words
Thanks for taking the time to read my Veggie PopStar app review. I hope it was helpful. If you want to express your thoughts about this game, just leave us a comment below.
Peace!