Welcome to my Light Sort Puzzle app review!
Today I found Light Sort Puzzle, an addictive mobile game that allegedly transfers real money to your PayPal.
You will collect virtual dollars just for placing the same colored balls inside the jars. However, you can only cash out once have $100 in your wallet. 
I didn't see how the developer is promoting his app, but I guess he is trying to push the idea of easy money.
A few months ago, I reviewed a very similar bubble game that also claims to pay hundreds of dollars. Unfortunately, this popular app continues to get negative comments from players who don't receive any payment.
So, Is Light Sort Puzzle legit or another fake money game? Does it pay? Check my review before you strive to cash out.
Before you leave, check out the step-by-step program that helped me build an online business and generate $1600/month. 
Light Sort Puzzle App Review
Developer: MiniJoy Official
Website: https://lightsortpuzzle.com/
Type: Puzzle
Eligibility: Worldwide
Price: Free
Overall Rating: 1/5
What is Light Sort Puzzle?
Light Sort Puzzle is a challenging game where players have to sort the balls between the jars.
The app was developed by a company based in Hong Kong called MiniJoy, and is available for Android and iOS devices.
More than half a million people have already installed Light Sort Puzzle not only to have fun but also receive the payment.
Next, I will show you how the game works, but you are free to skip this section and jump straight to the most important question below.
How Does Light Sort Puzzle Work? 
After installing the app on Google Play or App Store, you will immediately earn $30.
Light Sort Puzzle is simple to play, but difficult to master. Just place all the balls with the same colour into separate recipients.
In order to do that, you must click on a jar to remove the upper ball and place it on another tube.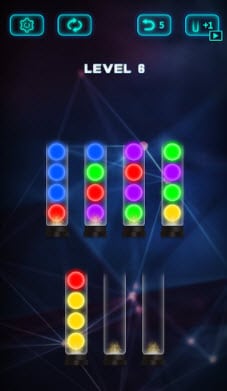 You need to think carefully and transfer the balls several times before you can place all the same balls together.
Once you finish sorting the balls, the tubes will light up and you will pass the level. Next, a specific amount of cash will be credited to your virtual balance.
If you want to double the reward, you must tap the button and watch the video.
Many players will watch hundreds of videos with the expectation to cash out faster! Keep in mind that almost every ad is promoting a fake money game that will supposedly make you rich. Please, don't trust any of them!

If you are struggling to solve the puzzle, you can add an extra tube to the game by selecting the specific tool on the top-right corner. Besides, you can also undo your last move if you made a mistake.
More Rewards
Have you noticed the golden bag on the right side? You can open it by watching a video for a chance to win more cash.
There is a daily bonus for those who check in daily for 7 consecutive days. You will get $0.5 on the first day, and up to $100 on the 7th day.
If all that wasn't good enough, Light Sort Puzzle supposedly organizes free draws for a chance to win the iPhone 12, Samsung Galaxy Z, Mc Pro and more!
To take part in the prize draws, you need to collect tickets just by tapping "Free Draw" and watching videos. The accurate time of each draw is shown on the drawing page.
How do You Get Paid? 
As with most games, Light Sort Puzzle won't let you cash out until you reach $100. If you meet the requirement, you need to click on your cash balance and select withdraw.
Some people are frustrated because the advertising said there was no limit for withdrawal.
There is a button that says "Click to speed up – 50 times left today". But after watching the ad, you won't get anything!
Is Light Sort Puzzle Legit? Does it Pay? 
Nope! If you are trying to make money with Light Sort Puzzle, forget it! The Play Store is full of complaints from users who didn't make a dime after putting the time and effort.
The app will give you any excuse to avoid paying you. Here is a list of issues that you might experience when trying to get your money.

They may stop giving cash to prevent you from reaching $100.
You may cash out, but the company will ignore your payment request.
When you are ready to withdraw, the app says the reward is sold out.
They may reject your email by saying it's not in the right format.
Is There an Alternative to Light Sort Puzzle
No, there is no similar game that would allow you to earn hundreds of dollars via PayPal. I suggest you avoid any app that says you can because they never pay! 
If you want to get paid for playing games on your phone, try the website Prizerebel. There give you points when you install the application and complete a specific task or level. It's 100% legit and very reliable!
Conclusion 

This reward platform is going viral! Cash out via PayPal, Visa, Gift Cards, and in-game currencies - Click here to find out how to generate an extra $10+ per day! 
Light Sort Puzzle is an excellent mind exercise, but the game misleads users into thinking they will make real money. This not a sweepstakes game, so the developer should either pay everyone or stop promoting it as an opportunity to win cash prizes.
If you play Light Sort Puzzle, you can waste not only time but also money. The reason is that the internet data you will spend while watching all those videos are not free.

There is an insane number of games nowadays that are trying to exploit your time and leave you empty-handed. Don't fall for the hype!
Earn a Full-Time Income Online
Making hundreds and even thousands of dollars online requires a lot more than sorting balls and watching videos on your phone. If you want to make a decent amount of money, you need to provide value to the internet!
In 2015, I discovered internet marketing and the opportunity to reach a global audience by creating helpful content.
I had no experience, but this step-by-step program helped me create a website and establish a strong online presence. Today, it covers all my living expenses and allows me to work anytime, anywhere I want.
Sign up for free and take your first steps today!
Final Words
Thanks for reading my Light Sort Puzzle app review. If you have questions or thoughts about this game, leave us a commend below.
Peace!