Welcome to my Shake Ball app review!
In today's post, I am going to expose another merge game called Shake Ball. The app developers are using the same strategy that has become the norm these days.
They are trying to make this app go viral by saying you could earn hundreds of dollars and redeem the money instantly via PayPal.
At the end of the video, it claims you can easily earn money with this free app. But if you pay attention to the small print, you will see that "Result is not guaranteed". 
So, what are your chances of making actual money by playing Shake Ball? Is there any hope? Is it a legit or fake application? Keep reading my review to find out!
Before you leave, check out the step-by-step program that helped me build an online business and generate $1600/month. You don't need any previous experience, only the drive to succeed! 
Shake Ball App Review
Developer: jhon green
Eligibility: Worldwide
Payout threshold: $800 (Amazon) $1000 (PayPal)
Price: Free
Overall Rating: 

1

/5
What is Shake Ball?
Shake Ball is an addictive game where you must connect identical balls with the same number. You can always rotate the crank to change the position of the balls inside the machine.
Here in this blog, I have reviewed a very similar and popular game called Fall Pops 3D! 
As you merge the balls, you will earn virtual dollars that either accumulates in your PayPal or Amazon balance.
Then, according to the game instructions, you can cash out all money you get in 24 hours! Alternatively, you can withdraw immediately if you collect $1000! That's what they say, but is it real or fake?
Before I give you the answer, let me show you how this game works.
How to Play Shake Ball? 
The Shake Ball app can be installed for free on Google Play and requires no registration or permissions.
Just swipe your finger to connect at least two adjacent balls with the same number and color. Next, the connected balls will merge into a single ball that has at least double the number. For example, two balls "4" will turn into a ball "8".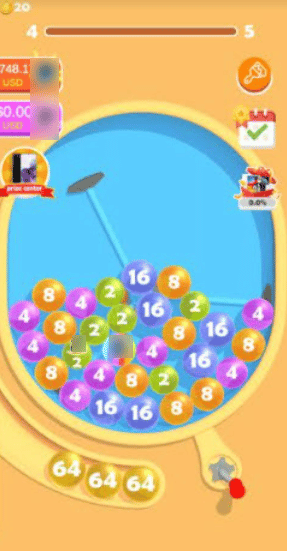 As soon as you eliminate the balls, you will open space for new ones that fall from the ceiling. If the balls are not well-positioned, simply turn the crank in order to rearrange them.
Instead of numbers, some balls will have a PayPal or an Amazon logo. By merging them, you will get virtual cash with the condition that you tap the "collect" button and watch the video.
Keep in mind that every time you watch these videos, the app owner is earning revenue from the advertisers.
Also, every time you level up, you will collect Airpods Pro or iPhone 12 puzzle piece. According to Shake Ball, you need 100 Airpods and 300 iPhone fragments to redeem these two prizes.
How Do You Get Paid? 
If you open your virtual PayPal balance, it shows you a countdown, suggesting you could redeem any money you get in 24 hours.

Right at the top, it also mentions that if you collect 1000 USD, you can cash out immediately without waiting. Just tap "Fill in Account" and bind your PayPal email address.
As for your Amazon balance, Shake Ball claims you need 800 USD to redeem Amazon Git Cards.
Prize Center
In this section, you can collect more puzzles to win more expensive prizes such as laptops, TVs, smartphones, Gucci bags and more! You just have to activate the Bubble of Puzzles or Lucky Draw after watching a video.
Is Shake Ball Legit? Does it Pay? 
No, it doesn't pay! I was playing Shake Ball for less than 10 minutes and they gave me over $700! This is ridiculous!
The developers will never pay you so much money just for playing a clone game funded by advertisers. Clearly, this is another clever ploy.
I didn't play Shake Ball for long enough, but they will make it almost impossible to cash out. Even if they let you request the payment, they won't transfer any money to your PayPal account.
Besides, it's impossible to collect all the puzzle pieces required to win the iPhone or any other prize.
The developers don't give players the opportunity to share their results and opinions about Shake Ball because it's still in Early Access. It's a shame because the game is generating revenue and doesn't seem incomplete to me.
Conclusion 
Don't waste your time playing Shake Ball or any other game with the expectation to win hundreds of dollars. They advertise the game as an opportunity to win easy money, but that's just an illusion! 

The only one making real money from Shake Ball is the developer himself, who is displaying lots of advertising to thousands of players.
If you need money, and you cannot afford to waste time, uninstall it ASAP. Now, if you think Shake Ball is a nice game, and you feel like playing it just for fun, keep playing and enjoy the show!
Final Words
Thanks for reading my Shake Ball app review. If you have questions or thoughts about this game, use the comment box below.
Peace!