Welcome to my Happy Courier app review!
The game developer 4Fun Club is enticing people to play Happy Courier for a chance to win the new iPhone 12 or Airpods Pro.
There are lots of games that do the same, but they never let players collect the last puzzle piece to claim the prize.
It's a shame because users will play and watch lots of videos only for the expectation to win. If the company is not taking rewards seriously, they are acting in bad faith and should be exposed.
So, is Happy Courier another fake reward app? Can you win the iPhone or not? Keep reading to find out!
Before you leave, click here and discover the step-by-step program that helped me build an online business and generate $1,600+ per month. Free starter membership available! 
Happy Courier App Review
Name: Happy Courier
Developer: 4Fun Club
Payout threshold: 100 puzzle pieces
Price: Free
Overall Rating: 

1/5
What is Happy Courier? 
Happy Courier is an addictive game where you need to drive the truck between towers by stretching out bridges.
Before, the app was giving virtual dollars that could be cashed out via PayPal. But now, players can only collect puzzle pieces to win an iPhone 12 or Airpods Pro. So, no more cash rewards!

This reward platform is going viral! Cash out via PayPal, Visa, Gift Cards, and in-game currencies - Click here to find out how to generate an extra $10+ per day! 
The developer also operates other popular games like Lucky Puppy and Knife Master.
How Does Happy Courier Work? 
Installation
Happy Courier is available on Google Play for your Android device. You can start playing for free after tapping the "start" button.
How to Play Happy Courier? 
The goal is to build the road with the correct size so that the courier can safely move to another platform. You can do this by pressing the screen for a certain period. Let go of your finger to let the road fall.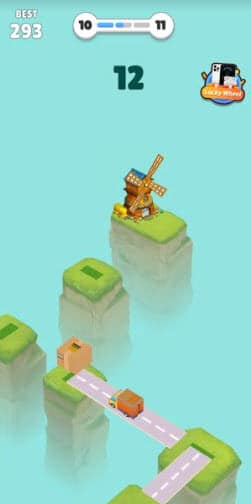 You need to be careful because if you stretch too little or too much, the end of the bridge may stop towards the precipice and the courier will fall down. In that case, you must watch a video to revive or restart the level.
Once you reach a tower with the box, Happy Courier will give you an opportunity to pick one package and win iPhone or Airpods fragments. You will also earn energy (heart) that allows you to continue playing the game from the same level.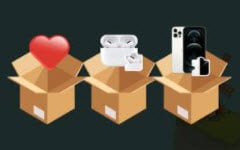 To open the box and collect these items, you must tap the button and watch the ad until the end. By the way, that's how the app generates revenue, even though the game is free to play.
How to Claim Your Rewards?
To win an iPhone or iPod, you must collect 100 puzzle pieces, which is probably unachievable!
Lucky Wheel
On the right side, you will find the Lucky Wheel icon. This is the place where you can spin the wheel and check-in daily to win more puzzle pieces.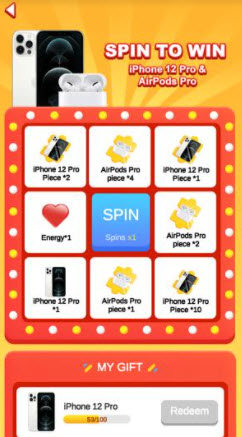 Here, you can also check how many fragments you still need before you can redeem an iPhone 12 or Airpods Pro.
Is Happy Courier Fake? Can You Win an iPhone? 
Luckily for us, Happy Courier is not in Early Access, so they are not censuring users who want to share their experience on Google Play.
After reading the first 15 user reviews, I noticed the app behaves just like most "money games". They will stop giving puzzle fragments!
Lots of people are disappointed and angry because they got stuck after collecting 90 pieces.
At this point, Happy Courier will just give you Energy after selecting the boxes, which means you won't get any prize based on luck or how long you play the game.
If it was only a matter of playing for longer, there would be thousands of winners because people are prepared to play 24/7 to win an iPhone 12.

I also found many complaints from users who coudn't make any money. That was when Happy Courier was still giving the opportunity to win cash rewards. Apparently, they were not rewarding anyone!
Conclusion 
Unfortunately, you cannot win the iPhone 12 or Airpods by playing Happy Courier. Once you reach 90+ prizes, it won't give you more fragments, only worthless hearts.
The game itself is fun and challenging, but their business practice is shameful! People are only watching the videos because they expect to open the box and eventually get enough pieces to claim the prize.
However, the developer will manipulate the number of fragments and prevent you from collecting 100.
I am constantly exposing games that make players believe in easy cash rewards. If it seems too good to be true, it surely is!
If you just want to play Happy Courier for fun, ignore the rewards and never tap the button to watch the video. Still, it will show you ads from time to time! 
Is There an Alternative to Happy Courier? 
No, there isn't! But if you want to earn a little extra money by playing games, you could join a legit platform like Prizerebel and complete app offers. I think that's the best option available for gamers.

Earn a Full-Time Income Online
The internet offers different ways to generate an extra income online. Many hard-working individuals not only earn enough to cover their living expenses but also live luxury lifestyles.
Success doesn't happen overnight, but the sky is the limit if you build your own online business and put in the work!
So, what type of business do you recommend? Well, it depends because every person is different! However, I think there is one industry that works best for most people, which is content marketing.
This website you are reading is generating revenue using this strategy!
In short, I create helpful content for this website and attract visitors by ranking articles that people are searching on Google. Then, I make money by displaying banners and affiliate links!
Anyone can do the same and achieve remarkable results. This excellent step-by-step program will show you the way! You can sign up today and start your first 10 free lessons!
Final Words
Thank you for reading my Happy Courier app review. If you played this game and you want to share your experience, use the comment section below. Did you collect all the 100 puzzle pieces? If so, did they give you the prize?
Before I close this post, I just want to