In this post, I am going to expose another pinko-style game called Neonball Master. This is another app that awards virtual dollars, making people believe they can eventually cash out via PayPal.
In this blog, I reviewed lots of games that went viral just because they were pretending to pay hundreds and even thousands of dollars.
With so many people losing their jobs and struggling to make ends meet, it's no surprise that unscrupulous businesses are trying to exploit the situation to maximize their profits. It's sickening!
My mission here to save your time by explaining exactly how NeonBall Master works. Can you make real money with this game? Is it legit or fake? Keep reading to find out!
RECOMMENDED: Check out the step-by-step program that helped me grow an online business and generate $1,600+ per month. No special skills required! 
NeonBall Master App Review 
Name: Neonball Master
Developer: twenty48fp
Eligibility: Worldwide
Price: Free
Overall Rating:

 1/5
What is Neonball Master? 
Neonball Master is another ball dropping game that awards not only tokens (Diamonds) but also virtual Dollars.
Most people install this app not because it's fun, but because of the expectation to redeem cash via PayPal!
Neonball Master is operated by Twenty48fp, but there is no information about the individual or company behind it. Not only that, but the developer doesn't provide two important documents: The Privacy Policy and the TOS (Terms of Service). If you try to visit the links, you will get the following message:
"Sorry, this website has been removed due to a legal issue related to its content."
I noticed that many other games use the exact same phrase and don't provide any information to users. According to Google's Policy center, the app must be transparent in it handles user data.
Unfortunately, Neonball Master goes against that. But that's only the tip of the iceberg!
How to Play Neonball Master? 
After installing Neonball Master on Google Play and launching the game, you will get a $1 bonus. But don't get excited because this is not actual money.
It's very simple! Just tap anywhere to drop the balls from the top. As they fall into the compartments at the bottom, you will collect little PayPal cards that will add virtual dollars to your account. In addition, you will get tokens called diamonds.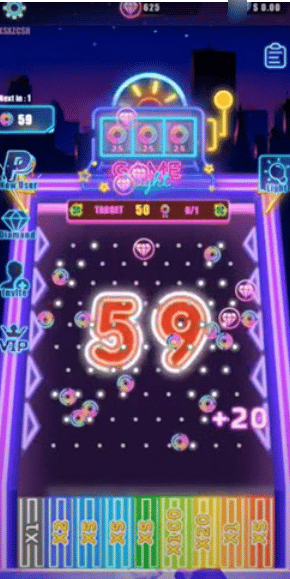 If the balls light all the 9 spaces, it activates the slot machine for a chance to win more rewards and extra balls.
There is not much else to it! The goal is to play until you earn enough to cash out.
Read: Here are the best sweepstakes apps that pay real cash prizes! 
Invite Friends 
Neonball Master also entice users to invite friends with the promise of paying $5 for every 100 invites. As you will see later, it's not worth promoting this app to anyone. On second thought, maybe it will be a good idea to advertise it to your worst enemy who are not aware of how money-games work.

How do You Get Paid? 
Diamonds
You can supposedly exchange your Diamonds for a variety of Gift cards such as Amazon, Steam, Google Play, and more. To get a $100 voucher, you will need 54 million Diamonds, which will take forever!
PayPal 
Neonball Master allows you to cash out via PayPal once you collect enough virtual dollars and complete specific tasks. For example, if you want to withdraw $2, you must watch at least 600 videos, which is insane! The higher the reward, the more videos you will have to watch.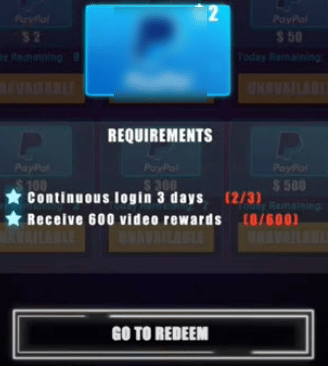 Note that Neonball has an option to cash out $20 as a VIP member. If you purchase their membership for a whooping £8.99 per week, they will let you redeem after using the VIP function for 3 consecutive days. In this case, you won't have to watch any video!
I know it's tempting to become VIP and withdraw $20 faster, but if you do, you WILL lose your money! 
Is Neonball Master Legit? Does it Pay?
No! Neonball Master doesn't pay anyone regardless of how many videos players watch. They also won't pay you, even if you get the VIP membership. Therefore, you may not only waste time but also money with Neonball Master!
I coudn't check user reviews on Google Play because the game is still in "Early Access". However, I found lots of comments on YouTube that support what I am saying.
Lots of people claim they cashed out hundreds of dollars, but NeonBall Master didn't pay them.
Don't trust any game that says you can win a lot of money via PayPal if you watch their videos. The developer will just ignore your payment request and never share the money he receives from advertisers.
It's hopeless because those game developers are operating their apps from abroad and don't seem to care about advertising or privacy regulations in your country. The problem is that they can make any claims and, at the same time, they are not obligated to pay anyone!

Pros and Cons
Pros 
Cons
Boring game.
It doesn't pay.
There is an expensive premium membership.
No Terms of Service
No Privacy Policy
Conclusion 
Don't waste your time trying to reach the cash out requirement because Neonball Master won't pay you. They are offering the cash incentive as a catalyst for people to play a boring game for much longer and thus maximize profits. Don't fall for it!

This reward platform is going viral! Cash out via PayPal, Visa, Gift Cards, and in-game currencies - Click here to find out how to generate an extra $10+ per day! 
Is There an Alternative to NeaonBall Master? 
Google play is jam-packed with plinko games that are cheating people with the false expectation of making money. Here at My Room is My Office, I reviewed many of them such as Plinkomania, Plinko Dream and Super Plinko. They are all clones designed to generate as much revenue as possible at the expense of your time.

Many game developers promote their apps using GPT (get-paid-to) platforms. You could join a reliable site like Prizerebel and earn points for installing and playing their games on your device. That's be the way to make money while having fun!
Earn a Full-Time Income Online
If you are serious about making money from home, I suggest you build your own online business. Content creators have been making hundreds and even thousands of dollars per month for many years!
You can also take advantage of the digital economy and attract thousands of visitors to your site searching for information. When they click on your banners or buy a product through your affiliate links, you make MONEY!
Thanks to this excellent step-by-step program, I created a website that ranks on the first page of Google and brings me over $1,600 per month. You can do the same if you apply the best strategies you will learn inside the training!
Join for free and start your first 10 lessons today!
Final Words
I hope my Neonball Master review was helpful and answered all your questions. Feel free to post your honest review in the comment box below.
Thanks for reading!
Peace!