Welcome to my Monster Emoji app review!
I just came across another merging game that suggests players can redeem hundreds of dollars through PayPal, Amazon and Google Play.
The app says you can cash out immediately once you accumulate $100 in your virtual cash balance.
I have seen so many games that entice people with virtual dollars but never pay out. The cash prizes are fake and only used to lure people into watching an insane amount of advertising.
For example, Monster Emoji is almost identical to Merge Emoji and doesn't pay a dime!
So, does Monster Emoji pay? Is it a legit application? In this review, I will explain exactly how it works and give you my honest opinion!
Tired of fake money games? This step-by-step program helped me build an online presence and generate over $1,700 per month. No special skills required! 
Monster Emoji App Review
Name: Monster Emoji
Developer: Jogo Fixe
Availability: Worldwide
Minimum payout: $100
Overall Rating: 

1/5
What is Monster Emoji?
Monster Emoji is a casual game in wish players have to match at least 3 same emojis to eliminate them.
By merging the blocks, you will earn virtual dollars that you can withdraw later via PayPal, Amazon and Google Play gift cards.
Monster Emoji is available for Android devices and has already been installed over 1 million times!
Right now, there are probably thousands of people playing and growing their cash balances with the expectation to cash out.
TIP: By joining this GPT site, you have access to enough tasks to bring in an extra $100 per month. 
How Does Monster Emoji Work? 
Installation 
Monster Emoji can be installed for free on Google play and played right away. Just be aware that by installing this app, you are automatically giving permission to access your photos, videos and other files.
You can check this for yourself by clicking "visit details" under "Permissions" on Google Play.
How to Play Monster Emoji? 
All you have to do is slide your finger to move the brick and match 3 same level emojis to merge them.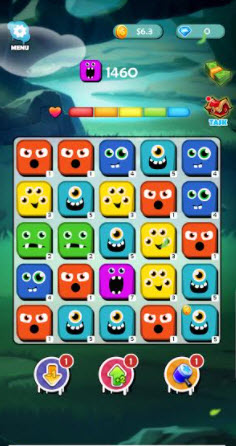 As a result, a higher-level emoji will replace the ones you just merged, and you will earn a few cents.

The empty spaces left thereafter are occupied by the bricks from above. Such rearrangement can cause automatic matching and you will get combo bonuses.
However, you need to tap the "collect" button and wait for the 30 second video to claim the reward.
If you are playing Monster Emoji in hopes to cash out, of course you will be more than happy to watch as many ads as they throw at you.
The reason is that you want to collect more rewards in a short period and reach the payout threshold fast.
BUT, even if you skip the ad, Merge Emoji may display a video against your will because that's how the developer makes profits.
You can use a few tools to help you eliminate Emojis faster. For example, the hammer destroys any brick and the arrows can either increase or decrease emoji levels.
Quest Logs
Monster Emoji also gives you $1 for completing specific milestones such as reaching level 7, destroying 200 blocks, and more! 
How to Cash Out? 
According to the app's redeem page, you can cash out immediately once you accumulate $100. You just need to select the payment method, tap the blue button and input your email address.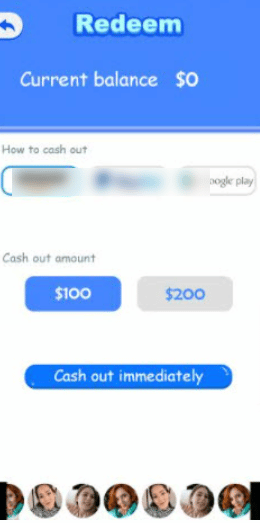 Is Monster Emoji Legit? Does it Pay? 

No, I don't think it does. Making 100 USD by playing a game like Monster Emoji seems just too good to be true.
The reason is that the app does not generate enough ad revenue to pay everyone and still make profits.
If you open the "winners" page, you will find many screenshots of PayPal payments supposedly transferred to players who successfully reached $100 and withdrew this week.
However, it's impossible to know whether those are real or fake accounts because their email addresses are blurred.
Keep in mind Monster Emoji doesn't provide the Terms of Service, which should address important information about virtual items and cash rewards.
Not only that, but the app is not open for scrutiny because the developer is giving "Early Access" to the game. That means users are not allowed to to publish reviews on Google Play.

This reward platform is going viral! Cash out via PayPal, Visa, Gift Cards, and in-game currencies - Click here to find out how to generate an extra $10+ per day! 
It also means people who are skeptical about the app cannot check what other players have to say about it.
The lack of transparency and unrealistic payouts are two main reasons you should not take Monster Emoji seriously.

Monster Emoji has no obligation to pay because first, they operate from abroad and second, they have provided no legal agreement.
Hundreds of games operate just like Monster Emoji. For example, Swipe to Blast has a very similar gameplay and fake reward system.
Conclusion 
Avoid Playing Monster Emoji or any mobile game that promises generous cash rewards unless you just want to have fun.
You will just waste your time watching videos that don't convert to real money. The developer shows many screenshots to convince people he is processing payments to PayPal.
However, it's impossible to prove that those are genuine accounts owned by those who fulfilled the cashout requirement.
Well, it could be that only a few players have been rewarded only to prove that it's possible to make money with the application.
But even if that's true, I think the odds of winning the money are extremely low because they don't need to pay anyone! 
Verdict: Not Recommended 
Earn a Full-Time Income Online
One of the best strategies to make money online is to provide helpful content and build a strong presence on the internet.
Then, you can earn revenue though advertising, affiliate marketing or even by selling your own products.
It can be complicated if you don't understand the business model and you don't have a coherent plan of action.
That's why I recommend this excellent step-by-step program, which will help you set your website up for success as long as you complete the tasks and take massive action.
It takes time and commitment, but if you do it right, you can earn thousands of dollars per month and benefit from the freedom to work whenever and wherever you want!
Final Words
I hope this review answers all your questions about Monster Emoji. So, how was your experience? Let us know in the comment box below.
Thank you for reading!