Welcome to my Poker Master app review!
After watching a couple of commercials promoting Poker Master, I thought it would be a great idea to test it and expose another money game.
Many people are still deluded by the idea of making a lot of money with mobile games.
Unfortunately, those who don't do proper research end up wasting a significant amount of time and internet data.
If you are thinking about installing Poker Master with the expectation of cashing out, you have come to the right place!
I this post, I would like to show you how this game works and give you my honest opinion. Is it fake or legit? Will you waste your time?
Before you leave, discover the step-by-step program that helped me reach 1,700 USD+ per month and quit my job in 2019. No special skills required! 
Poker Master App Review
Name: Poker Master – Bet to Win
Developer: XM Studio
Availability: Worldwide
Price: Free (no purchase required)
Overall Rating:

 1/5
What is Poker Master? 
Unlike the name suggests, Poker Master has nothing to do with playing poker. This is a simple casual game where you drop the cards and merge them with the same cards at the bottom.
When two identical cards are put together, they will merge into a higher card and you will earn coins and virtual cash.
You can supposedly exchange virtual items for cash through PayPal or gift cards from Amazon, Google Play, iTunes and more!
Poker Master has been installed over 100,000 times and rated only 1.7 stars, which is terrible! So, something really bad is going on, and you probably know why!
Luckily, people can publish and read the valuable reviews on Google Play since it's not "Early Access".
The developer has another very similar and popular game called Perfect 2048. The major difference is that players merge numbered blocks instead of poker cards.
Work Does Poker Master Work? 
Poker Master is a free Android app available on the Play Store. After launching the game on your phone or tablet, you can collect your first sign in bonus of $50 after watching a clip.
Next, tap "Play" to start the game.
Just tap to place the card next to another identical card at the bottom. These two cards will combine and form a higher-ranking card. For example, two 4♥ will merge into one 5♠.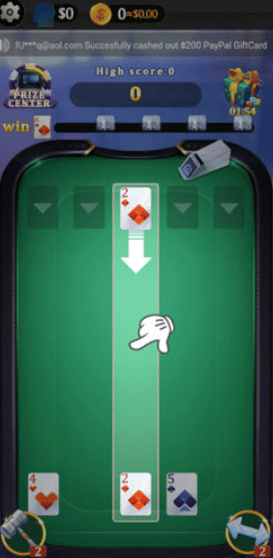 Every time you merge a card, you will earn a few coins and sometimes, virtual cash too. In order to get cash, you always have to tap "Collect" and watch the advertisement.
Note there is a progress bar at the top showing a specific card.

Every time you merge that specific card, the bar will fill up and you will get stage rewards for hitting the wallet symbol. You must choose the card and watch the ad to reveal the prize.
The game is over if you let any card reach the upper level. So, it's good to know you can use the hammer or the lateral elimination tool to destroy cards instantly.
Prize Center
From time to time, you will see bubbles containing puzzle pieces to win prizes such as a Samsung Galaxy S21, Nintendo Switch, HP EliteBook 850 and more!
Tap the bubble and wait for the video to collect the puzzle. According to the rules, you need to accumulate 10 or 20 puzzle pieces to redeem your reward.
If you want to earn more puzzles, you can enter the Prize Center and use the Bubble of Puzzles or the Lucky Spin.
How to Cash Out? 
Poker Master claims you can withdraw the money to your PayPal account once you reach $200. You just have to tap redeem next to the cash amount and then enter your email address.
Coins can also be redeemed for Amazon, Google Play, Playstation, Xbox, iTunes and Steam gift cards. The minimum cashout requirement is 325500 coins, which is equivalent to $100.
The game automatically displays the amount of cash your coins are worth. So, you don't have to worry about conversion rates.
Is Poker Master Legit? Does it Pay?
No, it doesn't! Poke Master is a complete waste of time and internet data. 
Unlike most money games, they will let you reach the payout threshold in less than half an hour. But unfortunately, the company will just ignore your payment request!
The app has been bombarded with complaints from users who never got paid after submitting their PayPal addresses.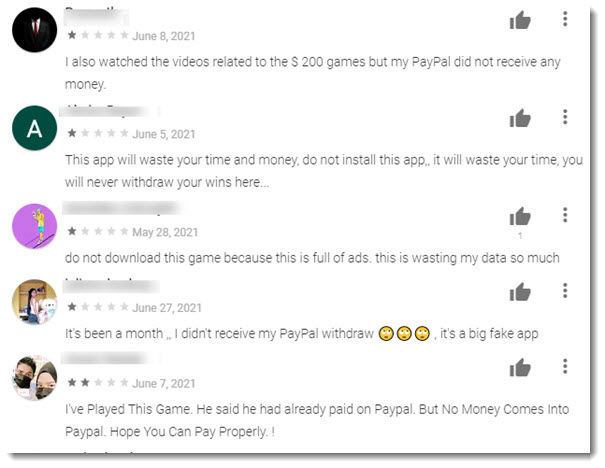 The cash rewards are fake and used to persuade people to play for a long time.
While Poker Master is filling the developer's pockets with cash from advertisements, you are just earning worthless virtual items.
Some people enjoy playing just to kill time and boredom. That's fine, but no one should play it with the expectation of winning real money.
Many people discovered Poker Master because it was advertised in a reward app called ClipClaps. This is a legit application, but it's a shame the company is selling advertising space for these game developers.

This reward platform is going viral! Cash out via PayPal, Visa, Gift Cards, and in-game currencies - Click here to find out how to generate an extra $10+ per day! 
Is There an Alternative to Poker Master? 
There is no similar game that actually pays hundreds of dollars simply because no company could afford that.

Bitcoin Solitaire does pay out every 3 days to your Coinbase account. However, you have to play for hours only to make a few cents.
It's better than nothing, but if you are just playing the game for the money, I wouldn't bother! Instead, I suggest you join a GPT site like Prizerebel and earn coins for completing offers.
Many users are making over $100 per month by playing sponsored games, answering surveys and completing offers.
Conclusion 
By installing and playing Poker Master, you are just helping the developers get richer. They will make you watch many videos, but in the end, no money won't be transferred to your PayPal account.
The number of negative testimonials on Google Play is mind-blowing! If the game was giving away real cash rewards, it would receive 5 or at least 4.9 stars.
You should not expect that a 1.7-star game will transfer $200 to your PayPal just for merging poker cards.
Here are two other casual games you should avoid at all costs:
Final Words
Thanks for reading my Poker Master app review! I hope it was informative enough. If you would like to contribute to the discussion, share your thoughts and experiences below.
Peace!