Welcome to my Solitaire Collection Win!
The owner of Solitaire Collection Win claims you can earn cash rewards by playing several card games such as FreeCell, TriPeaks, Klondike, and Pyramid.
When you first open the game, it says you can cash out to PayPal once your balance reaches $100.
I have tested many similar applications that cheat players by making it impossible to reach the payout threshold. It's so frustrating!
This solitaire game claims to pay $1,000s, but never transfer the money.
You don't want to waste your time playing a game, only to realize you were actually chasing the impossible.
So, is Solitaire Collection Win legit or fake? Does it allow you to reach $100 and receive the payment? Keep reading to find out!
RECOMMENDED: Check out the step-by-step program that helped me build an affiliate site and quit my job in 2019. No special skills required! 
Solitaire Collection Win App Review 
Name: Solitaire Collection Win
Developer: Solitaire Collection Team
Eligibility: Worldwide
Payout threshold: $100
Price: Free
Overall Rating: 

1

/5
What is Solitaire Collection Win?

This reward platform is going viral! Cash out via PayPal, Visa, Gift Cards, and in-game currencies - Click here to find out how to generate an extra $10+ per day! 
Solitaire Collection Win is an Android app that brings together card games like Patience, Tripeaks, FreeCell and many others!
The crazy thing about these games is that they give you virtual dollars that can be transferred to your PayPal account.
You can supposedly withdraw hundreds of dollars if you reach the minimum cash out requirement of $100.
Once you complete the game, you may also win gems, which can be exchanged for Amazon, Starbucks, and Target gift cards.
Solitaire Collection Win has been installed 500,000 times, and rated 4.6 oon Google Play, which is insane!
How does Solitaire Collection Win Work?
Solitaire Collection Win works on any Android device. You can install the app on Google Play and select the first game on the list to get started.
The app includes different solitaire games such as Klondike (known as Patience), FreeCell, Spider Solitaire, a lot more!
Here is the full list:
CLASSIC SOLITAIRE
SPIDER SOLITAIRE
FREECELL SOLITAIRE
PYRAMID SOLITAIRE
TRIPEAKS SOLITAIRE
AUSTRALIAN PATIENCE
CANFIELD
FORTY THIEVES
GOLF
RUSSIAN SOLITAIRE
YUKON
Keep in mind that most of them are locked until you complete specific levels.

If you are not familiar with card games, click on Setting and "View" to check the short tutorial.
For example, the aim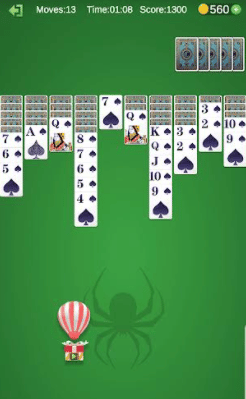 in Spider Solitaire is to order all the cards in descending order from King to Ace in the same suit.
Some card games are challenging, but you can always use magic spell or hint tool if you feel stuck. Each hint will consume 150 coins.
Depending on your score and time to complete the game, you will receive a gold, silver, or bronze trophy.
Once you finish the game and pass the level, Solitaire Collection Win will give you virtual dollars that accumulate in your cash balance. You may also get gems that redeemable for gift cards.
Tired of playing fake money games? Check out my top reward site here! 
How do You Get Paid? 
Tap the cash icon at the bottom-left corner and select either the PayPal or Gift cards tab.
You can only cash out via PayPal once you accumulate $100, $200, and $500.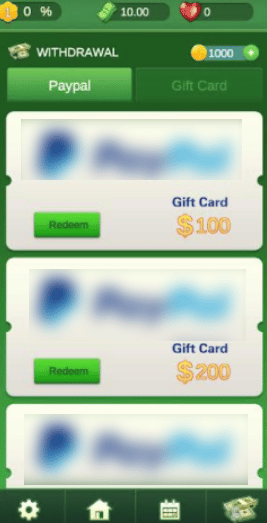 As for gems, the cashout limit for different gift cards is presented below:
Starbucks ($25): 12,500 gems.
Amazon ($50): 25,000 gems.
Target, Walmart, Victoria Secret ($100), App Sore & iTunes: 50,000 gems.
According to the developer, all the rewards and gift cards are from over 1,000 advertising sponsors all over the world.
Is Solitaire Collection Win Legit? Does it Pay? 

No. Unfortunately, players are not making real money with the Solitaire Collection Win app.
I checked lots of reviews on Google Play and couldn't find anyone who got paid. So the high overall rating of 4.6 does not reflect your chances of making money.
At first, you earn a decent amount of cash, but when your balance reaches around $80, earnings drop to 0.02 – $0.01.
Therefore, it takes a very long time to reach $100 and request the payment. Many people reported they played games for months with nothing to show for it.
One user said Solitaire Collection Win stopped giving him money when he reached $94.
This app infuriates people who end up watching hundreds of videos in order to cash out. After all, it's a complete waste of time and mobile data.
So, you may never reach the magic $100, and even if you do, the money will never get in your PayPal account.
And what about gift cards?
Well, when you finally collect enough gems to redeem for a voucher, it will be out of stock. 
Conclusion 

Solitaire Collection Win could be considered an excellent app for those who love solitaire games. There are 16 games with decent graphics and gameplay.
However, most people are just playing because they expect to withdraw hundreds of dollars, which is impossible.
Chances are, you will waste hours playing card games and watching videos only to get stuck at $94 or $95.
Apps like Solitaire Collection Win should be banned from Google because users are tricked into playing in return rewards they never get.
This completely fake and wrong on so many levels!
Is There An Alternative to Solitaire Collection Win? 
If you wish to earn rewards by playing solitaire games, the only option is Bitcoin Solitaire. As the name suggests, you will earn BTC paid to your Coinbase wallet.
Unfortunately, they don't pay via PayPal, and the pay is extremely low. To give you an idea, you may have to play for an entire year to accumulate $1 worth of BTC.
It's not even worth to play for money if you think about since you will spend a lot more money on mobile data consumption.
Not to mention you could be using your time more effectively and make some serious money.
Earn a Full-Time Income Online
If you are struggling to make money with apps and reward sites, I suggest you build your own online business.
There are different models, but content marketing is hands down the best! The reason is that you don't need to buy inventory, nor provide customer service.
All you have to do is write content on a topic of your interest and help people searching for information.
Then, your content ranks on Google and attracts visitors from all over the world. As a result, you can make money placing affiliate links or ads on your posts.
I highly recommend this method because I use it myself! You see, I write articles for this website, which pays for all my living expenses.
The best part is the freedom to work anytime, anywhere you want!
If this type of business appeals to you, follow this step-by-step program to succeed! 
Final Words
Thanks for reading my Solitaire Collection Win app review! I hope it helps to save your time.
If you want to share thoughts on this game or suggest another application, please leave us a comment below.
Peace!