Welcome to my Pusher For Cash app review!
You are here because you found an opportunity to win hundreds of dollars with an application called Pusher for Cash.
Chances are you already spent a few hours on this game only to realize something went wrong!
Pusher for cash is another coin dozer game where you push dimes off the front edge and collect virtual currency.
You must tap the screen and reach the magic $300 to withdraw the money via PayPal.
If this is true, then you have found the easiest way to make money online! But of course, you are skeptical and wondering if Pusher for Cash is legit or a fake money game.
Does it pay or not? Read on to find out!
Top recommendation: This step-by-step program helped me generate over 2,000 US Dollars and quit my day job in 2019. Replicate my results by joining the Free membership here! 
Pusher For Cash App Review
Name: Pusher for Cash: Lucky 2021 (Early Access)
Developer: Merge game LLC
Membership Eligibility: Worldwide
Price: Free
Type: Entertainment (no financial risk)
Overall Rating: 1 star
What is Pusher for Cash?
Pusher for cash is another coin pusher simulator where you supposedly get paid by pushing dimes off the board.
Every time a coin drops off the front edge, the game gives away various sums ranging from $0.01 to $2.
It's unreal to see your cash balance rise so quickly. You may feel as if you're dreaming and don't want to wake up.
Pusher for cash also features a slot machine triggered when a dime falls into the orange box (slot box). As a result, you collect more virtual items redeemable for cash rewards.
How Does Pusher for Cash Work?
Installation
Pusher for cash works worldwide and is available for free on Google play. After installing the application, players go through a quick tutorial before the game starts.
The game is Pegi 12, meaning that it's considered somehow harmful for individuals over 12. In my opinion, the classification of this game should be 18 once it involves making money and may cause severe addiction.
How to Play Pusher for Cash?
Tap the black to drop coins on the platform and push dimes off the front edge. You start with 40 dimes, but you get a new one every 6 seconds.
You will receive virtual dollars and tokens when green and yellow coins fall.
Just be aware that the amount of cash you see on the green dime is worth 100 times less. So, a $10 coin is actually worth only 10 cents!

Unlike Coin Pusher+, Pusher For Cash won't give you random cash coupons while playing. However, you can activate the slot machine and earn virtual items by dropping the coin into the slot box.
If you match 3 symbols, you will collect fruits, coins, and cash rolls. You also get the chance to match 777 and win $777 via PayPal. 
Whenever you run out of coins, they entice you to watch a video or spend $50 from your cash balance to get 40 coins.
Use the "shake" tool to push the items faster or build the "Wall" to prevent items from slipping sideways.
There is also a special event where you can earn real money by collecting 5, 10, and 15 cash rolls.
As you can see, there are many opportunities to collect virtual dollars with Pusher for Cash and redeem them faster.
I splayed the game and reached $300 during the first 15 minutes of gameplay.
How do You Get Paid? 
There are many ways to request your payment through the Pusher for Cash app. However, the primary strategy is to collect a specific amount of cash to withdraw via PayPal or Cash app.
The minimum payout threshold is $300, but you can also redeem $500, $800, $1200, or 2000.
You can cash out $500 if you accumulate 5,000,000 tokens (yellow coins) and $10,000 if you collect 36 fruits.
Also, there is another prize of $777 for those lucky players who match 777 in the slot machine.
Is Pusher for Cash Legit? Does it Pay? 

No, it doesn't. Pusher For cash won't transfer money to your PayPal or Cash app account. So it's easy to understand why the rewards are entirely fake.
I just watched 5 or 6 ads before reaching $300, so it's safe to assume the company didn't even make $3 from advertising.
How on earth would they pay $300 to everyone who fulfills the requirement in this game? The business would fail instantly because the developer would never have the money to pay the first player.
After you collect $300 and input your PayPal email address, your request will stay as "checking," and you need to wait for seven days. 
After the time is up, they take a card under their sleeve, saying you can only get paid if you collect 30 fruits. 
But here is the catch: The last fruit is unattainable, so you will get stuck at 29! They make people wait for a week, only to get them to play for longer and cash out higher amounts.

This reward platform is going viral! Cash out via PayPal, Visa, Gift Cards, and in-game currencies - Click here to find out how to generate an extra $10+ per day! 
In the meantime, you would probably have played for many hours and watched hundreds of sponsored videos. All that for nothing!

Conclusion  
Thousands of people in four corners of the world are playing Pusher For Cash with the expectation to win cash prizes.
Unfortunately, this coin pusher simulation does not offer real money, and you will just waste your time.
The game is very addictive since the prizes are incredibly appealing. Indeed, you will reach $300 in less than 15 minutes and perhaps $2000 in a few hours. 
Make no mistake. You won't get paid!
Earn a Full-Time Income Online
More and more people are waking up to the fact that they need to provide value in order to make real money from home.
You can actually make thousands of dollars per month if you grow a significant online audience. But you don't need to become a famous influencer to do that!
The key is to provide helpful content that ranks on the first page of Google and gets lots of views.
If you dream of working remotely and benefit from the laptop lifestyle, I suggest building your own internet business as I did!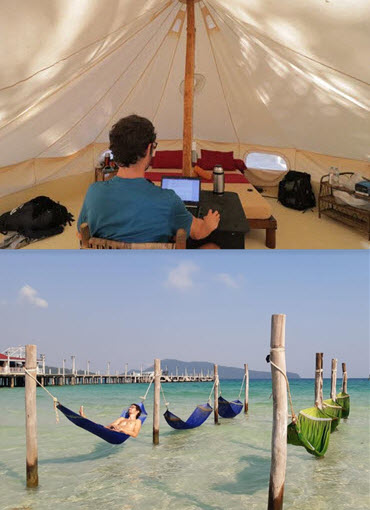 Thanks to this excellent step-by-step program, I created a lucrative affiliate site, which pays for all my living expenses and travels.
Just be aware this is not a get-rich-quick opportunity, and you need to put a lot of time and effort into making it work.
For those who wish to pursue this business and succeed, join for free here and get in touch. I am also a member and will help you every step of the way!
Final Words
Thanks for taking the time to read my Coin Pusher+ app review. If you have any questions about this game, let me know in the comment box below! 😉
Stay safe and peace out!