Welcome to my Smash Crystal app review!
Smash Crystal is another merge game in which players can supposedly withdraw thousands of dollars via PayPal.
The game is all about placing at least 3 identical items side by side so they merge into higher-level crystal.
As you are playing, you will collect virtual dollars, but not before tapping the "collect" button and watching the commercial.
I have reviewed many similar games that promise to pay users, but never do! That's why I don't trust game developers who entice players with high cash prizes.
If you would like to know if Smash Crystal legit, you have come to the right place. Keep reading to discover whether it pays or not!
Before you leave this page, click here to discover my top reward site ! Members are making an extra 200 USD per month by completing simple tasks on the go. Fast withdrawal via PayPal and gift cards. 100% Legit!
Smash Crystal App Review
Name: Smash Crystal (Early Access)
Developer: Rohan Creative
Eligibility: Worldwide
Prize: Free
Payout threshold: $1000
Overall rating: 1/5
What is Smash Crystal?
Smash Crystal is a Vietnamese match-3 game in which players combine crystals and collect virtual dollars.
In the app description, the company claims that you have a significant chance of winning real rewards and big prizes.
All you have to do is match at least 3 crystals at the same level to replace them with a with higher rank crystal.
Smash Crystal has been installed over 50,000 times, which is not impressive for a game that supposedly pays $1,000s!
How Does Smash Crystal Work? 
Installation and Permissions
Smash Crystal is available on Google play for users in all countries.
Before installing this game, it's important to be aware it has access to photos, media and files in your USB storage.
No one knows for sure whether the developer can violate your privacy and files with such permissions. So, if you don't want to take risks, you'd better think twice before installing Smash Crystal.
Check out the top apps that pay for playing games here! 
How to Play Smash Crystal?
Simply swipe the crystals in any direction to create sets of over 3 crystals of the same level.
When you place the identical crystals side by site, they will combine into another a higher level crystal.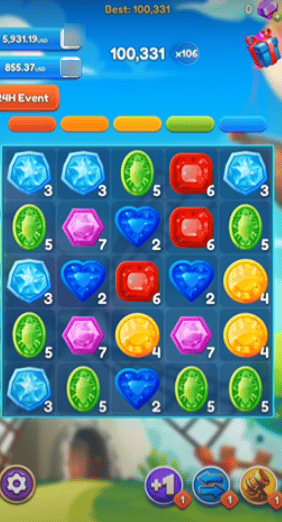 Whenever you merge up a new crystal, you may create a magic item that can blast other crystals.

Unlike other match-3 games like Toy Block and Sea Big Bang, you don't need to accomplish any goal. All you have to do is keep merging to collect rewards.
However, you need to make sure you don't run out of lives. Every time you move a crystal that doesn't match, you will consume a life!
You will receive random cash coupons after merging the crystals. Just tap the "collect" button and watch the clip until the end to get the money in your virtual balance.
Some players may not earn redeemable cash rewards, depending on their country.
How Do You Get Paid?
If you want to try your luck with Smash Crystal, you need to play until you collect $1,000 before you can cash out to PayPal.
However, once you input your email and request the payment, the game will disappoint you with additional requirements.
First, it requires that you watch 50 videos to activate the order, which may take 24 hours. But of course, it won't be enough!
After the activation, you discover there is a limit of 30 order per day, and that all of them have been sent out today.
The solution? What another 50 videos to apply directly without waiting.
Now, stop and think carefully. Do you really think you will get paid? I hope you haven't watched so many ads before finding this post.
Sick of playing games to make other people rich? Join Prizerebel now and get paid for completing every task.
Is Smash Crystal Legit? Does it Pay? 

No, it doesn't! The app won't pay you even if you watch thousands of misleading advertisements.
This is a very common tactic used by many game developers who want to maximize playtime and, as a result, make more profits!
Since virtual cash has no currency value, the reward is an illusion!
Many people go the extra mile and do whatever it takes to withdraw the money. But make no mistake. This is a complete waste of time!
Conclusion 

This reward platform is going viral! Cash out via PayPal, Visa, Gift Cards, and in-game currencies - Click here to find out how to generate an extra $10+ per day! 
Smash Crystal is just another match-3 puzzle game that will try to hook you by promising real money.
Unfortunately, it will treat you like a fool by adding extra video requirements. Regardless of how many ads you watch, you will never get paid.

Hundreds of mobile game are using this tactic, and as time passes by, we see that nothing changes.
They continue to advertising these apps as if players could earn a ton of money just by tapping their devices.
If you value your time and you need cash for yesterday, avoid Smash Crystal at all costs.
Is There a Similar Game that Pays? 
Yes! As far as I know, Sweet Bitcoin and Bitcoin Blocks are the only math-3 games that reward users.
The game is developed by a Canadian company called Bling, which operates many other popular games like Bitcoin Pop and Bitcoin Food Fight.
The downside of these games based on BTC is that you need to play for many months to earn a measly $1 worth of satoshi. It's very discouraging, and it only makes sense if you really enjoy playing for fun.
Earn a Full-Time Income Online
Imagine being able to work from your laptop, and most importantly, with no boss, customer or co-worker at your throat.
Many people, myself included, have taken the steps to build a successful online business and benefit from the digital economy.
For me, freedom is more important than money, which is why I'd rather make 2,000 USD per month online than 10,000 USD in a job that I hate!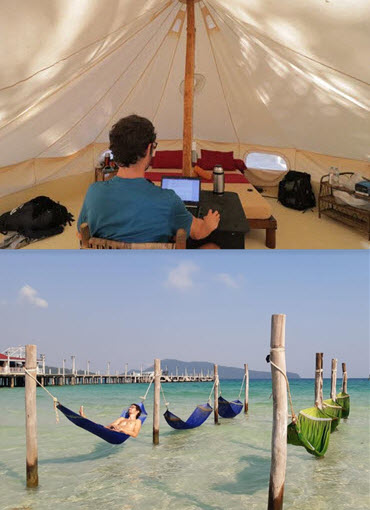 An online business gives me the freedom to work whenever I want and set my own schedule. Therefore, I am free to travel and spend more time in places that I enjoy.
But maybe you have other dreams in life! If so, I am sure working online can help you achieve them!
If this lifestyle appeals to you, I recommend you to join this excellent step-by-step program and take massive action.
Final Words
Thanks for reading my Smash Crystal app review. How long have you played this game for? How was your experience? Share with us in the comment box below!
Peace!