Welcome to my Fun! Plinko Time App Review!
Over 100,000 people have already installed Fun! Plinko Time because they were told they could cash out $20 to PayPal and a $3 Amazon gift card.
Can you imagine what your life would be like if you could collect real money by dropping pinballs?
I know it sounds too good to be true, which is why you are reading this review in search of some answers.
Is Fun! Plinko Time legit or fake? Does it transfer the money once the cashout limit is reached? Keep reading to find out!
RECOMMENDED: Check out the step-by-step program that helped me build an affiliate site and quit my job in 2019. No special skills are required! 
Fun! Plinko Time App Review
Name: Fun! Plinko Time
Developer: FunerLeague
Payout threshold: $20 (PayPal), $3 (Amazon)
Price: Free
Overall Rating: 1/5
What is Fun! Plinko Time? 
Fun! Plinko Time is an arcade game in which you drop the balls and collect virtual rewards when they hit the obstacles.
It also features a slot machine that is activated when a ball falls into the orange box. Depending on which symbols you match, you will get extra balls, cash rewards, and other items.
The Play store is jam-packed with Plinko games. Here is another similar app that I reviewed a few months ago!
Fun! Plinko Time has been installed over 100,000 times and rated 4.1  stars in the Play Store.
How Does Fun! Plinko Time Work?
Installation 
Fun! Plinko Time is an Android app available in all countries. Once you download and install the game on the Play Store, you can start the game right away.
Just be aware that once you have the app on your device, it can read your USB storage, such as photos, videos, and other files. Not only that, but the app can delete and modify your files.
Why would a game require such permissions? Leave me a comment if you know because I am still trying to find the answer!
How to Play Fun! Plinko Time? 
Tap the screen to drop a ball vertically from the top of the screen. Whenever they hit an obstacle, you will earn a relevant reward.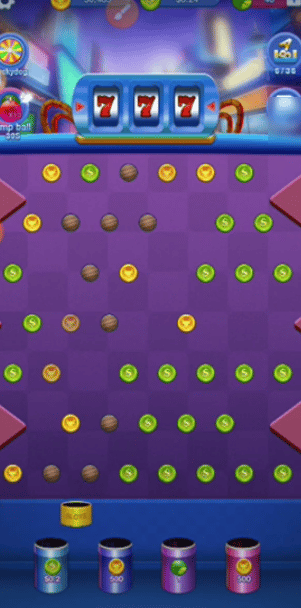 For example, when the ball hits the green peg with the dollar sign, you will get $0.01. If the ball hits the yellow obstacle with the star, you will get 5 tokens.
If you open the token balance, you find that 9,000,000 tokens are worth $3.
The balls may also fall into one of the bonus boxes at the bottom, giving you different cash and token rewards.

You can also trigger the 3-reel slot machine if a ball hits the slot box. Then, you get more rewards by matching three symbols.
Whenever you run out of pinballs, you can tap to watch a video and get an extra 40 balls.
How do You Get Paid? 
Fun! Plinko Time tries to convince you it's possible to withdraw real money once you meet the following requirements:
Reach $20: Cash out $20 via PayPal
Collect 9,000,000 tokens: Redeem $3 Amazon gift card.
Hit three seven in the slot machine: Win $777 via PayPal.
Collect 36 items: Withdraw $1,000 to PayPal.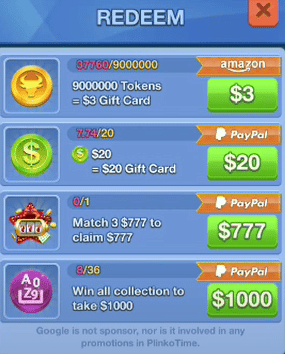 Is Fun! Plinko Time Legit? Does it Pay? 
No, Fun! Plinko Time does not pay!
At first, you will earn lots of virtual dollars, and your cash balance will grow fast.
But once you reach approximately $15, then the number of green obstacles reduces drastically, and so do your earnings.
Therefore, you end up playing for much longer and watching more videos to reach the payout threshold.
Well, that's precisely the developer's intention because the more you watch videos, the more money he makes!
Then, if you persist and keep playing, you will eventually get stuck at $16 or $17 like MANY players do.
There are many complaints on Google Play from users who couldn't collect more cash rewards because there is no more green obstacles. They only get coins!

There is no happy ending for people who try to make money with this app!
Keep in mind the developer has the right to deny any player access to this game at his sole discretion. Therefore, you may lose all your progress and virtual cash at any time.
Conclusion 
Fun! Plinko Time is another game that preys on people's time by making them believe in easy money.
They trick people into thinking they can cash out the money if only they reach the cashout requirement.

This reward platform is going viral! Cash out via PayPal, Visa, Gift Cards, and in-game currencies - Click here to find out how to generate an extra $10+ per day! 
But they won't transfer the money to your PayPal account even if you watch thousands of misleading commercials.  
I hope you realize soon that Fun! Plinko Time is holding a carrot on a stick in front of you if you know what I mean.

They win, you lose… it's that simple!
Earn a Full-Time Income Online
If you want to earn real money online, it's important to realize you need to provide value to the internet and use the right strategy.
In my opinion, internet marketing is the best business model for most people. I highly recommend it to anyone because it's a life-changing opportunity!
Many people, myself included, have taken the steps to build a website and benefit from the digital economy.
For me, freedom is more important than anything, which is why I'd rather make 2,000 USD from my own business than 10,000 USD working at a job that I hate!
If the lifestyle appeals to you, join this excellent step-by-step program and take massive action.
Final Words
Thanks for reading until the end of this post. If it was helpful to you, please support us by writing an honest Fun! Plinko Time review below.
Thank you so much. You're awesome!
Peace!