Welcome to my Hex Connect 3D app review!
Hex Connect 3D is another game about merging chips and earning lots of virtual cash with the PayPal logo on the side.
I discovered this game after watching a commercial, which showed a PayPal account with over $4,000.
Therefore, thousands of people are playing this game because they expect to cash out this money just like the ad suggested.
I am sure you don't want to spend hours watching videos and connecting chips for nothing.
So, is Hex Connect 3D serious about rewarding players? Is it legit or fake? Let's find out!
RECOMMENDED: Check out the step-by-step program that helped me build an affiliate site and quit my job in 2019. No special skills required! 
Hex Connect 3D App Review
Name: Hex Connect 3D
Developer: InfinitePlay
Payout threshold: $1000 (PayPal)
Price: Free
Overall Rating: 1/5
What is Hex Connect 3D? 
Hex Connect 3D is a merge game where you must connect the same numbers to complete levels and earn virtual dollars.
There are probably hundreds of similar apps on the Play Store, such as this pet merging game, which also promises to reward players.
Understand that the reason they offer cash incentives is to grab your attention for a long time and get you to watch a crazy number of ads.
Hex Connect is still in development, which is why you don't see any reviews on Google Play.
Many developers use this classification as an excuse to avoid the negative feedback about their creations.
As a result, people need to do their own investigation to find out whether they will get paid or not. Many of them will just keep playing and learn the hard way!
How Does Hex Connect 3D Work?
Installation 
Hex Connect 3D is available worldwide in the Play Store. Once you have the game installed on your Android device, it can access your photos, media and files.
The fact that they can read, modify and delete files boggles my mind. Why would such app require such permissions? I am still trying to find an answer for that!
How to Play Hex Connect 3D? 
Slide your finger and connect discs with the same number. They will merge into a higher number chip and give you points to complete the progress bar.
You should try to connect as many chips as possible in one go!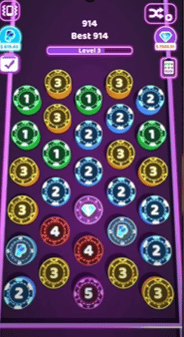 You will get diamonds and virtual dollars after completing levels or connecting the chips.
But as expected, you must tap the button and watch the video in order to collect your reward.
It's all about making you watch as many ads as possible because that's how Hex Connect 3D generates revenue for the app developer.
The game supposedly gives you more cash rewards just for checking in daily. Besides, you collect diamond by completing daily tasks such as passing certain levels.
Diamonds can be traded in for in-game currency on popular games like Free Fire, Roblox and Pokemon Go.
Since game upgrades are very expensive, the developer is also trying to attract a young audience that cannot afford it.
How Do You Get Paid? 
Hex Connect 3D claims to transfer the money to PayPal once you reach $1,000. You can also cash out $2,000 and $3,000!
As for in-game currency, the minimum payout threshold is 10,000 diamonds. For example, you will get 10,000 FF diamonds worth proximately $90! 
Is Hex Connect 3D Legit? Does it Pay? 
No, it doesn't! You can reach $1,000 and request the payment, but the money will never be transferred to your PayPal account.
The same applies to diamonds! The app won't transfer the digital currency to your Player's ID regardless of how many videos you watch.
It's just an illusion with the main purpose of getting people to watch lots of advertising.

Conclusion 
Hex Connect 3D is just another fake money-making app designed with the sole purpose of filling developer's pockets.
Only those who operate the game benefit from it since they are the ones getting paid by advertisers.
Although the developer promotes the game as a money-making opportunity, he can deny your payment because he has no obligation to pay. Crazy, right?
It's simply impossible for him to reward everyone who reaches $1,000, and there are no sweepstakes.

This reward platform is going viral! Cash out via PayPal, Visa, Gift Cards, and in-game currencies - Click here to find out how to generate an extra $10+ per day! 
So, don't waste your time trying to collect $1,000 or 10,000 diamonds. Those are just virtual items with no real-world value.
Verdict: Not Recommended

Earn a Full-Time Income Online
One of the best methods to earn a living online is to become a content creator and build a large audience.
The internet is jam-packet with success stories of internet marketers who generate 3 – 4 figures per month.
What I love about the internet is that anyone can achieve results and make a decent income regardless of their age and background.
I highly recommend to anyone to try this life-changing opportunity!
Many people, myself included, have taken the essential steps to build an online business and earn excellent commissions.
For me, freedom is top priority, which is why I'd rather make 2,000 USD though my website than 10,000 USD working for somebody else.
If this lifestyle appeals to you, join this excellent step-by-step program and take massive action.
Final Words
Thanks for reading until the end. If this post was helpful to you, please support us by leaving your honest Hex Connect 3D review below.
Thank you so much for your contribution!
Peace!