Welcome to my Load Balls 3D app review!
I just came across an interesting game that went viral recently called Load Balls 3D.
The main reason people are playing this game is that the app supposedly pays $1,000 to those who fulfill all the requirements.
It may seem like the easiest way to make money online, but that's exactly why you need to be very careful!
There are countless applications treating people as fools by promising easy rewards that turn out to be completely fake! 
You don't want to help app developers thrive on your time while you get nothing in return for your commitment.
So, will Load Balls 3D transfer the money to your PayPal account or not? Is it legit or fake?
Keep reading to find out!
RECOMMENDED: Check out the step-by-step program that helped me build an affiliate site and quit my job in 2019. No special skills required! 
Load Balls 3D App Review
Name: Load Balls 3D
Developer: Bough Studios
Payout threshold: $1000 (PayPal)
Price: Free
Overall Rating: 1/5
What is Load Balls 3D? 
Load Balls 3D is an interesting puzzle game where you collect virtual dollars by moving as many balls as possible out of the container.
You must transfer the colorful balls between the different compartments until they fall into the truck at the bottom.
Once you release a specific number of coloured balls, you will pass the level and get virtual cash and iPhone puzzles.
Yep! they claim if you collect enough virtual items, you can withdraw that money or claim an iPhone 12 Pro.
Load Balls is still in development despite being installed over 50,000 times. That means the reviews are blocked and you cannot learn from other people's experiences.
How Does Load Balls 3D Work? 
Installation 
Load Balls 3D is available in all countries for Android users. Upon installing the app on Google Play, you can launch and enjoy the game straight away.
It's important to be aware that this application can read, modify and delete files in your USB storage.
Why would game require this level of control over your device? I am still trying to find an answer, but it doesn't feel right to me.
Here are the top sweepstakes apps that give real cash prizes!

How to Play Load Balls 3D? 
Load Balls 3D comprises a container with grey, and colorful balls separated by long removable bars. A picture is worth a thousand words, so here is a screenshot: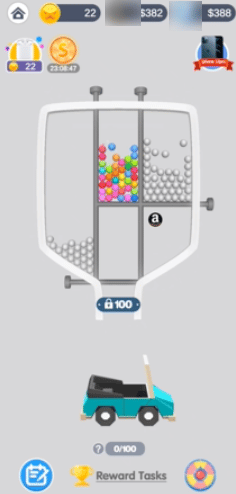 The goal is to transfer as many colored balls as possible through the hole and into the truck. You do it by removing the bars that are holding the balls in the upper compartments.
Whenever grew balls touch colored balls, they become coloured as well. So, you need to remove the bars strategically.
Note there is a specific number at the bottom, which represents the minimum number of colored balls you must release in order to pass the level.
I think it's a very nice game because it exercises the brain and helps to pass the time, but what about the money?
Earning Virtual Cash
After you complete the level, Load Balls 3D allows you to open 4 gift boxes and collect virtual dollars.
The cash is deposited either in your PayPal or Amazon balance, but only after watching the video, of course. You will also get an iPhone puzzle piece if you open the four boxes.
From time to time, you will also play with balls that have the PayPal or Amazon logo. As a result, you will get instant rewards when they hit the truck.
Do you understand what is going on here? The developer is making real money by enticing players to watch those commercials.
How do You Get Paid? 
Load Balls 3D claims you can only withdraw the money once you accumulate $1,000 within 24 hours.
Check out the best game apps for making real money here! 

Is Load Balls 3D Legit? Does it Pay? 
No, Load Balls 3D doesn't pay, so you should not waste your time playing this game for money.
At first, it suggests that you can redeem $1,000 after you collect enough virtual dollars. But unfortunately, the developer is not telling you the whole story!
The BS becomes clear after you enter your email address and request the payment. You need to watch 20 videos to within 36 hours activate the order.
It's crazy, but most people will follow suit and do whatever they are told to claim their reward. So, here is what happens next:

This reward platform is going viral! Cash out via PayPal, Visa, Gift Cards, and in-game currencies - Click here to find out how to generate an extra $10+ per day! 
After watching all the videos, it says the daily limit is 100 orders and that you can go through another 20 adverts to apply directly. Here is the proof.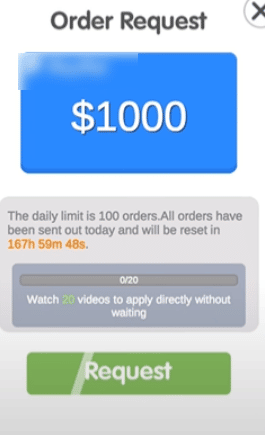 Do you think they will stop there? Of course not!
Next, Load Balls 3D claims your order was generated and the system will complete the review in 48 hours. But again, they entice you to watch 50 ads to apply directly without waiting.
Long story short, they are just using a common tactic to boost their advertising profits at the expense of your time.
Conclusion 
Load Balls 3D is provides an interesting and addictive gameplay, but there is no money to be made here.
The developer has no obligation to transfer the funds to your PayPal account or send you the Amazon gift code.
Also, the iPhone 12 Pro won't be shipped to your address even if you collect all the puzzle fragments.
You should avoid playing Load Balls 3D or any other game that entices you to watch videos in return for lots of money.
They are just designed with the developer's pockets in mind.
Earn a Full-Time Income Online 
If you want to make real money online, I highly recommend you search for proven strategies and switch your mindset.
It's possible to generate thousands of dollars per month by becoming a content creator and building a large audience.
Just keep in mind that it takes time and effort to achieve the results you want. But everyone has to make some sacrifices today in order to reap the rewards in the future!
If you love freedom as much as I do, and you wish to work remotely, click here and take simple, yet very effective steps to build a lucrative internet business.
Final Words
Thanks for reading this post until the end. If it was helpful to you, kindly leaving your honest Load Balls 3D in the comment box below.
Thank you so much for your contribution!
Peace!