Welcome to my Tap Chip Win app review!
I have recently stumbled across Tap Chip Win and the opportunity to redeem $10,000 after meeting specific conditions.
At first, you are told your cash balance needs to reach $10,000 so you can withdraw the money via PayPal. But unfortunately, it's not that easy as they make it seem!
Whether you are hesitant to play this game or you are already waiting for your payment, you have come to the right place!
In this post, I am going to explain how Tap Chip Win works and answer important questions you might have. Is this game legit or fake? Will it transfer the money after all the requirements are met?
Keep reading to find out!
Before you leave, don't forget to Check out the top gpt site here! Members are making an extra 200 USD per month by completing simple tasks. Withdraw the money easily via PayPal or gift cards. 100% Legit and no verification required.
 Tap Chip Win App Review
Name: Tap Chip Win – To Be Billionaire
Developer: sidra hamid
Eligibility: Worldwide
Payout Threshold: $10,000
Price: Free
Overall Rating: 1/5
What is Tap Chip Win? 
Tap Chip Win is a game that awards virtual dollars to players who combine same number chips and watch videos.
This opportunity may thrill you, but there is actually nothing new under the sun! There are lots of of similar apps that I reviewed recently, such as Chip Master and Tap Black Gold.
The developer claims you need to collect $10,000, so they let you go the money via PayPal. 
Most people work hard for an entire year to make this amount of money, so it seems too good to be true!
Tap Chip Win is still in development, meaning you can send your feedback to the developer, but he won't publish your review on Google Play.
This is very unfair since you cannot share your thoughts and warn other users about the application.
How Does Tap Chip Win Work?  
Installation 
Tap Chip Win is available for android users worldwide. However, the cash incentives are only active is specific countries such as the UK and the US.
Be aware you are giving the developer permission to read content of your USB storage, such as photos, media and files.
That is not to say the developer will steal or violate personal data. However, the company should be more transparent about such permissions.
Why play casual games that never pay? Click here and earn real PayPal money! 
How to Play Tap Chip Win? 
The game comprises a 5 x 5 grid with 25 chips of different numbers.

Your job is to tap the chips to increase their number by one unit. If 3 or more chips of the same are side by side, they will merge into a higher number chip.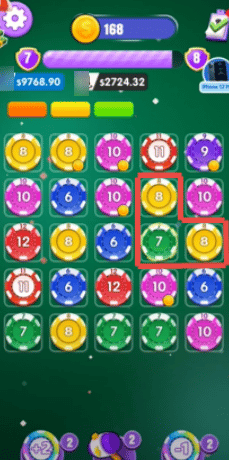 By tapping the chip number 7, it will turn into chip 8 and merge with the other 2 adjacent yellow chips.
Then, other chips will replace the ones that were eliminated and eventually match with same number chips.
You have 5 lives represented by colorful squares at the top. Every time you increase the number of a chip and no matching occurs, you will lose one life.
That's why you want to use props whenever you feel in danger. But of course, you may have to watch a commercial first.
Earning Cash Rewards
Tap Chip Win will give you cash coupons, deposited either on your PayPal or Amazon balance.
But if you want to collect the reward, you must tap "Get it" and watch a 30-s sponsored video.
That's how the developer is making money from this game, and you are the one helping with the views.
Note the game is using the PayPal or Amazon logo to make it more appealing and convincing. However, these companies may not even know that Tap Chip Win exists.
How Can You Cash Out? 
Tap Chip Win suggests you may withdraw $10,000 via PayPal or Amazon vouchers once your cash balance reaches this amount.
After tapping the redeem button, they ask you to enter your email address only to be told you need to watch 50 videos. 

It's very frustrating because they don't list all the requirements in the beginning. So, you never know what to expect after your current goal is accomplished.
Is Tap Chip Win Legit? Does it Pay? 
No, it doesn't! Tap Chip Win is not a real moneymaker by any means, so you cannot make a single penny with this game.
After watching 50 videos, they come up with another excuse to delay payment and make you watch even more clips.
This time, they say there is a daily limit of 30 orders and that all of them have been sent out today.

This reward platform is going viral! Cash out via PayPal, Visa, Gift Cards, and in-game currencies - Click here to find out how to generate an extra $10+ per day! 
The solution? What another 50 videos to apply directly without waiting.
YES! Here you are, another game using the same wording and tactic used by hundreds of other games. They don't even bother using a different approach.

I hope you realize that most money games that use the PayPal logo are using fake rewards to boost ad revenue.
Conclusion 
Lots of people end up installing and playing Tap Chip Win because of how the app is advertised.
In the beginning, they give you cash coupons worth hundreds of dollars just so you get "hypnotised" by the dollar signs.
However, the developer cannot afford to pay $10,000 to those who meet all the requirements. This is an utter nonsense!
The game is a bit boring for my liking, and you won't get paid.
Verdict: Not Recommended
Earn a Full-Time Income Online 
One of the best ways to make money online is to publish content that can be monetized using different methods.
If you know how to build a significant online audience, you can generate thousands of dollars per month while working from your laptop.
I've grown a successful website for that past 6 years thanks to this excellent step-by-step program.
It helped me create and operate a profitable online business, which now covers all my living costs.
The best part is that you can join for free and launch your site today with no strings attached!
Final Words
Thank you for reading my Tap Chip Win app review. I hope it was helpful and eye-opening!
If you want to share your thoughts about this game, please use the comment box below.
Peace!