Welcome to my Zumbla Delux app review!
Zumbla Delux is an addictive ball shooting game in which players supposedly earn thousands of dollars via PayPal.
The company advertises the app by claiming you can get $99 if you are online for ten minutes every day.
However, most people don't see the small print at the bottom that says "Result is not guaranteed".
There are countless Zumblas on Google Play, but the one developed by ThomasMichael is the only game with cash rewards.
Zumbla Delux is a nice game, but you are here to know whether it pays or not. Is Zumbla Delux legit or fake?
Keep reading to find out before you watch more ads!
Top Recommendation: Check out the step-by-step program that helped me build an online business from scratch and reach $2,000+ USD per month. No special skills needed! 
 Zumbla Delux App Review
Name: Zumbla Delux – Classic Zumbla Puzzle Games (Early Access)
Developer: ThomasMichael
Eligibility: Worldwide
Payout Threshold: $1,000
Price: Free
Overall Rating: 1/5
What is Zumbla Delux? 
Zumbla Delux is a classic game in wish you make sets of three balls of the same color to destroy them.
The balls keep moving and you must be precise in matching the colors to prevent them from falling into the hole.
Some balls have the PayPal or Amazon logo and you already know what happens after you match three of them.
Zumbla Delux will give you cash coupons that are credited only after you tap the "Collect" button and watch the advert.
That's how the developer is making profits by offering you a free game. The question is: Are they making enough money to pay at least $1,000 to every player?
How Does Zumbla Delux Work? 
Intallation 
Zumbla Delux is available for android devices in all countries. However, the cash prizes may be disabled depending on where you live.
Tap on "Permission" and you will find the app can read, modify and delete contents of your USB
Be aware you are giving the developer permission to read content in your phone's storage, such as photos, media and files.
I am not saying the company can or will steal or violate personal data. However, they should be more transparent and explain why they require such permissions.
Getting Started
After launching the game, you will earn a sign in bonus of $25. Sign in for 7 consecutive days to collect bigger cash prizes.

Next, click the play button and select the first level.
This app pays you for watching cool videos! 
How to Play Zumbla Delux?
Zumbla Delux in an interesting game where you shoot the ball to match at least 3 balls of the same color.
Whenever 3 or more balls of the same color are aligned, they will ge automatically destroyed.
Since the balls keep moving, your job is to prevent them from falling into the hole by quickly matching as many balls as possible.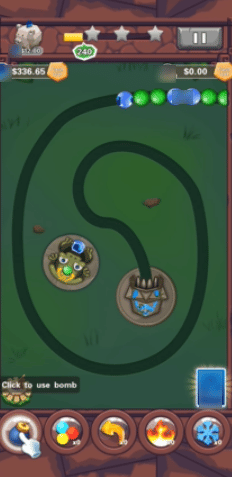 As you complete the levels, the path chances and the difficulty increases. Don't forget that you have a few props under your sleeve:
Bomb: Remove balls from the area around the bomb.
Universal color: It can replace any color of the ball.
Back: back the queue to the exit.
Flame: Shoot multiple flames to eliminate the ball from the path.
Freeze: Slow the ball down.
As I mentioned, some balls have the PayPal or Amazon logo. Once you destroy these balls, you will get the chance to collect virtual cash by watching the short video.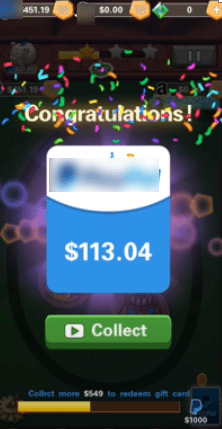 The money comes in the form of cash coupons, which you can only redeem after you reach $1,000, $2000, $5,000 and $8,000. 
You can supposedly withdraw the money via either PayPal or Amazon gift cards as long as the cash balance reaches the specific amount.
Once you collect 400 diamonds, you can open the piggybank and collect even more virtual rewards! But will they pay you?

Is Zumbla Delux Legit? Does it Pay? 
No, this game doesn't offer cash prizes even if you fulfill all their requirements. It behaves just like most PayPal fake games.
Upon reaching $1,000 and imputing your email address, they will ask you to watch 50 videos to activate the order.
I lost count of how many games use the same excuse to postpone payment and entice you to watch more advertising with no guarantees. This is wrong on so many levels!
Unfortunately, many people are desperate for money and will do whatever they are told to get paid. But after watching all the videos, Zumbla Delux will increase the view requirement by another 50 videos. 
What a joke!

This reward platform is going viral! Cash out via PayPal, Visa, Gift Cards, and in-game currencies - Click here to find out how to generate an extra $10+ per day! 
Make no mistake. You will never receive the money regardless of your request status. They won't pay you!
To make matters worse, Zumbla Delux is still in development mode, so they don't even allow you to write a review and warn other players.

Conclusion 
Zumbla Delux is not a game designed for people who are searching for a real opportunity to make money. So don't bother playing it unless you just want to have fun and pass the time.
Only those who operate this application make profits through all the adverts they enticed you to watch.
Many people ask me whether there are games that actually pay. Well, unfortunately, even those that pay are not worth your time due to extremely low rates of pay. 
You are much better off joining a GPT site and completing simple online tasks like offers and surveys. Gere is my top recommendation! 
Final Words
Thank you for reading my Zumbla Delux app review. I hope it was informative enough and eye-opening!
If you want to share valuable thoughts about this game, feel free to use the comment section below.
Peace!