Welcome to my Deluxe Marble Shooter app review!
Perhaps you have seen a commercial about this money-game called Deluxe Marble Shooter.
In the advert, the guy apologises for just giving away $30 instead of $100 because of an alleged "server crash".
He goes on enticing players to download the app by claiming the money will be sent directly to their PayPal accounts.
Then, it shows a game simulation in which the cash balance grows insanely fast and reaches $5,000 in a matter of seconds.
You wish Deluxe Marble Shooter paid you a decent amount of money just for having fun. But deep down, you know it seems too good to be true.
So, can you trust this application? Is Deluxe Marble Shooter legit or fake? Keep reading to find all the answers you need!
Top Recommendation: Check out the step-by-step program that helped me build an online business from scratch and reach $2,000+ USD per month. No special skills needed! 
Deluxe Marble Shooter App Review
Name: Deluxe Marble Shooter (Early Access)
Developer: leonpatriotic
Eligibility: Worldwide
Payout Threshold: $1,000
Price: Free
Overall Rating: 1/5
What is Deluxe Marble Shooter? 
Deluxe Marble Shooter is an addictive game in wish you shoot to match 3 or more balls of the same colour to destroy them.
This game is very similar to the previous one I reviewed called Zumbla Delux. 
Since the marbles are moving along the path, you must eliminate all balls quickly before they fall into the hole.
By matching PayPal marbles, you will receive cash coupons with some virtual dollars. But only if you tap the "Claim" button and watch the video.
The money accumulates in your cash balance, which you can supposedly redeem once you reach $1,000.
How Does Deluxe Marble Shooter Work? 
Deluxe Marble Shooter is an Android application, so you can install it for free through the Play Store.
The game is still in development despite being installed over 10,000 times. That means the developer doesn't allow players to publish their honest reviews on Google Play.
How to Play Deluxe Marble Shooter? 
It's super simple! Just shoot the marble balls and destroy them by arranging three balls of the same color together.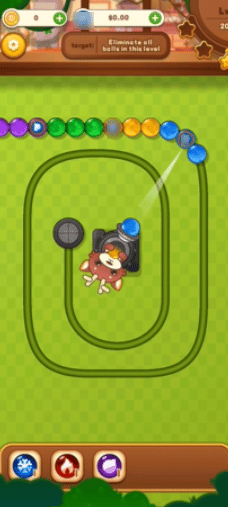 Every time you eliminate the marbles, you may earn virtual dollars with the condition that you watch the advert until the end.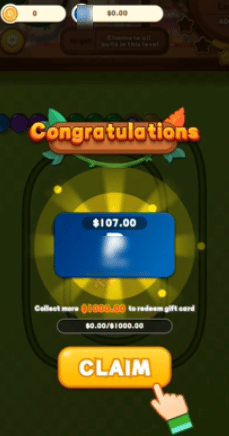 The goal is to destroy all the balls and prevent them from falling into the hole.
Once you complete the level, you will earn not only coins, but you will get the chance to open 4 boxes and collect iPhone 13 fragments, coins and cash.
If you fail, you can revive by watching a clip or spending 900 coins. All the balls will go back 50% along the track so you can continue the challenge.
Don't forget you can use special marbles that destroy many balls at once. If you want to add more props, you need to watch the sponsored clip.
How Do You Get Paid? 
Deluxe Marble Shooter claims you can withdraw the money once your account reaches $1,000. 
Then, you must cash out by providing your email address linked to PayPal.
Well, what they "forget" to mention is that your order will be under review until you watch 30 videos to get your reward.
It's not fair because they didn't mention this extra requirement in the beginning!
However, many people will watch the videos since $1,000 is probably more than their monthly salary. Easy, right?
Is Deluxe Marble Shooter Legit? Does it Pay?
Nope! It may come as a shock, but Deluxe Marble Shooter will entice you to watch even more videos for NOTHING!
Those who comply with their first video requirement will get the following message:

"Payment in progress. You need to watch 50 videos in 3 days to get the reward.
I hope at this point you stop playing you realize you won't receive the money regardless of what they say.
Conclusion 
Deluxe Marble Shooter is great time killer that should only be played for the fun of it.
Unfortunately, the developer tricks people into believing they can earn thousands of dollars if they watch a specific number of videos.

This reward platform is going viral! Cash out via PayPal, Visa, Gift Cards, and in-game currencies - Click here to find out how to generate an extra $10+ per day! 
At the end, you will watch hundreds of video with nothing to show for it. The money will never be transferred to your PayPal account, regardless of your firm commitment.
Legit application will always mention the prerequisites to cash out from the get go.

People should never trust unrealistic ads that supposedly pay lots of money just for playing a free game.
Which Game Pays? 
There are very few games that actually transfer crypto via Coinbase. But its not worth playing them unless you already play similar games for fun. Check out the full list here. 
Instead of recommending specific games, I suggest you join Prizerebel and complete app offers. 
You can rack up decent amount of money if you complete high paying offers, specially those that ask for your credit card details.
Just make sure you read the Terms of Service before you do!
If you are not a fan of offers, you can get paid to answer online surveys and share your thoughts about different products and services. Click here and join for free! 
Final Words
Thank you for reading my Deluxe Marble Shooter app review. I hope it was informative and eye-opening!
If you want to share your thoughts and experience about this game, use the comment section below. In this blog, you are free to publish your honest review.
Peace!