Welcome to my Royal Cut Money app review!
I writing this post to expose another knife throwing game in wish players are enticed to watch videos for real money.
Right after launching the app, they claim you can collect PayPal bonuses once you reach £704.10. If you don't live in the UK, you will see the equivalent amount in your currency.
There are many developers falsely advertising their apps as if it could pay hundreds and even thousands of dollars.
Unfortunately, you cannot trust anyone on the internet before doing proper research. That's why you are here to do your homework and save time!
So, is Royal Cut Money legit or fake? Will they pay you just for throwing knives towards flying cash notes?
Let's find out!
Top recommendation: This step-by-step program helped me earn $2,000+  per month and quit my job in 2019. Claim your free membership here! 
Royal Cut Money App Review
Full Name: Royal Cut Money (Early Access)
Developer: Fiona Qian
Payout Threshold: £704.10 (UK)
Price: Free (no in-app purchases)
Overall Rating: 

1/5
What is Royal Cut Money?
Royal Cut Money is a simple game in which you throw knives at flying banknotes to collect virtual money. It's very similar to this shooting money game! 
Every time you slice a cash note with the PayPal logo, they credit a few pennies straight to your account balance.
By eliminating all cash notes from the screen, you will be offered a big reward of over £50 as long as you tap "Collect" and watch the sponsored video.
Royal Cut Money is still in development, meaning they won't allow you to publish a review on Google Play for others to see.
This is common practice among the so-called "money-games", which don't want people to find out whether it pays or not.
How Does Royal Cut Money Work? 
Installation 
Royal Cut Money can be downloaded on Google Play for your Android device. Just be aware the app can read your phone status and identity.
I have no clue why a game wants to access your device ID and call information. So, this is something to keep in mind.
Before you start the game, Royal Cut Money asks you to bind your PayPal email in order to receive your payment.
How to Play Royal Cut Money? 
Simply tap the screen to throw knives towards banknotes of different currencies.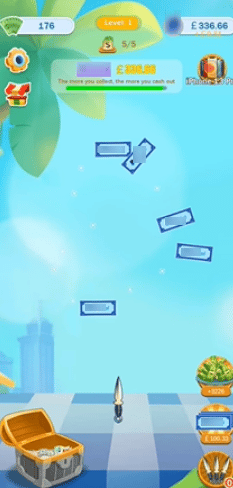 You will earn virtual pounds if you eliminate cash notes with the PayPal logo. You can also accumulate green cash notes, but these cannot be exchanged for cash rewards.
Once you eliminate all the banknotes, they will give you a decent amount of money after watching the commercial.
The progress bar at the top fills up as you eliminate the banknotes, and you will pass the level once it's complete.
As a result, you get the chance to open 4 boxes and win more rewards, including iPhone 13 jigsaw puzzles.
You may throw 3 knives at once, making it very easy to hit all the notes.
Royal Cut Money is not a challenging game, which is not a problem for most people who are just playing for the money.
Don't waste time! Earn real cash rewards by completing simple tasks. Click here and create your free account now!
How Do You Get Paid? 
At first, Royal Cut Money says you can cash out once you reach the payout threshold, which is £704.10 in the UK. 
Also, they claim you can redeem the iPhone if you collect 300 iPhone 13 fragments! 
It doesn't take long to request the payment because they give you large amounts of cash, especially after watching the videos.
After you press the cash out button, the app refuses to pay and add another requirement to activate your order. Now you must watch 30 videos!
Do you think the developer will be happy to pay you after watching those videos? If course not!
Next, it says the order is under review for 24 hours, and you can watch more clips to reduce the waiting time by 30 minutes. 

Do you already feel the bad smell?
Is Royal Cut Money Legit? Does it Pay? 
No, it doesn't! Royal Cut Money is not a real money-making app, so none should waste their time trying to win fake cash prizes.
Believe it or not, the game will ask you to watch more 80 videos to activate the order for the second time.
So, clearly, this app is trying to fool you consecutively until you finally realize this is only a trap.

This reward platform is going viral! Cash out via PayPal, Visa, Gift Cards, and in-game currencies - Click here to find out how to generate an extra $10+ per day! 
The more videos you watch, the more money the developer earns from its advertising partners. But they won't share any money with players!

Conclusion 
Royal Cut Money is another boring game that prey on people's time by enticing them to watch an insane number of videos.
Players are led to believe they can cash out as long as they reach all the requirements.
But at the end of teh day, the developer won't transfer the money to your PayPal account nor give you the expensive iPhone 13.
I hope you realize this before you spend more time. They are holding a carrot on a stick in front of your eyes for their own benefit.
The game is free, but your time is precious! If you want to make real money, keep reading the next section.
Earn a Full-Time Income Online
To earn a job-replaying income on the internet, you need to focus on providing value and use effective strategies to attract a massive audience.
The best business model to achieve this end is content marketing. I highly recommend it to anyone because if done right, this can change your life.
Many people, myself included, have built websites that rack up thousands of of dollar per month through affiliate marketing and advertising.
For me, the freedom that it provides is worth every drop of sweat. Why? Because it allows me to work from my laptop from anywhere I want and be my own boss.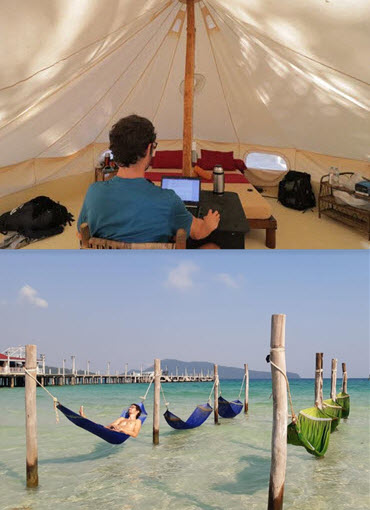 If this is the kind of lifestyle you want for your life, join this excellent step-by-step program and take massive action.
Final Words
Thanks for reading my Royal Cut Money review. If this post was helpful to you, please support us by publishing your honest opinions about this game down below.
Peace!