Welcome to my Money Hit app review!
I woke up today with a crazy desire to expose another money game called Money Hit – Trow and Slash to Win. 
This is a simple game where players collect virtual cash just by shooting cash notes using knives. It reminds of many knife shooting games like Lucky Knife 2. 
As you may already know, the app developer claims you can cash out via PayPal once you watch 20 videos.
Since you value your time, you deserve to know whether the cash reward is real of fake. After all, they are certainly making profits while you are playing their game.
So, will Money Hit pay you? Is it legit? Keep reading to find out!
Top recommendation: This step-by-step program helped me achieve 2,000 US Dollars per month and quit my job in 2019. There is a free membership available! 
Money Hit App Review
Full Name: Money Hit – Trow and Slash to Win (Early Access)
Developer: wendysnyder199818
Payout Threshold: N/A
Price: Free (no in-app purchases)
Overall Rating: 

1/5
What is Money Hit?
Money Hit is a shooting game in which you tap the screen to throw knives at flying cash notes. Oh, so boring you might think!
Well, what if I told you can actually earn virtual cash coupons and withdraw via PayPal once you watch 20 videos?
That's the strategy Money Hit is using to entice players into playing it for a long time and, as a result, generate more profits.
Unfortunately, there is absolutely no information about the company or individual behind this application. Which is a big red flag!
Another problem is that the app is still in development, meaning the reviews on Google Play are blocked.
How Does Money Hit Work? 
Installation
Money Hit is available on Google Play and, just like many other games, requires access to your Wi-Fi connection and full network.
I have no information as to the implication and risks of such permission. So, I suggest more in-depth research if you are afraid of being vulnerable to hackers.
Well, at least Money Hit does not have the power to read and delete photos, videos and other files. Be careful because many other apps do!
How to Play Money Hit? 
You just have to tap and shoot the cash notes that are always moving in circles.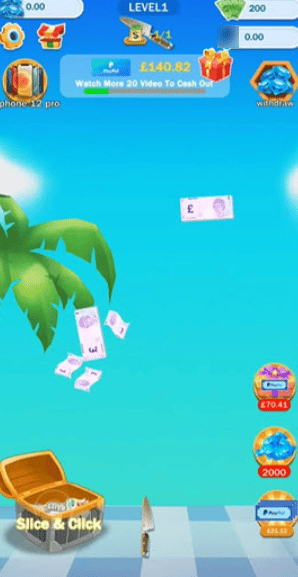 After you slice all of them, you will get 4 lucky cards with virtual cash and diamonds. You are encouraged to watch the video to open the box and collect the prize.

Besides, you can win iPhone 12 pro jigsaws after opening the four boxes.
In my honest opinion, the game is extremely boring since there are unlimited knives and no challenge. But if you are playing for money, it doesn't really matter, right?
So, let's cut to the chase, shall we?
How Do You Cash Out? 
At first, Money Hit requires that you meet 2 conditions before you can transfer the money to PayPal. You must collect at least £140 and watch 20 videos. Easy, right?
You can also redeem diamonds to use in games like Free Fire, Coin Master and Clash of Clans.
Is Money Hit Legit? Does it Pay? 
Despite your commitment to reaching the requirements, you won't receive money, iPhone or Free Fire diamonds.
After you watch the 20 videos and input your email address, the payout will stay under review, and they will ask you to watch another 20 videos.
Of course, this is a lame excuse to avoid processing the reward you deserve.
I hope you didn't reach this stage, but if you did, don't watch more videos because you will never see a single penny in your PayPal account, let alone £140!
Conclusion 

Money Hit is a tedious game that tries to increase playtime by enticing users with unrealistic cash rewards and other prizes.
The reason is that the more you play, the more money they earn with advertising.
You don't want to waste your time making app developers richer unless you just care about entertainment.
If you are reading this post, I believe you installed Money Hit with the primary purpose of making money. Otherwise, you would search for a better game, I guess.
If that's the cause, then I advise you to avoid Money Hit and use other strategies.
The easiest way is to join a GPT site and complete simple tasks, such as surveys and offers. They don't pay very well, but at least you can earn real money instead of fake dollars.

This reward platform is going viral! Cash out via PayPal, Visa, Gift Cards, and in-game currencies - Click here to find out how to generate an extra $10+ per day! 
Earn a Full-Time Income Online

If you are sick of playing games and using reward apps that only benefit developers, I suggest you build your own platform.
Which one? Well, there are many types, but I have my own website where I provide content and monetize with banners and affiliate marketing.
That's how I bring in over 2,000 USD per month while having the flexibility to work remotely and independently.
If this type of business appeals to you, click here to find all the information you need to succeed! 
Final Words
Thanks for reading my Money Hit app review. I hope it was informative enough.
If you want to share your opinions about this game, feel free to use the comment section below.
Peace!