Welcome to my Pool Ball 2048!
I am writing this post to warn the world about another number merge game called Pool Ball 2048.
Just like hundreds of 2048 games, this app awards virtual cash coupons that can be redeemed via PayPal or Amazon gift cards.
However, the player must watch lots of videos and accumulate 500 USD to be able to cash out.
Now, you need to make sure the game will pay you because it will require a significant amount of time and mobile data.
That's why you are here. You value your time, and I am here to save to save you a couple of hours.
So, is Pool Ball 2048 legit? Does it pay or not? Keep reading to find out!
Top recommendation: This step-by-step program helped me reach 2,000 US Dollars per month and quit my job in 2019. Free starter membership available! 
Pool Ball 2048 App Review
Full Name: Pool Ball 2048 (Early Access)
Developer: Yidi Wang
Payout Threshold: 500 USD
Price: Free (no in-app purchases)
Overall Rating: 

1/5
What is Pool Ball 2048? 
Pool Ball 2048 is an addictive game where you connect billiard balls with the same number to merge them.
The balls will merged into a higher number ball and trigger virtual cash coupons with the PayPal or Amazon logo.
As you are playing Pool Ball 2048, you will watch videos promoting other money games and investment applications.
You are encouraged to watch them so that the money is added to your fictitious cash balance.
I clicked the website link, which directed me to a site owned by a company called Hybrid Pirates, Inc. However, it doesn't mention any of the three apps operated by Yidi Wang. That's a big red flag! 
How Does Pool Ball 2048 Work? 
Pool Ball 2048 is available Worldwide on the Play Store. The game is still in development, which means the reviews are blocked.
This is not a good sign considering most fake money games use the "Early Access" classification to avoid criticism.
The game works pretty much like Chip Master, except you are playing with billiard balls instead of poker discs.
How to Play Pool Ball 2048? 
Just swipe your finger to connect all the balls with the same number and color. The connections can be made in all directions, but the lines cannot cross.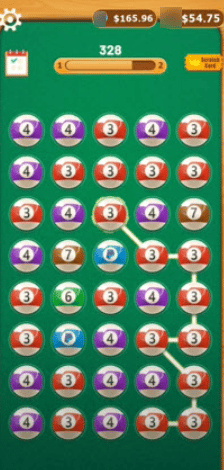 If you connect 2 or 3 balls, you will get a ball with a number that is 1 unit higher. For example, three balls "5" will generate one ball number 6.
Now, if you connect 4 or more balls, the resulting number will be 2 units higher. So, four balls "5"will create number 7.
Earning Cash Coupons
Whenever you merge the billiard balls, the game will offer you cash rewards with the condition you click "Collect" and watch the video.
After watching the advert until the end, Pool Ball 2048 will add US dollars to either your PayPal or Amazon balance.
You also get cash rewards when you collect pool balls with the PayPal logo.
In the beginning, they will give you over $50 just for every merge just to give you the impression you can make a killing. But as you approach 500 USD, cash rewards will dwindle down to $0.03 – $0.02 at a time.
Is Pool Ball 2048 Legit? Does it Pay? 
No, it doesn't! You can reach 500 USD and request the payment, but unfortunately, they come up with another requirement.
Next, you must collect 100 cash coupons within 72 hours to activate the payout. You are lured into watching more 100 videos to get paid.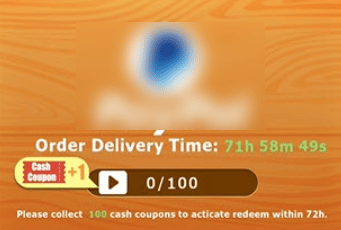 If you do that, they will tell you that the reward is processing and that you should wait patiently. However, neither the money nor the Amazon gift card will be sent to you.
It's impossible that a game like Pool Ball 2048 can pay everyone who fulfills their requirements. The game is very profitable for the developers, but they cannot afford to operate such a generous reward system.

Conclusion 
Forget about making actual money with the Pool Ball 2048 app. The game entices players with fake currency so that they play for longer and watch more advertising.
I don't recommend you get your hopes high and think they can make an exception for you. Nope! They will just ignore you, causing unnecessary frustration.
Please, don't waste your time unless you enjoy playing for the fun of it.
It's nearly impossible to make so much money by playing a casual game on your phone. Some developers give away excellent prizes, but the odds of winning are probably less than 1 in a million.

This reward platform is going viral! Cash out via PayPal, Visa, Gift Cards, and in-game currencies - Click here to find out how to generate an extra $10+ per day! 
Check this post to find game apps that truly pay! Just bear in mind that playing mobile games is the worst method of making money online.
That's because they are only sharing ad revenue with players.

You can earn a lot more by sharing your opinions with marketing research companies or completing sponsored offers. Here you can find the best platform to complete online tasks. 
Verdict: Not Recommended
Earn a Full-Time Income Online
Have you ever thought about working from home and making more money than your current 9-5 job?
As a content creator, you can earn revenue based on how many people you can attract to your platform as opposed to how many hours you work.
Therefore, you can earn money on your own, without working for someone else. This is amazing, right?
If you want to learn how to set up and master this type of business, check out my top recommendation here. 
This is the same program that helped me build a successful affiliate site and generate over $2,000 per month!
Final Words
Thanks for taking the time to read my Pool Ball 2048 review. I hope it was helpful and that it saves your time.
If you want to share your opinions about this app and warn other people, feel free to use the comment box below.
Peace!