Welcome to my Fruits Pop Blast app review!
Since you are reading this post, I suppose you are playing Fruits Pop Blast with the expectation of making at least £100 via PayPal. 
You probably know the Play Store is full of game developers trying to convince users they can cash out a specific goal is reached.
All of them are funded by advertising, which means the more you play, the more money they make.
I writing this post to raise awareness and hopefully, save you a lot of time and mobile data! So, Is Fruits Pop Blast legit? Will they pay you or not? Keep reading to find out! 
Top recommendation: This step-by-step program helped me achieve 1,700 US Dollars per month and quit my job in 2019. There is a free membership available! 
Fruits Pop Blast App Review
Full Name: Fruits Pop Blast – Starry Winner (Early Access)
Developer: Happy Birds Studio
Payout Threshold: £100
Price: Free (no in-app purchases)
Overall Rating: 

1/5
What is Fruits Pop Blast?
Fruits Pop Blast is a block matching game where players can supposedly redeem £100, £150, and £250.
I lost count of how many similar games I reviewed in this blog. You just have to tap blocks of the same color to destroy them and accumulate points and coins.
Fruits Pop Blast was developed by Happy Birds Studio, which also operates Hunting Birds and Block Puzzle Legend.
Although the app has over 100K downloads, it's still in developments (Early Access). So, they still don't allow players to publish reviews and I believe they never will!
How Does Fruits Pop Blast Work? 
Fruits Pop Blast is available worldwide for Android users and is completely free to play. Before installing this game, I must warn you that the company can access your photos, videos and files.
Here is the problem: They can not only read but also delete any content you store in your USB.
This kind of permission always freaks me out, which is why I don't keep this type of application on my phone.
How to Play Fruits Pop Blast? 
The game is addictive, but over time it gets really boring over time!
Simply tap two or more blocks with the same color/fruit to blast them out. The more blocks you destroy in one go, the higher your score!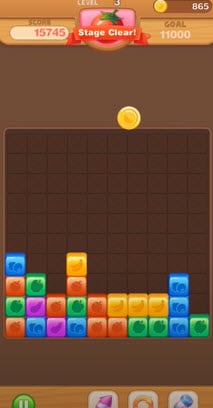 To clear the stage, you must reach a specific score goal. Eliminate as many blocks as possible to earn enough points and pass the level.
You will also earn coins every time you match blocks and complete the level.

After completing the level, Fruits Pop Blast gives you a chance to multiply your reward by up to 5 times. But only if you click to watch the video.
Cash Rewards
Fruits Pop Blast has a reward section with 3 payout options. You can supposedly withdraw real money via PayPal if you meet the following requirements:
£100 = Collect £100
£150 = Collect 1,000,000 coins
£250 = Collect all props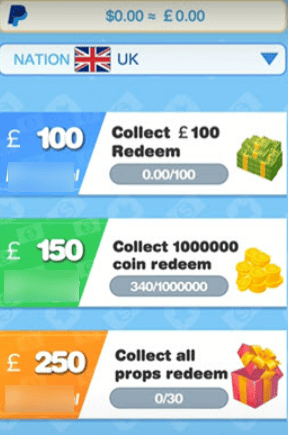 Is Fruits Pop Blast Legit? Does it Pay? 
Fruits Pop Blast is another game that does not provide real cash rewards. It's completely FAKE! So, you will not receive any money despite your commitment and loyalty.
I noticed the game does not award virtual dollars like others so. Therefore, the only way to request the payment is by collecting 1 million coins, which takes forever!
Honestly, I am not willing to play Fruits Pop Blast for hours just to prove it does not pay. This conclusion is based on my knowledge and 6 year experience reviewing reward apps and sites.
The opportunity to win £100 just by playing a casual game is just too good to be true. Perhaps I would trust the app if the developer was organizing regular and transparent sweepstakes.
Unfortunately, that's not the case with Fruits Pop Blast, which tries to persuade you and me that payments are readily available if we reach the payout threshold.
Is There an Alternative to Fruits Pop Blast? 
Sure! Toy Town is a very similar game that offers players real chances to win cash prizes worth $3,000+. The game is operated by a Canadian company called WIRN Game Inc.

The downside is that the odds of winning are extremely low since there is only one winner and millions of players! So, it's nearly impossible to win! 
But there is another option. You can save your tickets, exchange them for cash and withdraw via PayPal once you reach £10. Just be aware that some people get paid while other don't.
Conclusion 
I don't recommend playing Fruits Pop Blast because the developer does not deserve the money he ears from advertising. Therefore, I urge people to hit them where it hurts the most – in the pocket!
Please, don't waste your time trying to collect 1 million coins or you will regret it later.

This reward platform is going viral! Cash out via PayPal, Visa, Gift Cards, and in-game currencies - Click here to find out how to generate an extra $10+ per day! 
If you want to make real money online, I suggest that you join platforms that have a solid reputation like Prizerebel. 
You won't be able to quit your job by completing simple tasks, but it's infinitely better than playing mobile games in return for fake dollars.

Final Words
Thank you for reading my Fruits Pop Blast app review. Did you collect enough coins? What are your thoughts about this game? Leave us a comment below to enrich the discussion!
Peace!