Welcome to my Tile Blast app review!
The developer of Tile Blast is promoting his puzzle game as an opportunity to win thousands of dollars!
In one of the adverts, a guy claims he got 1000 US dollars after playing it for just three minutes. Here is a screenshot: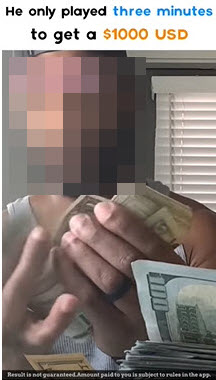 You are reading this post because you don't want to match tiles only to realise the cash reward doesn't exist.
There as some legit games that give you a chance to win this amount of cash, but the chances are ridiculously low.
So, will Tile Blast transfer the money after you reach the target and request the payment? Is it another fake money game?
Top recommendation: This step-by-step program helped me achieve 1,700 US Dollars per month and quit my job in 2019. There is a free membership available! 
Tile Blast App Review
Full Name: Tile Blast – Connect to Win (Early Access)
Developer: westlangsn
Payout Threshold: $1000
Price: Free (no in-app purchases)
Overall Rating: 

1/5
What is Tile Blast? 
Tile Blast is an addictive puzzle game that gives players the opportunity to win big cash rewards and amazing rewards.
You just have to select pairs of identical tiles to connect them with up to 3 straight lines.
By connecting tiles, you will earn virtual dollars, coins and different puzzle pieces. Once you collect a specific amount of cash or number of puzzles, you can request the payment or prize.
Although Tile Blast is available worldwide, the game does not offer cash incentives in certain countries.
How Does Tile Blast Work? 
After installing the app on your Android device, you can play the game straight away.
It's important to know you are granting the developer access to all the files on your phone or tablet.
I consider this kind of permission risky because you have no control over how they operate behind the curtains.
Another important consideration that Tile Blast is still in development, and therefore, doesn't allow anyone to publish reviews on Google Play.
How to Play Tile Blast? 
Tile Blast is a matching game very similar to Royal Onet and Super Onet Party. Simply tap the same fruits to connect the tiles by straight lines.
You don't need to complete a specific mission in this game. Just keep matching the tiles to accumulate rewards and pass levels.

The connection will fail if there is no clear path between the selected tiles. So, you must eliminate certain tiles before you can continue matching the other ones.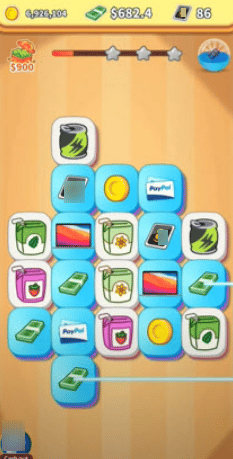 You will frequently find tiles with cash, coins, amazon cards and prize puzzles. When you link them, Tile Blast will add the virtual item to your balance.
It's always possible to double the reward by tapping "Claim x2" and watching a commercial until the end.
As you probably know, the developer is earning advertising revenue every time you watch one of those videos.
How Do You Get Paid? 
Tile Blast claims to transfer the money to your PayPal account once you reach $1,000. Simply open the cash balance, select the cash amount, and enter your email address.
Do you think this is the only requirement? NOPE!
Once you request the payment, it says you need to watch 50 videos to activate your order. I have seen the same tactic being used in hundreds of other so-called "money-games".
This is the new trend now! Game developers encourage you to reach a specific amount before you can receive the money, but once you do, they come up with additional requirements.
Tile Blast also suggests you can redeem a PS5, MacBook Pro, Nike Shoes and other prizes if you collect enough puzzle fragments.
Again, there is nothing new here! Many apps give you the opportunity to win excellent prizes as well, but the rewards are just used as bait to maximize advertising revenue.
Is Tile Blast Legit? Does it Pay? 

No, Tile Blast will not transfer any money nor ship any expensive product to your home address.
After watching the 50 videos, you will get a message saying that the money will be transferred to your PayPal account in 24 hours.
Surprise, surprise! You can reduce the waiting time by 60 minutes if you watch a video! Of course, they won't waste any opportunity to lure you into watching even more ads.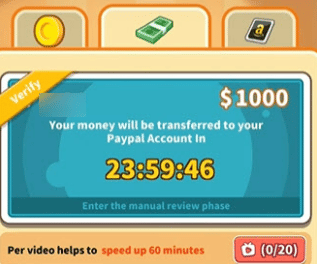 Please, don't fall for it! Once the countdown finishes, you won't see any payment transaction in your PayPal account.
Many people search on Google to find out why they still didn't get the reward. Well, that's because the developer has no obligation to pay anyone and cannot afford to do so!

This reward platform is going viral! Cash out via PayPal, Visa, Gift Cards, and in-game currencies - Click here to find out how to generate an extra $10+ per day! 
Conclusion 

Tile Blast is a nice game to kill time, but the developer is not serious about giving cash rewards.
Many people have installed this app just because they expected to cash out after fulfilling all the requirements. But unfortunately, there is no chance of winning anything!
By playing Tile Blast, you are just helping the developer make profits while you waste your time and internet data. Moneywise, it's definitely not a win-win situation!
Verdict: Not Recommended 
Earn a Full-Time Income Online
I never felt okay working for someone else. Besides, I wish I could have more freedom to travel instead of being stuck in a 9-5 job for the rest of my life.
That's why I game up on my career plans and built my own internet business back in 2015!
I so glad I did because today, I make my own hours and spend more time exploring beautiful locations without a return ticket. This is me working and enjoying life on an island called Koh Rong!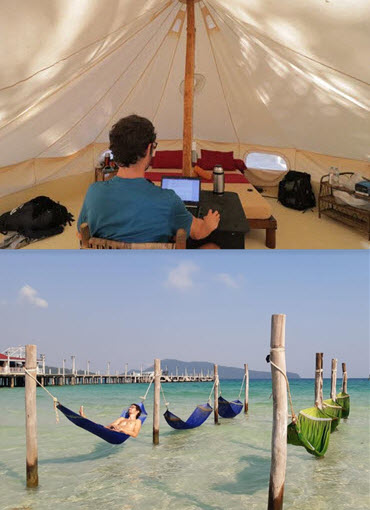 I had no clue how to set up an online business, but luckily, I found this program developed by Kyle and Carson. 
They showed me step-by-step how to create an affiliate site and attract enough visitor by providing content people search on Google.
If you are serious about making money on your own terms, I highly recommend it!
Click here and get started today!
Final Words
Thanks for reading my Tile Blast app review. I hope it was helpful! If you have questions or want to share your experience, leave us a comment below!
Peace!