Welcome to my Get Paid app review!
Get Paid is another application that supposedly pays you for playing games on your phone. At first glance, it's very simple to make money with this Android app.
All you have to do is pick a game from the list and and play while the developer tracks your playtime and gives you diamonds.
After reaching the minimum cashout requirements, you can convert the diamonds to cash and request the payment.
Unfortunately, many people are complaining about this app in the Play Store. So, is Get Paid a scam or a legit app? Will this company put real money in your pocket?
Since you value your time, you need to know the truth!
Top recommendation: This step-by-step program helped me achieve 1,700 US Dollars per month and quit my job in 2019. Free membership available here! 
Get Paid! App Review
Full Name: Get Paid!
Developer: JustDice GmbH
Eligibility: Worldwide
Payout Threshold: £0.50
Price: Free (no in-app purchases)
Overall Rating:

2/5
What is Get Paid?
Get Paid is another reward app that allows you to earn money by playing mobile games.
The app was developed by JustDice GmbH, a German company that operates many similar applications, such as Cash Alarm, Cash House, and The Lucky Miner.
That means you will probably have a similar experience if you use any of their apps.
Get Paid has been installed over 100,000 times and rated 4.2 on Google Play. Looking at the overall rating, you would expect a very positive feedback from users.
However, if you check the reviews, you will find lots of complaints!
How Does Get Paid Work? 
It's easy to understand how Get Paid works. The app developer advertises third-party games on the platform and shares the profits with players.
Installation and First Steps
Get Paid is available for your Android device and is completely free. After launching the app, you must complete 3 steps in this order:
Read and accept the Terms of Service and Privacy Policy.
Sign in with Facebook or Google.
Allow Usage Tracking – this will allow Get Paid to track your playtime and give you diamonds per minute.
Next, Get Paid will give you 3599 diamonds as a welcome gift.
Cash Rewards
In the UK, you need at least 6399 diamonds to cash out the minimum amount of £0.50. You can withdraw the money via PayPal, Amazon, iTunes, and Starbucks gift cards.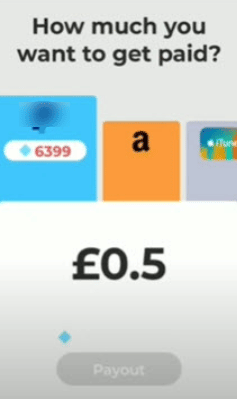 Get Paid also allows you to redeem £1, £2.50, £5, £10 and £20. However, I recommend you cash out as soon as possible to avoid bigger losses in case you don't get your payment.
Since JustDice is a German company, it will pay you in Euros. If you are not european, don't worry because you can exchange it on PayPal for free.
How to Earn Diamonds?
Once you launch Get Paid app, you will see a list of featured games you can install and play on your device.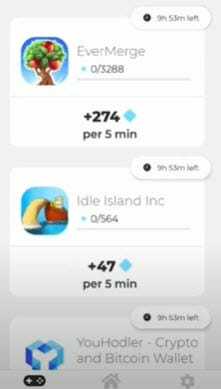 They show you the number of diamonds you can expect to earn per day or per 5 minutes. The rate of pay varies from country to country due to different advertising budgets.
In the United Kingdom, playing a game called Travel Town would earn you +631 per 5 minutes.
After selecting the game, Get Paid will direct you to the Play Store, where you can install the third-party application.
JustDice will track your playtime and reward you accordingly.
How Much Money Can You Earn With Get Paid? 
It's important to be aware that Get Paid does not offer generous cash rewards. You need to play games for a long time to redeem a measly £0.50.
The reward you see on the list is only accurate in the beginning. The reason is that the more you play, the fewer diamonds you will earn per minute.
At some point, the rewards will drop to zero, and the only way to keep earning tokens is by playing another game from scratch. Unfortunately, many users get stuck because they don't have any other option.

Pros ans Cons
Pros
Get Paid while having fun.
Fast payments.
There are many payment options available.
Cons
Your downloaded apps may eventually expire.
Many people complain they are not collecting diamonds while playing the games.
There are not many games available depending on where you live.
Get Paid may ask you to take a selfie before you receive the payment. Sadly, many people don't get verified after submitting their pictures.
Is Get Paid Legit? Does it Pay? 
Yes, Get Paid is a legitimate app that truly pays. However, if you check the reviews on Google Play, you will realize there are lots of issues that puts many users off.
The most common complaint is that Get Paid simply doesn't add the diamonds anymore. Here is just one review among many:

This reward platform is going viral! Cash out via PayPal, Visa, Gift Cards, and in-game currencies - Click here to find out how to generate an extra $10+ per day! 

Some people just cannot verify their accounts and never receive a penny. This is a very common issue in other JustDice apps as well.

You submit a picture and ID proof, but you never hear back from them! It's so frustrating because you spend a lot of time to reach the payout limit only to be ignored. 
Since they need to verify your account to receive the payment, the developer does not transfer any money or gift card to your PayPal account or email address.
It's possible to receive the money from Get Paid! Many people do! However, considering the large number of complaints, I believe there is a significant risk of not receiving the money you deserve.
That's not to say Get Paid is a scam. Do you remember you had to accept the Terms of Use? On that page, it said users have no right to payouts.
In other words, the company should not be accused of fraud since it did not make any promises.
Conclusion 
Get Paid is a legit application that gives you a chance to win cash rewards for playing games. Keep in mind the developer does not provide any guarantee that you will receive the money.
Many people receive their first payout, but struggle to cash out for the second or third time!
I agree the company should not be taken to court for not paying out. However, it should be more upfront with players to avoid misunderstanding.
I advise JustDice to inform users they are not eligiable for rewards any longer to avoid frustration!
Check out the most popular app for making money with games! 
Verdict: Legit
Final Words
Thanks for taking the time to read my Get Paid app review. If you would like to share your thoughts about his money-making application, leave us a comment below.
Peace!