Welcome to my Super Pop Gem app review!
Over half a million people have installed Super Pop Gem, which is remarkable considering the large competition for similar games.
But there is something much appealing than earning points and passing the time!
The developer is using offering excellent cash rewards for players who play and watch a specific number of videos.
The game awards virtual PayPal coupons and claims you can withdraw the money once you reach $1,000! That explains why so many people are excited about it!
So, Is Super Pop Gem legit or fake? Will they pay you once all the requirements are met? Keep reading to find out because your time is priceless!
Top recommendation: This step-by-step program helped me achieve 1,700 US Dollars per month and quit my job in 2019. There is a free membership available! 
Super Pop Gem App Review
Full Name: Super Pop Gem – popstar (Early Access)
Developer: Cool mo. Inc
Payout Threshold: $1000
Price: Free (no in-app purchases)
Overall Rating: 

1/5
What is Super Pop Gem?
Super Pop Gem is another match puzzle game where you clear up the board by tapping blocks of the same colour.
It requires some brain work because you need you to complete the progress bar in order to pass the level. The more blocks you eliminate at once, the more points you will earn!
By playing Super Pop Gem, you will earn virtual dollars that can be cashed out if you meet certain requirements. You will learn about them later!
Although the app has been installed 500,000 times, it's still classified as "Early Access", which is unjustifiable in my opinion.
Incomplete apps on Google Play don't receive any reviews. Therefore, the developer can avoid the critical and even rude comments about their games.
It's good for them, but not for people who want to find the truth about the cash rewards.
How Does Super Pop Gem Work?
Super Pop Gem is available in the Play Store and is completely free. Before installing this app, you should bear in mind that the developer can access all your personal data, such as photos, videos and files.
Now, here is the most disturbing fact: not only he can read but also modify and even delete your data!
I am not okay with such permissions, so after testing the game, I just uninstalled it immediately.
How to Play Super Pop Gem? 
It easy to play, but it gets more and more challenging at higher levels.
All you have to do is collect points by destroying all the bricks on the board. Just tap at least 2 bricks of the same color to destroy them and earn points and gems.

Try to destroy as many cubes as possible. If you leave unmatched blocks behind, the game will consume your gems.
You can only pass the level if you clear the stage with at least 1 gem left at the end.
As you play Super Pop Gem, you will also destroy blocks with the PayPal or Amazon logo. As a result, they will trigger a pop up with specific cash amount in US dollars.
You must always tap the "get" button and watch a video to claim the reward.
After you clear the stage, Super Pop Gem will let you open 4 gift boxes to earn more virtual dollars. But again, they give you the "cash" only if you watch the video until the end.
TIP: if you want to get paid for playing games, check out this reputable GPT platform. 
How Do You Get Paid?
Super Pop Gem suggests you can redeem $1,000 via PayPal if you reach $1,000. Besides, you can have the chance to win an iPhone 12 Pro if you complete 100 levels.
Well, what they forget to mention is that more requirements will come as an excuse to postpone payments and make you watch more videos.
After reaching $1000, and filling in your email address, they demand you watch 15 videos within 12 hours to activate your payout order.
However, that's just the tip of the iceberg, my friend!
The next excuse is that the daily limit of 10 orders has already been reached. So, what's next?
Super Pop Gem entices you to watch 20 videos to apply without waiting. And by now, I hope the penny has already dropped for you.

If not, I will give you another hint!
Once you watch 20 videos, your order will finally be generated, but the system will only complete the review after you watch 50 videos within 48 hours. Crazy, right?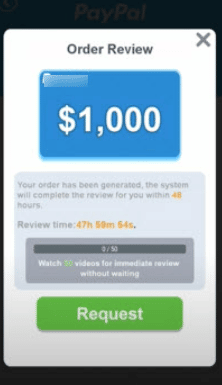 Is Super Pop Gem Legit? Does it Pay? 
No, it doesn't pay! Even if meet that last requirement I said, they will ask for more video views. Therefore, it's impossible to cash out and receive the payment.

This reward platform is going viral! Cash out via PayPal, Visa, Gift Cards, and in-game currencies - Click here to find out how to generate an extra $10+ per day! 
I have reviewed lots of games that are using the same strategy to lure players into watching commercials. This game about merging planets is just one example! 
Even if you had to watch 10,000 videos, that would still be too good to be true! No one can receive so much money for watching videos though a mobile game.

The reason is that online advertising doesn't generate so much money for app developers, unless they have thousands or millions of users.
Still, they could never afford to pay $1,000 for every user. This is complete nonsense!
Conclusion 
Don't play Super Pop Gem with the expectation to earn money because the reward is just an illusion.
It will certainly enfuriate anyone who takes the time to reach all the video requirements. You will just waste time and mobile data unnecessarily.
There are lots of match puzzle games out there, so I don't think Super Pop Gem deserves 500,000 installs.
The reason is that offering cash incentives that cannot be tracked and proven feels like cheating big time.
I am yet to find a game that actually pays hundreds of dollars for everyone who fulfills the requirements. Just stay away from these apps to preserve your dignity.
Earn a Full-Time Income Online
The internet provides excellent ways to generate an extra income from home. My favorite method consists of creating helpful content that people are searching on Google.
When people visit and read my website's posts, I earn revenue through affiliate marketing and ad banners.
Don't know where to start? This step-by-step program helped me set up and grow a lucrative site that earns me a full-time income.
The best part is that I can open my laptop and work from anywhere I want! Join now for free and take massive action if you wish to follow the same road.
Final Words
Thank you for reading my Super Pop Gem app review. Did you play this game? Kindly your thoughts in the comment box below!
Peace!