Welcome to my Planet Bloom app review!
You have probably installed Planet Bloom after watching a commercial suggesting you could win hundreds of dollars via PayPal.
There are lots of games doing exactly the same to attract people who are desperate to make some quick buck.
Planet Bloom is another game funded by advertisers who want to promote their apps while you are playing.
I am sure you value your time, which is why you are here to find out whether Planet Bloom is a legit or a fake money game.
Are they sharing profits with those meet all the requirements? Keep reading to find out!
RECOMMENDED: Check out the step-by-step program that helped me build an affiliate site from scratch and make $1,700+ per month. No special skills required! 
Planet Bloom App Review
Name: Planet Bloom
Developer: Win Win easygame2020
Eligibility: Worldwide
Payout threshold: $1,000
Price: Free to join (no in-app purchases)
Overall rating:

1/5
What is Planet Bloom?
Planet Bloom is another casual game where you merge two planets to generate a bigger planet.
Keep merging different plants until you unlock the sun. You will earn virtual PayPal dollars that you can supposedly cash out after 24 hours or after collecting $1,000.
In this blog, I reviewed lots of merging games with different themes such as fruits, numbered balls, and gems.
Planet Bloom was developed by Win Win easygame2020, which has a few other games including a very similar one called Big Watermelon Merge.
How Does Merge Fruit Work?
After installing the Planet Bloom app on the Google Play, you can start the game straight away.
Simply tap where you want the planet to fall. Try to hit identical planets so they merge into bigger planet and open space for more. The game is over when any planet reaches the upper line.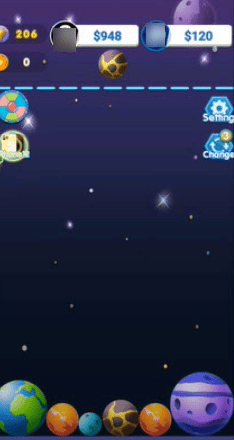 Note that you will frequently drop PayPal and Amazon logos instead of planets. As a result, you will earn virtual dollars after tapping the "get" button and watching the video.
Planet Bloom also allows you to open 4 gift boxes from time to time in order. Again, you have to watch the video to collect cash rewards.
Virtual dollars will accumulate in either your PayPal or Amazon balance at the top.
The developer is incredibly generous by letting you reach $1,000 within less than 1 hour of gameplay. It feels so unreal and appealing!

How Do You Get Paid?
When you open your cash balance, Planet Bloom encourages you to collect as much money as possible and withdraw after 24 hours. However, you can cash out immediately if you earn more than $1000.
So, here we go again. I have seen the same story countless times! It gets boring after hundreds of reviews, but my mission is to expose these apps since many people are still falling for them.
Win an iPhone 12
Planet Bloom also entices player with the opportunity to win an iPhone 12 if they collect enough puzzle pieces.
Guess how you can collect the fragments! YEP, by watching more over-hyped adverts, of course!
Does Merge Planet Bloom Legit? Does it Pay?
Nope! You should not expect to receive payments from Planet Bloom. As you know, the developer will let you cash out in no time, but as soon as you enter your PayPal email, it will trigger a series of video requirements.
First, they want you to watch 15 videos within 12 hours to supposedly "activate your $1,000 order".
However, the game will demand additional video views, which is a big red flag! 
Those who still believe the cash reward is real and watch 15 videos will receive another message. This time, they claim you can apply directly without waiting if you watch more 20 videos.
But again, they slap your face with another requirement. Believe it or not, they will ask for more 50 video view! 
The developer is clearly treating you like a fool because even if you watch thousands of videos, he won't give you a single penny.
To make matters worse, Planet Bloom is still classified as "Early Access" despite having over 100,000 installs under its belt.

Therefore, users still cannot publish reviews and warn other people about their frustrating experience.
I feel sorry for people who believe everything they see on the advertisements and fantasize about making thousands of dollars just by merging planets.
Conclusion
Planet Bloom is a great game for killing time and boredom. You can play it for fun, but forget about making money since the payouts are completely fake.
Any company running legitimate sweepstakes though mobile games should be very transparent about the opportunity to avoid misunderstanding.

This reward platform is going viral! Cash out via PayPal, Visa, Gift Cards, and in-game currencies - Click here to find out how to generate an extra $10+ per day! 
That's not the case with games like Planet Bloom, which wants you to believe you can redeem the money if you watch enough videos. It certainly cannot afford to pay thousands of dollars for such a trivial task.

Earn a Full-Time Income Online
Making thousands of dollars from your couch requires a lot more than using mobile applications!
You must provide excellent service or build your own internet business as I did!
In short, I create helpful content on the website are reading right now. It attracts people all over the world and generates revenue though adverting and affiliate marketing.
This business model allowed me to quit my job and enjoy the freedom of working independently and remotely.
if you want to create a website and succeed online, check out my top recommendation here! 
Final Words
Thank you for reading my Planet Bloom app review. Did you play this game? If so, share your thoughts in the comment box below.
Peace!