Welcome to my Gem Master app review!
Today, I am about to expose another merge game that suggests you can win a ton of money from your smartphone.
You may be playing Gem Master because it dishes out cash coupons that can supposedly be transferred to your PayPal account.
It's very attractive, especially for those who expect quick and easy money! However, you suspect the app is fake since the cash prizes are incredibly high!
Making $500 or even thousands of dollars just for merging diamonds seems completely insane, right?
In this review, you will find all the information you need about Gem Master. Is it legit? Does it pay or not?
Before you leave, check my top-rated Gpt site. Members are making an extra 200 USD per month by installing sponsored apps and giving their opinions. Easily withdraw the money via PayPal or gift cards. 100% Legit and no verification required.
Gem Master App Review
Name: Gem Master – Big Jewel Merge Game (Early Access)
Developer: Puzzle! Game
Eligibility: Worldwide (age: +18)
Prize: Free
Payout threshold: $500
Overall rating: 1/5
What is Gem Master?
Gem Master is an addictive Android game where you collide the same diamonds with each other to synthesize bigger ones.
By unlocking specific jewels or merging gems with the PayPal logo, you will earn virtual cash coupons.
In this blog, I reviewed lots of similar apps such as Fruit Synthesis, Coin Merge and countless 2048 games. They all entice players with excellent cash prizes, but never pay a dime! 
Although Gem Master has been installed over 100,000 times, it's still classified as "Early Access". That means reviews on Google Play permanently blocked until the developer launches it fully.
Mosts money games are using this method to prevent people from finding out some inconvenient truths!
How Does Gem Master Work? 
Installation and Permissions
Gem Master is available worldwide for Android devices. Therefore, you can install it on Google Play and start synthesizing gems immediately.
It's important to know the company can read, modify and even delete content in your phone. That includes personal files such as pictures and videos.
So, if you don't want to give them super powers over your device, think twice before installing Gem Master.
How to Play? 
Gem Master is all about dropping the round-shaped jewels, so they collide with the ones at the bottom.
When two identical gems hit with each other, they will merge into a nicer and bigger gem!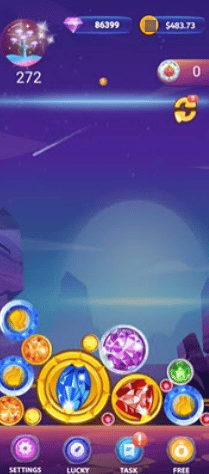 Note that some gems have a PayPal logo in the center. If you merge two of them, you will receive virtual dollars after tapping "Collect" and watching the video.
PayPal gems appear randomly for you to drop or when you merge two golden coins.
Sometimes, you will not receive the reward because Gem Master says the video is not available. But a few seconds later, the ad pops up, and they force you to watch the video anyway with no compensation.
It feels like cheating!
You can also cultivate the gem tree, play the Lucky Wheel, and use the "Free" section to collect more rewards. Besides, you can earn virtual dollars when you sign up and complete reward tasks.
How Do You Get Paid? 
Gem Master allows you to withdraw the money via PayPal once your balance reaches $500. That's the minimum cashout requirement.
You can also trade diamonds for Amazon, and Google Play gift cards.
After you reach $500, you must enter your real PayPal email to receive the payment.
After you tap redeem, it says "congratulations, your order has been successfully submitted. Your money will be transferred to your PayPal account in 72 hours."
However, Gem Master will add another goal to postpone the payment. It says you need to activate the order by watching 50 videos. 
Is Gem Master Legit? Does it Pay? 
The developer is probably making a ton of money from advertising, but what about players? Are they receiving a share of the company's profits?

No, unfortunately, Gem Master does not pay out!
In the past, most money games would entice players o reach a specific cash amount, but they would stop giving the rewards to avoid payments.
Today, many fake money games require people to watch an x number of videos, but then, they increase the requirement. It's so sneaky!
By playing Gem Master, I noticed it doesn't count properly the videos you watch, so you may have to watch over 100 ads instead of 50.
Well, I stopped playing because I knew they would either cheat again or simply ignore the payment.
The truth is that the company doesn't earn enough ad revenue to pay $500, $1000 for every player.

This reward platform is going viral! Cash out via PayPal, Visa, Gift Cards, and in-game currencies - Click here to find out how to generate an extra $10+ per day! 
Conclusion 

Gem Master is another free merge game using fake cash rewards to maximize its own profit margin.
When you reach $500 and tap "redeem", you will discover you need to play for longer to watch at least 50 extra ads.
I suspect they will increase they increase the number of videos you need to watch when you achieve the target. May other games do!
However, you won't receive the money regardless of how many videos you watch. So, don't waste your time unless you are just playing for the fun of it!
I have reviewed countless apps that sell the idea of making easy money if you collect enough virtual dollars.
Don't fall for them because the only individuals who are making money are the developers though abusive advertising.
Earn a Full-Time Income Online
There was a survey that showed over 95% of people in the United States want to quit their jobs!
That means people are living a miserable life because they have to endure 8, 10 and even over 12 hours per day in a job they hate.
I also hated working for someone else, so I built my own internet business to make my own hours and work remotely.
This was the best decision I ever made in my life! Why? Because it provides me with the perfect work-life balance and enjoy my life to the fullest.
Since I quit my job in 2019, I have travelled to paradisiacal places in South East Asia and spent unforgettable moments with my wife and family.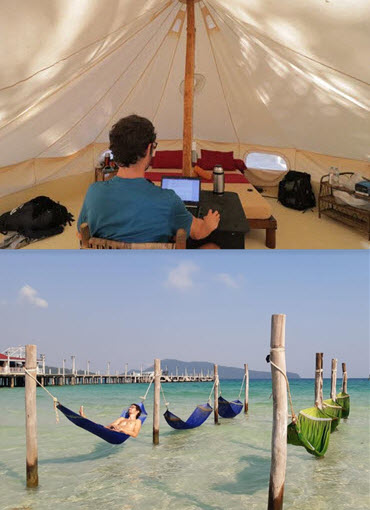 I had no clue how to start, but luckily, I found this excellent program developed by Kyle and Carson. They showed me step-by-step how to build an affiliate site and attract enough visitor to earn a full-time income.
If you are serious about working independently from your laptop, I highly recommend it!
Click here and get started today!
Final Words
Thanks for reading my Gem Master app review. I hope it was informative! If you have questions or want to share your experience, leave us a comment below!
Peace!