Welcome to my Garden War Merge!
Garden War Merge has copied the recipe for thousands of money games in order to attract your attention and maximize profits.
The game says you can win real PayPal money by merging plants and collecting enough virtual dollars.
It's important to note this is not a sweepstakes app where very few people win de cash prize.
Instead, it gives the impression anyone can withdraw colossal sums of money after 24 hours or after reaching £1,000.
With so many people going through financial hardship, it's easy to understand why games like Garden Way Merge go viral.
Are you thinking about playing Garden War Merge to make money? If so, I encourage you to read this post first. Is it legit or fake? Does it pay or not?
This review will open your eyes and save your time!
Sick of apps that don't pay? This step-by-step program helped me build my own online business and generate $1,700+ per month. It's free to join!
Garden War Merge App Review 
Name: Garden War Merge
Developer: Genshin Albedo
Eligibility: Worldwide
Payout Threshold: £1000
Price: Free to play
Overall Rating:

1/5
What is Garden War Merge? 
Garden War Merge is an idle game where you combine two plants of the same level together to upgrade them.
These money trees stay there in the garden, generating cash notes on autopilot. As you unlock higher level plants, you will earn more notes per second.
You will also earn virtual PayPal and Amazon coupons after unlocking levels. Therefore, Garden War Merge implies that the virtual currency has value since players can withdraw the money after they reach £1,000.
The app has been installed over 50k times, but it's still classified as "early access" or incomplete.
How Does Garden War Merge War Work?
Installation
Garden War Merge is available for iOS and Android devices. Once you install the application on your Phone or Tablet, you can play immediately and start collecting virtual cash.
How to Play Garden War Merge?
Garden War Merge is very similar to Cutie Garden, Merge Money, Parking 2248 and many others!
Each plant that stays idle generates cash notes per second. 
Players must drag the money tree and merge it with another plant of the same level. By unlocking a new level pot, your trees will generate more "cash" per second.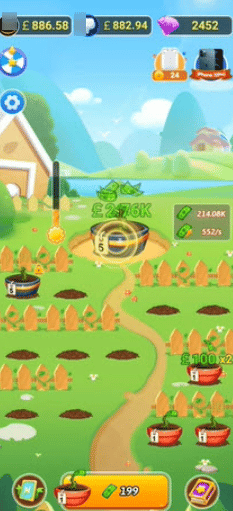 You should use cash notes to purchase more plants at different levels and keep merging.

Earning Virtual Cash 
Place the highest level pot in the upper position and tap it to earn extra notes and increase the yellow progress bar.
When the bar reaches the top, Garden War Merge will offer your virtual cash rewards that come with either the PayPal or Amazon logo.
However, you can only get the reward if you tap " Get Bonus" and watch the video for a few seconds.
By the way, that's how the developer is making profits despite the game being completely free. The more videos you watch, the more money he earns!
Earn an iPhone 12 Pro
As if the incredibly generous cash rewards were not good enough, Garden War Merge also gives users the opportunity to claim an iPhone 12.
To get this prize, players must collect enough puzzle pieces by playing the lucky wheel and, of course, watching more video.
How Do You Get Paid? 
Garden War Merge encourages you to accumulate as much money as possible and withdraw after 24 hours.
You can cash out via PayPal or Amazon gift cards as soon as you collect more than £1,000, though.
Well, what they don't tell you is that after you meet the requirement and press the "Redeem" button, you will be asked to activate your order.
Guess how you do that! Yes… by watching more advertising! They will ask you to watch 15 videos within 12 hours to active your order.
At this point, I hope you have already noticed what is really going on. If not, I will give you another hint….

So, after watching 15 videos, here is what you will find next: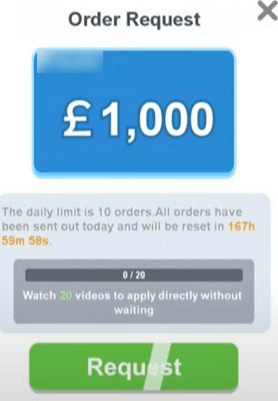 "The daily limit is 10 orders. All orders have seen sent out today and will be reset in 157 hours. Watch 20 videos to apply directly without waiting." 
Is it clear now? If not… here we go again!
"Your order has been generated, the system will complete the review for you within 48 hours. Watch 50 videos for immediate review without waiting."
Enough is enough, right?

This reward platform is going viral! Cash out via PayPal, Visa, Gift Cards, and in-game currencies - Click here to find out how to generate an extra $10+ per day! 
Is Garden War Merge Legit? Does it Pay? 

No. Golden War Merge does not pay out. Yes, it's another fake money game that makes it impossible to receive the money.
The developer keeps asking for more and more video views, but he cannot afford to pay over £1,000!
So, he will try to convince you to keep playing until you realize it's an advertising trap.
Most games that entice players with excellent cash prizes are a complete joke! The more you play them, the money the creators are earning at the expect of your time and internet data.
Conclusion 
Golden War Merge is another game that entices players with fake cash rewards in order to maximize ad revenue.
So, don't expect to withdraw thousands of pounds to your PayPal account because this is not a real money-making app.
In my opinion, Golden War Merge is a complete waste of time and internet data.
As for the game itself, it's quite boring for my liking. Some people like it, though, but there are many other similar games available.
Verdict: Not Recommended
Earn a Full-Time Income Online
Don't waste your time growing someone else's money tree! If you are serious about making real money from home, I suggest you build and nurture an online business. 
For example, you can create a website, write helpful content, and earn revenue by placing ads and affiliate links on your posts.
It's a slow strategy, but it's the one that can earn you a decent amount of money over time! So, it's well worth it! 
This exact business model earns over 1,700 USD, and gives me the freedom to work whenever and wherever I want. You can do the same if you apply the right strategy and take massive action. 
If you want to start this business on the right foot, check out this step-by-step training!
Final Words
Thanks for taking the time to read my Golden War Merge  app review. If you want to exercise your freedom of speech, feel free to use the comment section below and tell everyone what you feel about this game.
Peace!