Welcome to my Zero21 Plus app review!
Many people have installed Zero21 Plus to generate an extra income while playing an addictive card game.
Although the app description has no sign of cash rewards, the developer gives virtual dollars and claims all the money can be redeemed to PayPal.
Why do they want to hide from Google that this is actually a money-making application and not a simple game?
Clearly, they want people to believe they can earn hundreds and even thousands of dollars just for playing and watching videos.
Well, I bet you are very skeptical since money never comes that easy! So, I put the Zero21 Plus app to test so you don't have to waste time trying to find whether it will pay you.
Is Zero21 Plus legit? Does it transfer the money to your PayPal account? Read my honest review to find out!
Sick of fake money apps? This step-by-step program helped me build my own online business and generate over $1,700 per month.
Zero21 Plus App Review 
Name: Zero21 Plus: Solitaire Card Game (Early Access)
Developer: BeX.mobile
Eligibility: Worldwide
Payout Threshold: $1000
Price: Free
Overall Rating: 

1/5
What is Zero21 Plus? 
Zero21 Plus is an interesting game where players have to select between two cards in order to keep the sum below 21. The goal is to eliminate all the cards from the screen respecting this unique rule.
Once you clear all teh cards from the table and pass the level, Zero21 Plus will let you flip 4 cards to earn coins or cash rewards.
All the money you collect within 24 can supposedly be redeemed via PayPal. or, you can cash out immediately when you reach $1,000.
How Does Zero21 Plus Work? 
Zero21 Plus is available for Android devices and is completely free to play.
It's important to know the developer is making profits by displaying videos while you are playing and collecting virtual rewards.
This will help you understand why they are offering big payouts! They want you to play more so they can increase the money THEY earn from advertisers.
How to Play Zero21 Plus? 
The game itself is quite nice! There are lots of cards at the top of the screen and a green stack below them. Each card has either a positive or a negative number.
Every time you tap the card, its number will sum to the one at the stack. If one card has a negative value, a subtraction will result.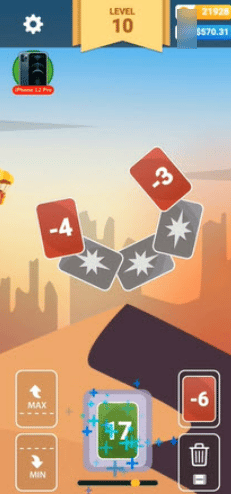 Now, here is the most important part. You should choose the card so as the resulting number stays between 0 and 21.
You can drag one card to the holding stack to use it later if you wish.

From time to time, Zero21 Plus will give you a colorful card that can set the stack to 20, 10 or 1. 
Earning Rewards 
Sometimes, you will select a card with a small PayPal logo or a coin symbol. As a result, virtual dollars and coins will be added to your balance at the top.
You can also collect more rewards after completing each level in the game.
In addition to earning virtual dollars and coins, Zero21 Plus awards puzzle pieces that can be redeemed for an iPhone 12. 
How do You Get Paid? 
Just like most current money games, Zero21 Plus claims that all the money collected within 24 hours will be transferred to your PayPal account.
However, if you reach $1,000 within that period, they promise to pay you immediately, without waiting. But is it another advertising trap?
Is Zero21 Plus Legit? Does it Pay? 
No, Zero21 Plus doesn't pay anyone! There is no chance the company will transfer over $1,000 to your PayPal account.
The sooner you give up on this idea of making easy money, the better! By uninstalling this app, you will save not only time but a decent amount of mobile data.
This game displays a lot of adverts, and therefore, consumes too much data from your internet provider or mobile network.
What for? Well, only for entertainment since the developer doesn't pay a dime!

In this post, you will find lots of game apps that actually pay. 
Avoid those that you can supposedly redeem $100 – $9999 via PayPal. They are all fake! 
Conclusion 
Zero21 Plus is a nice game for killing time, but it entices users with fake cash rewards to maximise profits.
A large percentage of players will install and play this game with the expectation to cash out, but they will not get any money.

This reward platform is going viral! Cash out via PayPal, Visa, Gift Cards, and in-game currencies - Click here to find out how to generate an extra $10+ per day! 
You did the right thing in searching for information. If you regret playing Zero21 Plus, take this as a lesson and move on with your life.
Don't worry about sending emails and reporting this application to Google. Instead, focus on legitimate platforms and proven strategies to make money online.

Content Marketing is the best business model that I recommend! It has helped me earn enough income to quit my job in 2019 and follow my dreams. 
Thanks to this step-by-step program, I grew an online audience from scratch and achieved my goal of working 100% online.
Final Words
Thanks for taking the time to read my Zero21 Plus app review. If you want to share your thoughts about this application, feel free to use the comment section below.
Peace!