Welcome to my Bubble Perish app review!
Bubble Perish is another clone game where players shoot and eliminate bubbles of the same colour.
Google Play is jam-packed with similar games that claim to pay hundreds and even thousands of dollars.
However, just because the app is available on this popular platform, it doesn't mean you can trust them.
You are reading this post because you want to make money with Bubble Perish, but you don't know whether it pays or not.
Millions of people have been robbed out of time by app developers who entice players with fake dollars.
You don't want to help them make advertising revenue if you will never get your share. So, is Bubble Perish legit? Does it transfer the money to PayPal?
RECOMMENDED: Check out the step-by-step program that helped me build an affiliate site from scratch and make $1,700+ per month. No special skills required! 
Bubble Perish App Review
Name: Bubble Perish
Developer:
Eligibility: Worldwide
Payout threshold: $1,000
Price: Free to join (no in-app purchases)
Overall rating:

 1/5
What is Bubble Perish?
Bubble Perish is another addictive bubble shooter game developer by a Chinese developer named "Flowerplasn".
The app is available for Android devices and you can play it for free right after installing it on Google Play.
You may have already played a similar game on your phone, but the difference is that Bubble Perish supposedly transfer real money to players who reach $300. 
It's a lot of money, especially if you live in a developing country! That's why many people get hooked by the opportunity and start playing non-stop in hopes to cash out.
But I urge you to stop playing and read this post until the end as your life depend on it. I am not exaggerating, this review will save you a lot of time and even money down the road!
How Does Bubble Perish Work? 
After installing Bubble Perish on your phone or tablet, you can play it immediately without linking your email or social media accounts.
Right off the bat, you will get a message saying you won a bonus of $270. Next, they encourage you to invite a friend to earn $12, which is a very unrealistic referral commission. 
However, when you start the game, your cash balance is sitting at $0!
Keep in mind you need to earn at least $300 to withdraw the money via PayPal.
Sick of fake apps? Click here and discover my top recommendation for making money online! 

How to Play Bubble Perish? 
Just aim and shoot at a cluster of at least 2 bubbles with the same colour to destroy them. The goal is to eliminate all the bubbles and achieve an excellent score.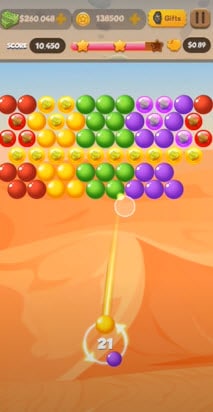 After you complete the level with 3 stars, Bubble Perish will let you open the chest and win virtual dollars, coins, Amazon cards and other rewards.
You will also get the chance to increase the reward by tapping the "Free" button and watching the commercial.
Unlike Bubble Pop, the game is challenging since there is a limited number of balls to shoot per level. The game is over if you run out of bubbles.
Don't forget to use bombs, multi-color balls and other tools to help you clear the stage.
How Do You Get Paid? 
You can supposedly cash out 300 USD via PayPal once your cash and coin balance reaches $300 and 3,000,000, respectively.
That's the minimum cash out requirement, but there are many other rewards. Here is the full list:
$300 = 300 USD PayPal
3,000,000 coins = $300 PayPal
18 dices = $1000
25 Gems = $1500
Bubble Perish also claims you can exchange puzzle pieces for eye-catching gifts such as iPhone 12, Specialized bike, Gucci Bag, coffee machine and more!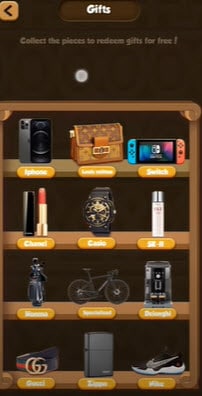 But is the developer eager to give away all these expensive prizes or is he bluffing?
Is Bubble Perish Legit? Does it Pay? 

No, Bubble Perish does not pay. You can reach the cashout limit and request the payment, but the money will never be transferred to your PayPal account.
I haven't played Bubble Perish for long enough to know precisely what will happen if you try to reach $300.
But years of experience have taught me it's impossible to earn hundreds of dollars through this kind of game!
The reason is that developers don't earn enough ad revenue to pay everyone who fulfills the requirements.
What makes me even more skeptical of this app is marked as "Early Access", meaning players cannot post reviews on the Play Store.
Many applications are now taking advantage of this classification to prevent users from reading some inconvenient truths.

This reward platform is going viral! Cash out via PayPal, Visa, Gift Cards, and in-game currencies - Click here to find out how to generate an extra $10+ per day! 
Is There an Alternative to Bubble Pop? 

Yes, there is only one bubble shooting game that actually transfers Bitcoin via user's Coinbase accounts. it's called Bitcoin Pop. Click here to read my full Bitcoin Pop review here!
The app is 100% legitimate, but unfortunately, you may have to play for 1 year to accumulate 1 USD worth of BTC.
It's definitely not worth playing just for the reward because you can make a lot more money by doing other simple online tasks. 
Final Words
Thanks for reading my Bubble Perish app review! If you have questions or thoughts about it, feel free to comment below!
Peace!