Welcome to my Paint Block app review!
Many people have installed Paint Block on their phones with the expectation to win a lot of money via PayPal.
The app has been promoted as an opportunity to earn an extra income just by playing the block puzzle game.
After launching the application, I was shocked to find that players could supposedly claim $19,999.
Therefore, I cannot help but suspect the rewards are fake just like in hundreds of other so-called "money games".
So, can you really make real money with Paint Block? Is it legit or fake? I here to answer all your questions and expose what will happen if you play it for long enough.
RECOMMENDED: Check out the step-by-step program that helped me build an affiliate site and make $1,700+ per month. No special skills required! 
Paint Block App Review
Name: Paint Block
Developer: Xfungames
Eligibility: Worldwide
Payout threshold: $19,999
Overall rating: 

1/5
What is Paint Block?
Paint Block is a block puzzle game very similar to Block Puzzle Jewel and Color Block.
Unlike the classic Tetris, you must tap and drag the coloured blocks to the grid. Here is a screenshot of the gameplay: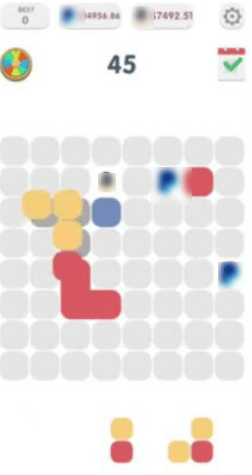 The goal is to place at least 4 blocks of the same colour together to eliminate them and earn virtual dollars.
Most importantly, Paint Block gives virtual dollars you can supposedly withdraw via PayPal or Amazon gift cards.
How Does Paint Block Work?
Paint Block is available worldwide for Android devices.
It's a very addictive elimination game where you place same colour blocks side by side to eliminate them.
Just select one of the three options at the bottom and drag them to the 8 x 8 grid.
Note there are places in the grid that have the PayPal and Amazon logo. If you eliminate blocks close to these symbols, you will get virtual cash coupons.
Besides, you will receive Lucky Rewards with 100% chance of winning.
Bear in mind Paint Block only add the dollars to your account if you click "collect" and watch the video.
In case you don't know, the app developer earns revenue when you watch those adverts.

Perhaps they also earn a commission if you end up installing the application that has been promoted.
That's why players are offered virtual cash if they watch the video. Most people will do with a big smile on their faces because, well, who doesn't want to earn easy money?
The game is over if the three blocks don't fit the grid. But that's okay since you can always restart the game and continue collecting cash coupons.
Paint Block also features the lucky wheel, which gives you the chance to win more rewards. Of course, you will be prompted to watch more videos in return for free spins.
How Do You Cash Out? 
Paint Block claims you can withdraw the money after you accumulate at least $19,999 either in your PayPal or Amazon balance.
Heck, you can redeem much larder amounts such as $29,999 and $39,999!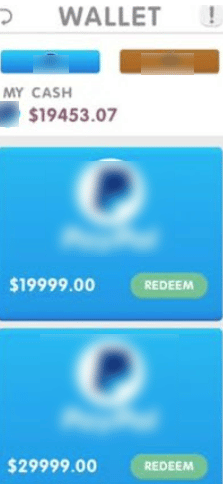 Once you reach the minimum payout threshold, input your email linked to PayPal or Amazon account and tap "GO".
Wanna find legit money-making apps? These ones pay you to share your opinion with marketing research companies.
Is Paint Block Legit? Does it Pay?
Nope! Unfortunately, there is no chance Paint Block will transfer almost 20k to your pocket. It's fake cash for sure!
So, what will happen if you play the game for long enough and request the payment?

They will tell you that the delivery time is 72 hours and that you need to watch 100 videos to activate the redemption.
I have reviewed many fake money games using the same excuse to postpone and avoid payments.
Most of the times, these apps will increase the requirement to lure people into watching even more videos!
After watching 100 videos, Paint Block states the reward is processing is that you should wait patiently.
Okay, but they don't tell you for how long!
Please note this specific rule inside the game: "We own the right of final interpretation, and the cash reward supplies by relevant game app."

This reward platform is going viral! Cash out via PayPal, Visa, Gift Cards, and in-game currencies - Click here to find out how to generate an extra $10+ per day! 
In other words, they can decide whether you get paid. Trust your gut! No company would pay almost 20,000 US dollars just for playing the block puzzle game.
This is complete nonsense! Clearly, they don't need to reward anyone, which is why they create fictitious cash rewards.

Another bad news for Google Play users that Paint Block is classified as "Early Access". Therefore, people cannot publish reviews on the platform to express their opinions and raise awareness.
So, is Paint Block is a scam? This is a delicate matter, so I cannot give you a definitive answer. That would require a deeper investigation that only the authorities could perform.
I am just a content creator who knows it's impossible to win $19,999 by playing a casual game.
Conclusion
Paint Block is a nice game to kill time and boredom, but the way they are enticing you to play it is disgraceful.
You should not expect to win a single penny, let alone 20k!
It's crazy that people are still playing these types of games with real expectations. That's why I keep writing reviews to reach more unaware individuals and help them save time and even money.
Yes, some of these apps offer VIP services to remove the ads.
If you fell for it, don't beat yourself! Try to focus on the positive side and search for proven strategies to make money online.
Here is my top recommendation!
Final Words
Thanks for taking the time to read my Paint Block review. If you have questions or would like to share your thoughts about this game, please leave us a comment below.
I know you love free speech as much as I do!
Peace!