Welcome to my Block Puzzle Jewel app review!
I am writing this post to warn you about a mobile application called Block Puzzle Jewel.
Be aware there are two identical apps with the same title on Google Play.
The one operated by Hua Weiwei has over 100 Million installs and doesn't offer any cash rewards.
This is perhaps the original game, but there are many similar block style games out there.
The other Block Puzzle Jewel gives virtual dollars and the opportunity to withdraw $200 via PayPal! 
If you came across this more enticing version, you are probably wondering – Is it a scam or a legit app? Does it pay or not?
Before you leave, check out the step-by-step program that helped me build an online business and generate $1,600+ per month. It's newbie-friendly and free to get started! 
Block Puzzle Jewel App Review
Name: Block Puzzle Jewel
Company: HotPotTeam
Eligibility: Worldwide
Minimum Payout: $200
Price: Free (no in-app purchases)
Overall Rating: 1/5
How Does Block Puzzle Jewel Work? 
Installation 
Block Puzzle Jewel is available for Android devices and does not require registration. The game starts immediately after you open the app.
The developer does not ask you to accept the terms of Service or Privacy Policy.
Ideally, he should provide the link to the documentation once users log in for the first time. However, he just makes it available on the official website.
How to Play?
Block Puzzle Jewel is slightly different from the classic Tetris I used to play during the Palaeolithic era. If you remember this one, you are a legend!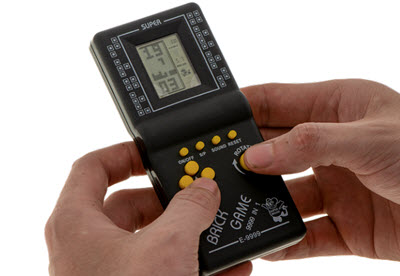 It gives you 3 blocks of distinct shapes and sizes. Simply tap and drag them anywhere on the grid.
Unlike the classic game, the objects will not fall to the bottom!
However, the goal is almost the same! You should eliminate blocks by filling up the horizontal or vertical lines.
If you feel stuck, you can rotate blocks or paint them with another color. These tools are limited, so you may have to watch a video before they allow you to use them.
The game is over if there is no more space for any of the blocks available. However, it's possible to revive and keep playing Block Puzzle Jewel after running a short clip.
Here is a screenshot: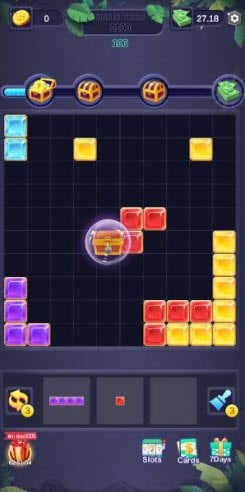 Rewards
Every time you destroy blocks, the loading bar moves right and you will earn virtual cash and chests.
You can open the box to collect rewards only after watching a video. They contain either cash or gold.
After reaching specific scores, other games will become available such as the scratch cards and slots. Therefore, you can boost your earnings.
How Do You Get Paid? 
The developer claims you can withdraw money to your PayPal account once you reach $200. Another option is to redeem $50 Gift cards once you accumulate 50,000,000 coins.
Is Block Puzzle Jewel Legit? Does it Pay? 
In the review section of Google Playtore, there are many users saying the app is amazing and addictive.
However, I didn't find anyone who actually made it to $200 and received the payment. And even if I did, I would need more proof to believe!
From what I see, Block Puzzle Jewel behaves just like most "money" games. Your balance grows steadily until you win $100, but after that, it starts paying only a few cents.
They make it almost impossible to cash out because the more you play, the less you earn!
If you check read the Terms of Service, you will find that coins and cash are not real currency. Besides, they may expire all of your earnings at any time!
Despite finding no evidence of payments, I cannot call Block Puzzle Jewel a scam without solid proof.
The main problem is how they advertise these games. They give users hope of earning cash rewards, which doesn't feel right.

Conclusion 
Block Puzzle Jewel is a nice game to kill time, but you should not expect to get any penny from it. Even if they let you reach $200, the company has the right to decide whether or not you should get paid.
The reward is too good to be true, so I don't think they are rewarding users! Otherwise, it wouldn't be so difficult to find a success story.
After reviewing lots of games that entice players with the "chance" to win $20 – $200, no one even tried to prove me wrong.
Earn Real Money By Playing Games
Perhaps the best platform that pays for installing and trying new apps is Prizerebel.

This reward platform is going viral! Cash out via PayPal, Visa, Gift Cards, and in-game currencies - Click here to find out how to generate an extra $10+ per day! 
App developers advertise their games through the offer walls, and you can collect points after reaching milestones. Then, you can cash out $5 or more via PayPal or gift cards.
I joined this GPT site 3 years ago and they never missed a single payment so far. I have no complaints about it!

Earn a Full-Time Income Online
If you wish to work remotely and make money on your own terms, I suggest you grow an online business.
Success doesn't happen overnight, but those who are making thousands per month had to start from scratch just like you.
It's well worth it!
This excellent program showed me step-by-step on how to set up a website that generates affiliate commissions.
Today, it covers all my living expenses and allows me to enjoy time and location freedom.
Final Words
Thank you for reading my Block Puzzle Jewel app review! If you want to share your opinions about this game, let us know in the comment box below.
Peace!