Welcome to my TOTO Rewards app review!
Would you like to earn some extra bucks from your mobile device?
TOTO rewards is another platform that allows you to collect points for playing games, watching videos, completing surveys, and offers.
Points can be cashed out via PayPal, game currency, and a variety of Gift cards.
You are here because you value your time and don't want to be cheated!
So, is it legit or fake? Does it pay for your online activity?
Before you leave, check out the step-by-step training that helped me reach $1,600 per month and quit my job in 2019. 
TOTO Rewards App Review
Name: TOTO Rewards
App developer: TOTO Dream Marketing
Eligibility: Worldwide
Minimum Payout: $3
Price: Free
Overall Rating:

2

/5
What is TOTO Rewards? 
TOTO Rewards is a mobile application that allows you to complete simple tasks in return for points.
For example, the app connects you with marketing research firms that need your opinions about products and services.
Also, you may get paid for playing games, watching videos, and completing sponsored offers.
It's not something new as GPT sites have been around for decades!
After you accumulate enough TOTO points, you are eligible to withdraw real money via PayPal or Gift cards. If you play Free Fire or Mobile Legend, they can also be exchanged for Diamonds.
TOTO Rewards stands out from other apps because of its low payout threshold of just $3. However, it doesn't mean you will cash out quickly.
How Does TOTO Rewards Work? 
Installation and Registration
TOTO Rewards is only available on Android devices. To access the dashboard, you must install it on Google Play Store and sign in with either Google or Facebook.
The app is 100% free, and most offers don't require any purchase or deposit.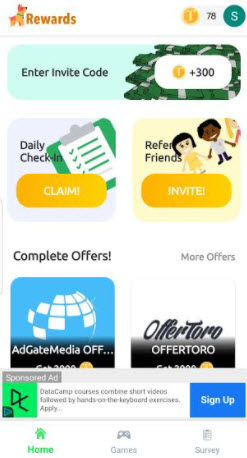 Points and Rewards
TOTO Rewards has a point-based system where 1666 points = $1.
So, to calculate the amount of money you will earn before completing any task, you must always divide the point by 1666.
For example, a survey that gives you 1000 points is worth $0.60.

You can redeem $3 via PayPal once you accumulate 5000 points. If you want to cash out using other methods, you need more points.
Here is the complete list of gift cards and game currencies available:
Free Fire Diamonds (520): 28000 points.
Mobile Legend Diamonds (158): 15000 points.
Amazon, Best Buy, Target, Hulu, and Steam Gift Cards ($25): 30000 points.
How To Earn Points?
As you already know, there are different ways to collect TOTO Points. Next, I am going to explain briefly each method and show you the number of points you can expect to earn.
Enter Invite Code
There are different ways to earn TOTO Points. Next, I am going to explain briefly each method so you know what to expect in terms of tasks and rewards.
Invite Code
Simply enter a referral code and receive 300 points. Use my code if still don't have one: TOT10B9D. 
Check-in
A simple way to collect TOTO points is to visit the daily reward section during the first 7 days. You can claim 10 points every day.
Complete Offers
TOTO Rewards has partnered with 4 ad networks that allow you to earn points by completing offers.
The most common tasks involve installing apps, playing mobile games, taking surveys, and signing up to free trials.
To get credited, read carefully all the instructions and meet all the requirements.
The number of points varies according to the nature of each offer. Some game developers provide a generous incentive if you make in-app purchases or reach specific milestones.
For example, Neverland Tales awards 1350 points if you achieve level 251!
Play & Earn
Get up to 20 points for every new game you play inside TOTO Rewards. There are lots of arcades, action, puzzle, strategy, and adventure games.

Keep in mind you cannot collect over 150 points in this section.
Watch Videos
After watching the entire video, complete the offer to get 5 points. Unfortunately, the videos are not always ready.
Shop and Earn 
Earn cashback on every online purchase you make through one of their partner's websites. As I was testing the application, there were no shops available.
Take Surveys
Participate in marketing research studies and collect points by sharing your opinions with brands. Longer surveys usually pay more.
If you use the Yuno Survey router, it gives you the opportunity to complete surveys worth anywhere between 300 and 2600 points. 
First, you may be asked to answer some profile and qualification questions. This can be a very frustrating process, as you will waste a lot of time trying to find a study that accepts you.

This reward platform is going viral! Cash out via PayPal, Visa, Gift Cards, and in-game currencies - Click here to find out how to generate an extra $10+ per day! 
Invite Friends
Invite your friends to join TOTO Rewards and earn 300 points for each person who enters your code.
Use the "Share Now button to send a message with your code to everyone who might want to install the application.

Social Tasks
Get 5 points for following TOTO Rewards on Facebook, Twitter, Instagram, and YouTube.
Is TOTO Rewards Legit? 
With the information available on the internet, it's impossible to draw a definitive answer to this question.
I am still very skeptical because many users complain points are not added after they complete tasks. Not only that, but it's hard to find someone who actually made money from TOTO Rewards.
There are lots of positive reviews, but most of them just praise the app without sharing their own experience with it.
Conclusion 
I haven't found enough evidence that TOTO Rewards pays. Besides, the Terms of Service page doesn't mention anything about rewards.
Therefore, the company has a free pass to close your account, delete your points, or simply ignore payments.
I believe there is a significant risk of wasting time, energy, and even money.
Even if you receive the money, it's very unlikely that you will make $100 per month, let alone $500!
Verdict: Not Recommended
Pros and Cons
Pros
There are many ways to collect points.
Low payout threshold.
Large selection of payment options.
Cons
Points are worth very little money.
Many users report missing points.
Depending on the tasks you complete, it can take a long time to cash out.
Some people report glitches.
There is a daily limit on the number of points you can earn by playing games.
The number of points required to redeem Gift cards and diamonds is too high.
Videos are not always available.
Is There An Alternative to TOTO Rewards? 
If you are searching for a reliable alternative to TOTO Rewards, I can't recommend Prizerebel highly enough.
It's not an app, but you can complete similar tasks on your phone's web browser with no issues.
The reason I praise this platform is that they have a solid reputation on the internet.
I have personally cashed out hundreds of times and never experienced any problems whatsoever!
If you still prefer using a mobile application, here are some decent options:
Earn a Full-Time Income Online
If you are serious about working from home, I suggest that you build your own internet business.
You can make a lot more than $500 per month by creating helpful content to promote products as an affiliate. That's how I earn a living online!
This excellent step-by-step program helped me set up a WordPress site and create optimized articles that bring in a decent income.
This business model requires strong commitment, but it has the potential to change your life as it changed mine!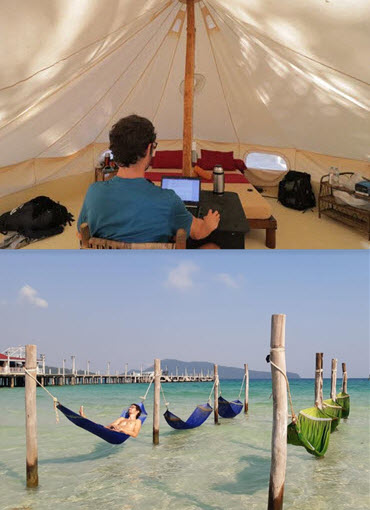 Final Words 
Thanks for taking the time to read my TOTO Rewards review.
If you have questions about this app, let me know in the comment section below. Also, feel free to share your thoughts below!
Peace!