Neon Pop Numbers is another merging game that supposedly let you redeem real money via PayPal.
They want you to believe you can cash out $20 – $300, but only after meeting specific requirements.
The app also provides a lucky wheel that gives you the chance to win an iPhone. How generous these people are!
I know you are very skeptical and wondering if this is legit or another fake application! After all, which gaming company would not offer a game for free buy also pay you for playing?
In this review, I am going to show you how Neon Pop Numbers works and why it should be avoided at all costs.
Tired of fake apps? This step-by-step program helped me build a successful affiliate website and generate $1,600+ per month. Join now and start your first 10 lessons for free! 
Neon Pop Numbers App Review
Name: Neon Pop Numbers
Developer:

Yitong Huang

Contact: [email protected]
Eligibility: Worldwide
Minimum Payout: $20 (PayPal)
Price: Free to join (no in-app purchases)
Overall Rating: 2/5
What is Neon Pop Numbers?
Neon Pop Numbers is a puzzle game where you need to merge squares with the same number to collect coins and virtual cash.
This app is operated by Yitong Huang, which also operates Fruit Clash Legend, Pop Numbers, and Fruit Pop Legend.
The Playstore is jam-packed with similar "2048" games that claim users can redeem money to PayPal.

This reward platform is going viral! Cash out via PayPal, Visa, Gift Cards, and in-game currencies - Click here to find out how to generate an extra $10+ per day! 
Neon Pop Numbers displays an insane amount of videos, which is how the developers are making profits. Therefore, they want you to play it as much as possible to maximize their revenue!
The game is addictive and great for killing time! But maybe you cannot afford to spend many hours entertaining yourself. You need money, and that's why you are here, right?!
How Does Neon Pop Numbers Work? 
Installation
Neon Pop Numbers is available on Android and iOS devices. Upon launching the app, press the "play" button and the game will start immediately. You don't need to sign in or allow any type of permission.
How to Play?
It's actually very simple!
Find clusters of more than two identical blocks and tap on any of them. Once you do that, all the squares will combine and form one with a higher number.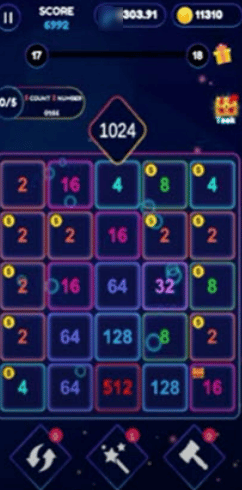 The resulting number follows the geometric sequence: 2, 4, 8, 16, 32…

Reach the target within a specific timeframe to open the chest and earn more coins. You can multiply your reward by five if you watch a short clip.
The more squares you merge at once, the more scores you will accumulate. Just keep merging the numbers to collect more rewards!
At some point, you may get stuck due to a lack of adjacent squares with the same number. In that case, use any of the three available tools: Reset (rearrange), replace, and hammer.
If you run out of props, you can either watch a video or spend 800 coins.
Recommended read: 65 Game Apps That Supposedly Pay You Real Money
Rewards
Neon Pop Numbers will give you coins and virtual cash after merging squares. They show you a PayPal logo, but mind you, this is not actual money! 
When you open your "cash" balance, they give you a few cash out options. On the Android version, the minimum cashout requirement is $2.
However, this small amount is never available!
In reality, you need at least $20 to withdraw the money to your PayPal account. Not only that, but you must also meet the following requirements:
Be active for 30 days.
Reach 60 levels.
Watch 2500 ads.
In other words, they want you to believe that if you watch around 1,250 hours worth of videos, you will make $20!
Seriously?
That's insane! I can't even fathom how much time and internet data that would require. It will certainly cost you over 20 bucks if you are not using public Wi-Fi.
Besides, you can supposedly convert 315,000 coins for $5 paid through PayPal or Amazon gift cards.

If you are playing Neon Pop Numbers on iOS, you need a minimum of $300 to cash out.
Subscription
If you tap on the VIP icon on the side, you will discover that Neon Pop Numbers has a weekly subscription for $5.99.
The company claims it will remove interstitial adverts and increase your income by 20%.
Please, don't give them your hard-earned money before reading the next section!
Does Neon Pop Numbers Pay Real Money? 
No, I don't believe this game pays because the cash incentive is very unrealistic.
Besides, the "Terms of Service" doesn't mention anything about payouts, which means the company has no obligation to pay users.
Apps like Neon Pop Numbers don't provide any guarantees because virtual cash and tokens have no real-world value. 
The game will give you lots of virtual cash in the beginning, just so you think you can withdraw quickly.
However, your earnings decrease over time, and you will end up playing for longer than you thought. That means more money for the app developer, who is profiting from every video you watch.

If you keep playing, you may eventually reach the requirements, but it's very unlikely that you will receive the payment.
Is Neon Pop Numbers Legit? 
Some YouTubers claim Neon Pop Numbers is a flat-out scam. Well, here at My Room is My Office, I cannot do the same without showing solid proof.
Unfortunately, only the competent authorities can dig deeper and uncover what's really going on behind the scenes.
Keep in mind the developer doesn't promise you will make money if you reach the requirements. That's why I don't want to jump to any conclusions.
Final Thoughts
Neon Pop Numbers is a nice puzzle game, but I don't recommend you play it with the expectation to earn money.
There is no binding agreement that would force the company to pay you. So, I believe they will just ignore your payment request.
I am yet to find someone who made hundreds of dollars playing a mobile game!
I despise the way these app developers advertise their games because it causes so much frustration!
They make it seem so easy to make money, but in reality, people just end up watching a ton of videos in return for nothing.
So, Neon Pop Numbers at all costs unless you just want to play for fun.
Verdict: Not Recommended
Earn a Full-Time Income Online
If you like the idea of working remotely, I suggest you build an internet business.
In short, the strategy consists of publishing helpful content on your website and promoting products/services as an affiliate.
Most people don't even start because they have this false impression that only experts succeed!
That can't be further from the truth! I started from scratch and earn enough revenue to cover all my living expenses.
The possibility of traveling the world long-term gave me enough motivation. So, I put in the time and effort required to make my dream come true!
My Advice? Learn from those who walked the way and don't try to reinvent the wheel!
This excellent step-by-step program helped me build a solid foundation for my online business. You can sign up here for free and start today with no strings attached.
Final Words
Thank you for reading my Neon Pop Numbers app review. I hope it was helpful!
If you played this game, kindly share your results and opinions in the comment box below.

Peace!