Fruit Clash Legend is another match 3 game that claims you can cash out via PayPal once you reach $200. Oh, how I wish!
An unrealistic advert suggests players could earn $100 every time they merged the fruits.
However, they don't warn their audience this is pure fiction, so it's no wonder people install the app with high hopes.
If you are reading this post is because you have the gut feeling you will not get paid! Otherwise, it would be the perfect solution to end poverty in the world.
So, can you really make a killing with Fruit Clash Legend? Is it legit?
Tired of fake apps? This step-by-step program helped me build a successful online business and generate $1,600+ per month. Join now and start your first 10 lessons for free! 
Fruit Clash Legend Review
Name: Fruit Clash Legend
Developer: Yitong Huang
Type: Puzzle
Eligibility: Worldwide
Payout Threshold: $200
Overall Rating: 

2/5
How does Fruit Clash Legend Work?
Installation
The game is available for Android and iOS devices. One thing I noticed right off the bat is the lack of a binding agreement between you and the developer.
Every legit application I reviewed so far asks users to agree with their Terms of Service. However, Fruit Clash Legend does not provide this document, which means there is a complete lack of transparency.
So, after launching the app, press the play button to enjoy the show.
How to Play?
It's very simple! Tap and drag the fruit in order to arrange 3 them horizontally, vertically or in L shape.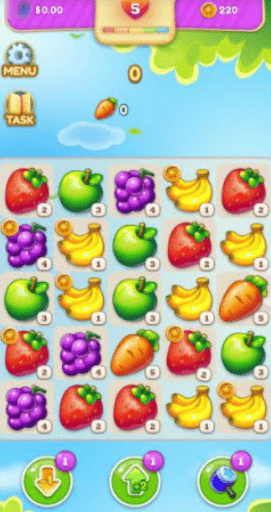 Note that each fruit has a score. Whenever you combine them closely, another fruit with a higher number will form.
There is no specific goal. Just keep merging to unlock new fruits.
As you can imagine, it takes longer and longer to achieve higher scores.
If you cannot merge any fruit, use specific tools to make the next move or you will end up consuming one life.
Rewards
Fruit Clash Legend gives you virtual cash whenever you accomplish multiple matches at once (combo). Coins are awarded while merging fruits as well.
Most of the time, they require that you watch a video to claim or double the amount.
Also, you can open a treasure chest and collect more rewards after unlocking a new fruit.
Other Ways to Earn Coins

There are many other ways to collect coins. You can spin the wheel, invite friends, check-in, and complete tasks from two offer walls called TapJoy and IronSource.
How Do You Get Paid?
If are lucky enough to reach $200, you should tap on the PayPal icon at the top and press the cash out button.
As for coins, they can be redeemed for cash through PayPal or Amazon gift cards. You need at least 210,000 coins to withdraw $5.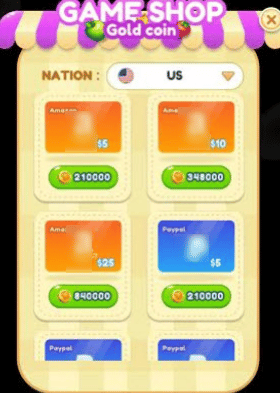 Is Fruit Clash Legend Legit? Does it Pay?
Fruit Clash Legend works pretty much like 99% of other "money" games.
In the beginning, it dishes out lots of virtual currency to give you the impression $200 is just around the corner.
However, the value and frequency of rewards decrease gradually, along with your excitement. At some point, it seems impossible to reach $200!
It's very frustrating when they start paying you a few cents at a time!
After playing it for so many hours and watching hundreds of clips, you don't feel like giving up. But regardless of how long you play, you may never reach the target.
Some games let you cash out, but they simply ignore your payment request.
Remember, there is no binding agreement between you and the company, so they don't need to pay you.
Another problem is that the developers have launched the game in "Early Access". Therefore, no one can leave an honest review on Google Play.

If you played Fruit Clash Legend and you want to share your experience, I encourage you to write it down in the comment box below.
The reviews are allowed in the App Store, where you can find lots of complaints.
No Privacy Practices
As if that wasn't bad enough, the developer doesn't provide a Privacy Policy. Therefore, users have no idea how he is handling their personal information.
If you care about your data, think twice before installing Fruit Clash Legend on your device.


This reward platform is going viral! Cash out via PayPal, Visa, Gift Cards, and in-game currencies - Click here to find out how to generate an extra $10+ per day! 
Is There An Alternative?
Yes! This is the only match 3 puzzle game that is rewarding players. All the other games offering hundreds of dollars via PayPal are fake.
The problem is that it pays very little money, so unless you just want to have fun, I think it's a waste of time.

There are many apps and sites to make easy money. Here are some trusted options:
Prizerebel: A GPT site where you can complete simple tasks on your mobile devices or pc.
Bidcash: Earn cash by filling up surveys and completing offers.
Qmee: Get paid for sharing you opinions.
Conclusion
Fruit Clash Legend is an addictive merge puzzle game, but I suspect it's causing more disappointment than joy.
The developer promotes his app as an opportunity to make money, but there is no evidence of payments.
There are no Terms of Service, and the Privacy Policy page is currently unavailable. Besides, they blocked user from publishing reviews by launching the application in "Early Access".
I think they are operating the app in a very irresponsible manner and should be banned from the Playstore.
Verdict: Not Recommended
Earn a Full-Time Income From Home
Have you ever though about working from home to have more freedom and peace of mind?
The internet gives you lots of opportunities, but my favorite one is called content marketing.
This excellent step-by-step training helped me create a website, attract visitors, and make a full-time income online. It does take time and commitment, so it's not for everyone.
But if this type of work appeals to you, I suggest that you join for free and take massive action. I went through the same training back in 2015, and I don't regret it!
Final Words
Thanks for reading my Fruit Clash Legend app review. If you have questions, let me know in the comment section below. Don't forget to share your opinions about this game ;
Peace!