I was searching for a reward application on the Playstore when I discovered Cheery Ruby.
This mobile app is jam-packed with arcade games that allow you to earn digital currency and, hopefully, cash out via PayPal.
According to the app developer, you can win big rewards by playing scratch cards, lucky cards, Lucky knife, and other games.
Not only that, but you can also boost your earnings by completing sponsored offers from Tapjoy and other simple tasks.
With so many fake money apps roaming free, you may be wondering whether Cheery Ruby will leave you empty-handed. Is it a scam or a legit app?
Top recommendation: This step-by-step program helped me build a successful online business and make $1,600+ per month. Join now for free and start your first 10 lessons!
Cheery Ruby App Review
Developer: Cheery Ruby Studio
Type: Sweepstakes
Eligibility: Worldwide
Payout Threshold: $50
Price: Free
Overall Rating:

1/5
What is Cheery Ruby?
Cheery Ruby is a sweepstakes app where you can play free games to win virtual cash and tokens.
It's very similar to many other applications I reviewed in this blog, such as Lucky Time and Daily Scratch.
Every Day, they will give you 50 free scratchers and let you play other games as long as you keep watching videos.
Therefore, the app developer is generating revenue, which is supposedly used to reward players.
Keep in mind you need to accumulate $50 to withdraw cash via PayPal. Alternatively, you can redeem a $10 Amazon gift card once you reach 10 million tokens.
Is Cheery Ruby Legit? Does it Pay?
I encourage you to visit the Google Playstore and read the user reviews to get the real picture.
There is an incredible number of users complaining and asking about their $50 whereabouts. It's shocking!
Lots of people are frustrated because they simply cannot make any money!
I can identify two groups of users: Those who cashed out but didn't receive the payment, and those who got stuck before reaching $50.
So, Cheery Ruby seems to work just like most sweepstake apps!
Many users experience a sudden drop in earnings and get stuck before having the chance to cash out.
Now, those who reach $50 will probably never see the money in their PayPal account.
Despite everything I said above, I cannot claim Cheery Ruby is a scam. The reason is that they have a statement in the Terms of Service which says:

"Cheery Ruby cannot guarantee and does not promise any specific results from the use of the app".
Okay, so maybe only a few lucky users win cash prizes. But where is the evidence? There is none!
How Does Cheery Ruby Work?
Installation 
After installing the Cheery Ruby app, you can log in as a guest or sign up with FB to backup your game progress.
Next, they will give you a new user gift of 100,000 coins.
Scratch Cards
Once you launch the game, you will see your first scratcher at the top of the screen. Every day, you will get 50 cards! 
Each card gives you a chance to win cash prizes ranging from $1 to over $1000 as wells as tokens.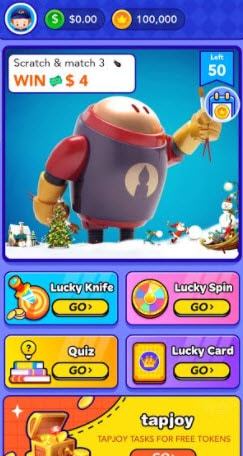 Simply scratch the card and if you match the 3 winning symbols, you will get the prize. Even if you are not the winner, they will give you some tokens.
After playing 3 or 4 times, they will ask you to watch a video to support the developer.
The main problem with most sweepstakes apps is that they control your earnings, so it's not only about luck.

Lucky Knife 
In this game, you must throw all the knives to the object in order to pass the level. Whenever you do so, you will earn tokens or virtual dollars.
Lucky Spin
Tap play to spin the wheel and earn tokens or cash prizes. There are several cash rewards, but as the wheel is rigged, it will almost always land on 4000 – 6000 tokens.
If you want to play over 3 times, you must either watch a clip or spend 5000 tokens.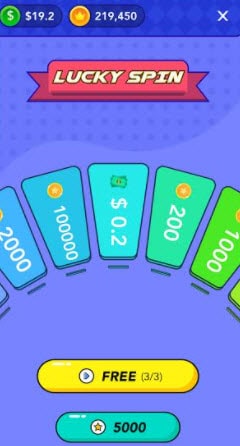 Lucky Card
Simply pick 3 cards and get the mystery reward behind each one. You can play the Lucky Card every 4 hours, but you halve the time by 2 hours after watching a video.

This reward platform is going viral! Cash out via PayPal, Visa, Gift Cards, and in-game currencies - Click here to find out how to generate an extra $10+ per day! 
TapJoy
Cheery Ruby also partnered with this third-party network so you can complete offers and earn more tokens.

Some of them require that you install and play other games until you reach a specific level.
If want to get paid for completing similar activities, I highly recommend a GPT site called Prizerebel.
This platform is 100% legit and will surely pay you once you have $5 in your account.
Final Thoughts
Don't waste your time trying to reach $50 because it's very unlikely that you will receive the money from Cheery Ruby.
I've tested a significant number of the so-called "Lucky" apps, but I am yet to find one that is consistent with payments.
Unfortunately, most of them are just collecting revenue with no intention to reward players.
Verdict: Not Recommended
Earn a Full-Time Income From Home
If you value your time, you should not use apps or complete tasks for a slim chance of winning prizes.
You want a solid strategy that will bring in hundreds and even thousands of dollars month after month!
There are many business models, but personally, I consider content marketing as the best option for most people.
This excellent step-by-step training helped me create a lucrative site and earn life-changing commissions.
If you dream of working from home, I suggest you acquire some knowledge, and take massive action to achieve your goals.
Final Words
Thanks for reading my Cheery Ruby app review. If you have questions, let me know in the comment box below.
Peace!