Welcome to my Little Jumping Bird app review!
Little Jumping Bird is a very addictive and challenging game similar to BirdCash.
Both games are poorly designed clones of the classic Flappy Bird launched in 2013 by Dong Nguyen.
The primary reason people are playing this game is the opportunity to earn thousands of dollars instead of just worthless points.
The developer claims that only players who complete level 20 will receive the payment to their bank accounts. Therefore, thousands of people are trying their best to complete all the levels and cash out.
Little Jumping Bird is free, but it allows you to buy extra lives so that you don't lose your progress.
You are reading this review because you are skeptical and wondering if Little Jumping Bird is legit or fake. Is it really possible to complete all levels, and if so, will they pay you?
Check my review below before you waste your time and money!
TOP Recommendation: This step-by-step program helped me build a successful affiliate website and generate $1,600+ per month. Join now and start your first 10 lessons for free. 
Little Jumping Bird App Review
Name: Little Jumping Bird
Developer: Kardin
Support: [email protected]
Eligibility: Worldwide
Overall Rating:

1.5/5
How Does Little Jumping Bird Work?
Installation
After installing and launching the game, you can start playing immediately by clicking the "Play" button. But first, I encourage you to read not only the instructions but also the Contract-guarantee available on the dashboard.
How to Play Little Jumping Bird?
Tap on the screen, avoid the pipes and collect as many coins as possible along the way. You will pass the level once you reach the end of the path and hit the huge coin.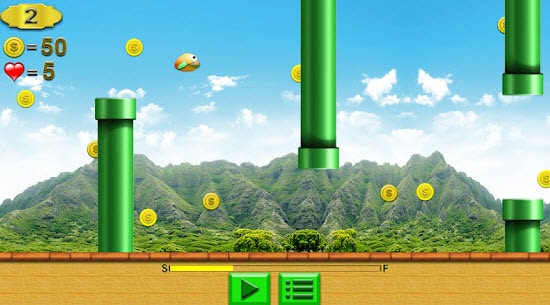 Higher levels take longer and become more challenging. At some point, pipes will start moving up and down and the spaces between them will get very narrow.
You will start with 5 lives, and if you feel in danger, you can pause the game and buy extra lives. For example, 10 lives cost $4.
It's very important to mention that the developer is encouraging players to buy at least 1 life purchase. Don't buy it before you finish reading this post!
When you press the pause button, you will see the duration of each level. If you close the game, the level and percentage will be saved.
Tired of fake apps? Click here and discover my #1 recommendation for making money online! 
Cash Rewards
Every coin is worth $0.10, and depending on the level, you may collect more than 200 coins ($20). According to the game instructions, you can only cash out if you manage to pass all 20 levels.
When you finish the game, you will see the last level code on your screen. Copy it and press the "Get Money" button in the progress section.

Don't try to withdraw the money using an incorrect code, otherwise, the game will be blocked, and you will never be able to cash out.
The developer claims to process payments to any bank account in the world. If you do not have one, you can cash out via Western Union, Money Gram, or any other method that suits you best.
I was extremely disappointed when I discovered winnings cannot exceed $50,000.
That's a shame! I was seriously thinking about moving to the Caribbean and spending the rest of my life playing Little Jumping Bird. Joking! 😊
Important Considerations
The app developer promises to pay anyone who passes all the levels and earn a decent amount of money.
How much does he consider "decent"? Well, it's up to him to decide.
As I already mentioned, Kardin entices you to buy lives by promising that if you do so, you will, with 100% certainly, get your winnings.

However, he claims you can play the game and win even if you don't buy any lives.
There are a few other things you should be aware of.
The sponsor can refuse to pay you if they suspect you are involved with fraud or trying to hack the game. In that case, they must provide evidence of any violations.
Furthermore, Little Jumping Bird may refuse to pay you if you give the game a low rating (1, 2, or 3 stars), without providing justified arguments.
For more relevant information, read both the Instruction and "Contract-guarantee" pages.

Can You Complete Level 20 and Receive the Payment?
In my opinion, it's nearly impossible to win the cash prize! If you check the reviews on the Playstore, you will find that very few players finish the last level.
Because of the extreme difficulty of the game, many people decide to spend their hard-earned money on "lives".
The problem is that even if you achieve the requirement, it doesn't mean you will receive the money!
Kardin has replied to some reviews on Google Play by saying you are guaranteed to get your winning if you pass all the levels.


This reward platform is going viral! Cash out via PayPal, Visa, Gift Cards, and in-game currencies - Click here to find out how to generate an extra $10+ per day! 
That's false because according to the game instructions, making live purchases influence the decision of the sponsor to pay you or not.
Some users complain they did not receive the payment because of supposed violations. The developer is accusing them of hacking the application by adding lives in the save file.

One person reported that despite spending $400 on lives, he was unable to cash out as he was considered an offender.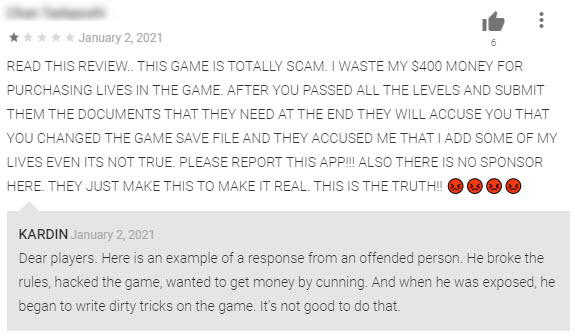 Really? So, why would he spend $400 before hacking the app?
That's weird!
The app provides a list of winners with their names, nationalities, and prizes earned ($13,300 – $23,600). However, that does not convince me that Little Jumping Bird is processing payments!
Conclusion 
I cannot claim Little Jumping Bird is a scam because I didn't want to waste my time and money on this game!
The business model is very suspicious to me since the app only generates revenue from the selling of "lives".  I think it's totally unsustainable!
If they are paying everyone who reaches the goal, that means players must be spending more money than gaining.
They made this game so difficult that it's probably impossible to finish level 20 without buying lives. However, there is no payment guarantee even if you meet the requirement.
The developer has the right to cancel your reward if he suspects you did something wrong. But how can prove him wrong?
I think Little Jumping Bird is a nice game to pass the time, but I don't recommend spending your money on it.
Final Words
Thanks for reading my Little Jumping Bird review. I hope it was helpful!
So, have you played the game? If so, how was your experience? Did you complete level 20?
Let us know in the comment box below!
Peace!