Welcome to my Money Bricks Ball app review!
Thousands of people are playing Money Bricks Ball with the expectation to win hundreds of dollars.
The developer uses the PayPal logo to convince people they are providing a genuine opportunity to earn money.
Unfortunately, most games are fake and cannot be taken seriously, especially those classified as "Early Access".
Luckily, Money Bricks Ball is fully launched, so players can publish their reviews on Google Play. That's good news for us since we can check if the company transfers the money or not.
The game is nice, but I guess you cannot afford to waste time with applications that won't pay you.
So, is Money Bricks Ball legit or scam? Will they transfer the money to your PayPal account? Let's check it out!
Top recommendation: This step-by-step program helped me achieve 1,700 US Dollars per month and quit my job in 2019. There is a free membership available! 
Money Bricks Ball App Review
Full Name: Money Bricks Ball: Cash App / Earn Money
Developer: Double_ZPlayGame
Payout Threshold: $200
Price: Free (no in-app purchases)
Overall Rating:

1/5
What is Money Bricks Ball?
Money Bricks Ball is a casual game where players shoot the balls towards the numbered bricks to destroy them. It's very similar to this shooting virus game! 
The number in each brick represents the number of times the balls must hit them.
As you clear the stage and eliminate bricks with the PayPal logo, you will collect cash coupons that you can withdraw when you reach $200.  
How Does Money Bricks Ball Work?
Installation and Permissions
Money Bricks Ball can be installed on your Android device and is free to play. If you already have the app on your phone or tablet, be careful!
You already granted access to media, photos and other files on your device. That means the developer can read, modify and even delete personal data that belongs to you.
Is it really worth the risk! Think carefully about it…
How to Play Money Bricks Ball?
Just aim the balls and release your finger to shoot the numbered bricks.
The balls bounce if they collide with a brick or adjacent walls. They only stop if they drop to the bottom of the screen.
Every time a ball hits the obstacle, the number is subtracted by one. However, the brick is only destroyed when that number drops to zero.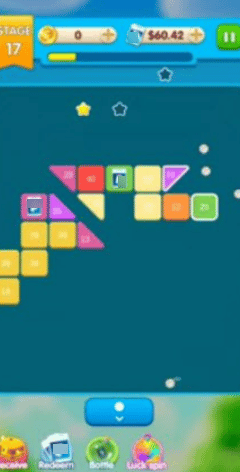 Clear the stage by eliminating all the bricks and earn bonuses depending on your performance.
Note some bricks have a PayPal logo instead of numbers. When you destroy them, Money Bricks Ball will add virtual dollars to your cash balance if you tap the button and watch the video.
I must emphasise that the cash rewards are very unrealistic! They will offer you around $5, $10 and even $20 if you watch the video until the end.
When you clear the stage, you may also earn cash bonuses!
How Do You Get Paid?
By tapping the cash balance right at the top, you will find a list of payout options from $200 to $500.
Therefore, you need to reach at least $200 to withdraw the money via PayPal.
To request the payment, you must input your email address twice and tap redeem. But unfortunately, it's not as easy as they make it seem!
Once you cash out, your payment status will be "processing", and you must watch 200 videos to activate order.
Do you understand what is happening here? The developer tricked you into watching more videos so he earns more revenue at the expense of your time and mobile data.
In the next section, you will find whether he will pay you or not.
Is Money Bricks Ball Legit? Does it Pay?
No, you won't receive a single penny for playing Money Bricks Ball.

It takes an incredible amount of time and mobile data to watch all the 200 videos they requested. However, the developer will not pay you even if you fulfil all the ad requirements.
Lots of games are using this outrageous tactic to maximize your play time and, as a result, their profits!
But instead of sharing the advertising revenue with players, the developers keep every cent to themselves. After all, cash coupons are not real money, and you have no right to winnings!
Many players have left testimonials on Google Play to share their experience and frustration. I coudn't find anyone who got paid!
After watching 200 videos, it says "money successfully transferred", but they won't transfer a single penny to your PayPal account.
Check out the game apps that truly pay here! 

This reward platform is going viral! Cash out via PayPal, Visa, Gift Cards, and in-game currencies - Click here to find out how to generate an extra $10+ per day! 
Conclusion

Money Bricks Ball is not a real paying app. If you are playing with the expectation to win real money via PayPal, I'm sorry, but you will just waste your time!
In my opinion, no company should lure users into watching videos in exchange for unrealistic cash rewards.
If they cannot process payments for everyone who meets the requirements, then they should not claim this is a money-making application.
Google Play is full of apps that capitalize on people's desperation to earn easy money. Sadly, Money Bricks Ball is just one among hundreds of games that will ignore your payment request.
Verdict: Not Recommended
Earn a Full-Time Income Online
Making thousands of dollars online is a reality for people who provide value to the internet.
You can make a decent amount of money if you become a content creator like me!
In short, I write helpful articles reviews for this website are reading right now. It attracts people all over the world who are searching for information on Google.
This business model allowed me to quit my job and enjoy the freedom of working from laptop.
If you want to succeed with your own online business, check out my top recommendation here! It will certainly keep you on the right track and avoid unnecessary trial and error.
Final Words
Thank you for reading my Money Bricks Ball app review. Did you play this game? If so, kindly share your thoughts in the comment section below.
Peace!