Welcome to my Crazy Knifemaker app review!
There has been a surge of mobile applications that pay real money and in-game currency.
Those who are not familiar with these apps usually get very excited about the opportunity to win rewards and start playing without careful consideration.
I have recently found another popular one called Crazy Knifemaker, which supposedly allows you to redeem credits from games like Free Fire, Coin Master, Clash of Clans and more.
Why spending your hard-earned money on game credits if you can get them for free?
I know it seems too good to be true, especially considering in-game currency is very expensive. So, is Crazy Knifemaker legit or fake? What happens after you tap the "redeem"? Will they reward you?
Let's find out!
Top recommendation: This step-by-step program helped me earn 2,000+ US Dollars per month and quit my job in 2019. There is a free membership available here! 
Crazy Knifemaker App Review
Full Name: Crazy Knifemaker: Victory Time (Early Access)
Developer: Merge Boat Games
Payout Threshold: N/A
Price: Free (no in-app purchases)
Overall Rating: 

1/5
What is Crazy Knifemaker?
Crazy Knifemaker is a knife throwing game where you collect diamonds and coins for hitting the target and passing levels. With this application, players can then exchange virtual items for in-app currency to spend on their favorite games.
Crazy Knifemaker has been installed over 1,000,000 times and is very similar to Lucky Knife 2 and Knife Crazy. The only difference is that those 2 games are enticing players with real money!
Although the developer is presented as Merge Boat Games, the Terms of Service tells us the app is owned by Spinning Blades. This is the same company that operates Merge All, Merge Boats, Knife Dash, Hit Target and more!
How Does Crazy Knifemaker Work? 
Crazy Knifemaker is only available for Android devices and requires access to your Wi-Fi and network connections. I don't think there is a serious risk with this kind of permission, though.
Just like most games, Crazy Knifemaker is funded by advertising.
More specifically, it entices players to watch videos in return for rewards, which is a well-known trick to maximize profits.
How to Play Crazy Knifemaker? 
It's pretty straightforward. All you have to do is tap anywhere to throw the knife towards the rotating obstacle.
The challenge is to stick all the knives in the wood or another material without hitting another knife.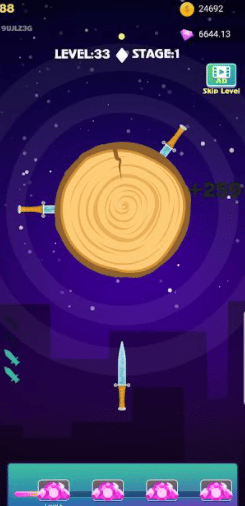 The first stage is extremely easy because the target only goes around in same direction and at the same speed.

But don't worry! It gets more and more difficult as you achieve higher stages.
Crazy Knifemaker awards gold coins every time you hit the target. After destroying object, you will earn a chest full of diamonds, but only if you tap "Claim" and watch a clip.
You will also earn keys after each level.
Every four levels, you must confront and kill the "boss" to complete the level. At the end, you get the chance to open 3 boxes with those keys and collect extra diamonds.
The levels are very repetitive, so I think Crazy Knifemaker is a tedious game. I wouldn't play it for a long time unless it provided real rewards.
How to Redeem In-Game Currency? 
You can supposedly convert at least 10,000 diamonds to in-app purchases on the following games.
Free Fire = +10,000
Roblox = +10,000
PUBG Mobile = +10,000
Clash of Clans = +100
Coin Master = +100
Mobiel Legends = +5,000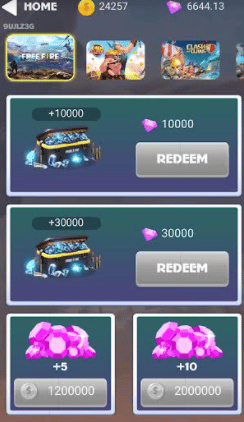 Once you reach the requirement, tap Redeem and enter your gamer account.
As you may know, players can end up spending hundreds and even thousands of dollars on in-app purchases.
For example, Roblox in-app purchases range from £0.99 to £19.99, so players can break the bank if they are not careful enough.
That's why Crazy Knifemaker has attracted millions of players worldwide. But does it actually transfer the rewards?
Is Crazy Knifemaker Legit? Can You Win Game Currency? 

No. The app does not transfer game currency despite your commitment to reach all the requirements. So, here is what will happen after you reach 10,000 diamonds and insert your account details:
A message will appear saying that you must watch 48 videos to activate order. This is a common tactic to postpone payments and lure you into watching even more videos.
Next, say you must waste for another 24 hours or watch more videos to reduce the waiting time by 30 minutes.
Luckily, the app is not "Early Access", which means the reviews are open for everyone to see!
Many players reported watching hundreds of videos only to discover the Crazy Knifemaker is fake.
It's nothing more than an advertising trap in which the more you play, the more you help the developer make money through video views.

This reward platform is going viral! Cash out via PayPal, Visa, Gift Cards, and in-game currencies - Click here to find out how to generate an extra $10+ per day! 
Conclusion 

Crazy Knifemaker is a provides a boring gameplay and worthless diamonds
The developer is clearly targeting young individuals who would spend many hours watching videos to earn in-app currency.
Unfortunately, there is no proof that the developer is rewarding players. In fact, the insane number of complaints on Google Play shows otherwise.
You don't want to waste your precious time making app developers richer!
The easiest way to get in-game currency is to join a GPT site and complete simple tasks such as surveys and surveys.
You can even convert coins and withdraw real money via PayPal and gift cards. This is my top recommendation! 
Final Words
Thanks for reading my Crazy Knifemaker app review. I hope this post helps you save time and find other endeavors that give you real results.
If you want to share your thoughts about this game, use the comment box below.
Peace!