Welcome to my Zootopia Carnival app review!
Zootopia Carnival is another get-rich-quick simulation that suggests players can earn real money via PayPal and Amazon gift cards.
This is not the first time I came across this type of game. In fact, I have already reviewed a bunch of them such as Vegas Tycoon and Tap Money Tycoon.
The graphics as different but the concept is the same. Tap your phone screen, accumulate virtual dollars and upgrade to make more money.
Then, rinse and repeat until you reach the minimum cash out requirement. The question is: Does Zootopia Carnival legit or fake? Does it pay, or is it just another advertising trap?
Let's find out!
Top recommendation: This step-by-step program helped me achieve 2,000 US Dollars per month and quit my job in 2019. Free membership available here! 
Zootopia Carnival App Review
Full Name: Zootopia Carnival: Dream Night (Early Access)
Developer: Easy Net Games
Payout Threshold: £704.10
Price: Free (in-app purchases)
Overall Rating: 1/5
What is Zootopia Carnival?
Zootopia Carnival is another idle and clicker game, just like the popular Tap Tycoon and Adventure Capitalist.
The difference is that it gives random PayPal and Amazon bonuses that can eventually be cashed out.
This opportunity makes people play for many hours in hopes of reaching £704.10, which is the minimum cash out requirement.
As a result, players end up watching a crazy amount of ads that consume not only time but also lots of mobile data.
Zootopia Carnival has over 100,000 installs, but since the game is in Early Access, they don't allow users to review to app.
This is not good news because they are suppressing what actual players think about the game and its claims.
How does Zootopia Carnival Work? 
Zootopia Carnival can be downloaded and installed for free on your Android device from the Play Store.
It's unfortunate that the developer does not provide the Terms of Service before users use the app.
This is a big red flag because without this document, the developer can change his policy and apply any rule that come out of his mind.
Zootopia Carnival gives players 2 types of virtual currency. The one you receive whenever you tap the screen is fictitious, so they cannot convert into cash rewards.
Now, the virtual pounds that come as PayPal or Amazon bonus can supposedly be cashed out once you reach £704.10.
Check out legit game apps that pay real money here!  

How to Play Zootopia Carnival? 
Just tap anywhere to drop and collect a cash note. Then, use virtual dollars to build and upgrade businesses that will generate passive income.
Enterprises available include dance halls, cinemas, bars, hotels, restaurants and many others.
Every time you buy a business, it will generate a specific amount of cash per second.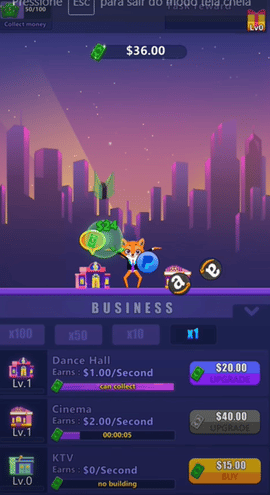 Once the progress bar is full, you can collect the reward by tapping small cash symbol on the top of the building.
By clicking this symbol, Zootopia Carnival will not only give you virtual dollars to use in the game, but also redeemable cash.
That's the money players can supposedly transfer to their PayPal account or exchange for Amazon gift cards.
From time to time, the app dishes out a substantial amount of cash in the form of cash coupons. In that case, you need to click "Get" and watch a video to collect the money.
How Do You Cash Out? 
At first, Zootopia Carnival requires that you accumulate £704.10 to withdraw the money.
So, you must play for a long time before you reach the requirement and press the "redeem" button. But here is the catch:
Once you fill in your account details and request the payment, they will tell you to watch 30 videos to activate your order.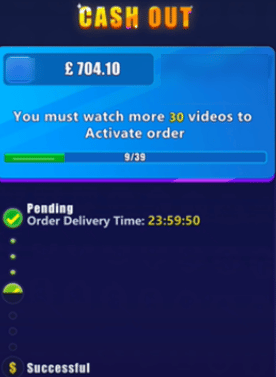 So, your payment will stay as "pending" until you do what they want.
Is Zootopia Carnival Legit? Does it Pay? 
No, it doesn't pay!
After you activate the order, they update your status for "Under review" and you are told to wait 24 hours.
But of course, watching an ad reduces the waiting time by 30 minutes. 

This reward platform is going viral! Cash out via PayPal, Visa, Gift Cards, and in-game currencies - Click here to find out how to generate an extra $10+ per day! 
I hope you haven't played Zootopia Carnival for long enough before finding this review because no one deserves to be treated like this.
They are using the PayPal and Amazon logo to make players believe the reward exists, but there is simply no money to be made with this application. Period.

Conclusion 
Zootopia Carnival is a very addictive game, especially because players are told they can withdraw £704.10.
Well, that's just too good to be true!
Unfortunately, no game developer can provide such generous cash rewards because each video pays only a few cents.
Let's say you watch 100 videos in total and each ad pays the developer $0.10. How can they pay you £704.10? Where is the money coming from?
That would only be possible if they paid a few lucky players through sweepstakes. But that's not how the developer approach this opportunity.
Play the game if you want to kill time, but don't expect any money from it.
Earn a Full-Time Income 
If you know how to spend your time on the internet, you can grow a strong online presence and generate a substantial income from home.
In 2015, I created this website that attracts thousands of visitors per month and earns me enough to pay all my bills.
You can do the same and is not any secret. By publishing content and ranking on Google, you can build a successful online business and live the laptop lifestyle!
So, how do you start? Check out this excellent step-by-step training and take massive action!
Final Worlds
Thank you for reading my Zootopia Carnival app review. I hope this post helps you save time!
Would you like to share your opinions about this app? If so, feel free to write down in the comment box below.
Peace!