Welcome to my Jackpot Master Pusher review!
Imagine a free game that pays you just for tapping on your phone and pushing the coins off the edge.
Well, that's what Jackpot Master Pusher is all about!
These guys claim you can withdraw real money when you accumulate enough virtual items like coins, virtual cash and fruits.
I lost count of how many coin pusher games I reviewed in this blog. Here is another mobile pusher machine! 
It makes me sick to know that developers are still making profits by giving away fake dollar bills with the PayPal logo on the top.
You are here to know what will happen if you complete all the requirements and try to cash out. Will they pay you? Is Jackpot Master Pusher legit?
Let's find out!
Top recommendation: This excellent step-by-step program helped me reach over 2,000 US Dollars working from my laptop. Replicate my results by joining the Free membership here! 
Jackpot Master Pusher Review 
Full Name: Jackpot Master Pusher
Developer: DoraBmonkey
Payout Threshold: $100
Type: Entertainment (no financial risk)
Price: Free (no purchases)
Overall Rating: 1/5
What Is Jackpot Master Pusher? 
Jackpot Master Pusher is another coin pusher game that provides a crazy amount of virtual cash. 
What is even more incredible is the possibility of withdrawing real money via PayPal and other methods.
You just need to tap the screen and wait for the machine to push the coin off the edge of the front edge.
Thousands of people are downloading and playing Jackpot Master Pusher since it promotes the idea of "Easy money". 
However, the app is still "Early Access", meaning you won't find any reviews on Google Play.
It's very unfair because people deserve to know what others think about an app before installing it.
How Does Jackpot Master Pusher Work?
Installation and Permissions
Jackpot Master Pusher is available for Android devices and it's completely free to play.
It's important to know the developer has access to photos, media and files in your USB storage.
In other words, they can read, modify, and even delete your content. I can understand why Instagram and TikTok ask this kind of permission.
But I believe most games have no reason for accessing my device's data.
Discover the tops game apps to earn real money now! 

How to Play Jackpot Master Pusher?
Once you launch the game, you will see a wide advertisement on your screen. Select "continue", to start the game after a short tutorial.
Just tap anywhere to drop the coins and wait for the machine to push the nickels off the edge.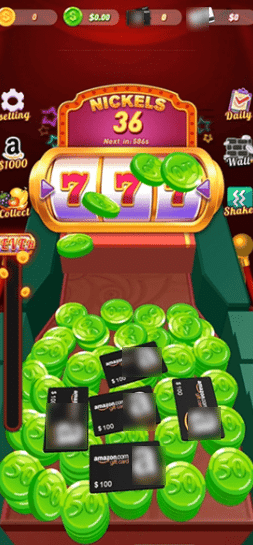 Jackpot Master Pusher gives you an 50 green coins to start with and adds an extra nickel every 3 seconds.
If you run out of nickels, you can claim another 50 by watching a sponsored video. Of course, it's all about helping the developer earn revenue from advertisers.
It's important to know that you will get virtual dollars and tokens when you drop a green and yellow coin, respectively.
The reward depends on the number of the coins. For example, a green on with the number 50 awards $0.50.
When green and yellow coins fall, you will get virtual dollars and tokens, respectively.
The 3-reel slot machine is activated whenever a coin falls into the bucket. If there is a match, you will get extra coins, virtual amazon/visa cards, and fruits.
By matching three 7, the dozer moves all the way to the front, pushing all the coins off the platform.
Jackpot Master Pusher also features a FEVER progress bar that gives more rewards when it's completed.
Use the wall or shake tools to collect coins faster.

How Do You Get Paid? 
In order to redeem cash, you must collect enough of the following virtual items:
3,000,000 Gold Coins – Earn $100
$150 virtual cash – Earn $150
100 Amazon cards – Earn $100
25 types of fruits – $1000
You can cash out using several payment methods such as PayPal, Amazon, LinePay, Alipay, Wordpay and more.
Is Jackpot Master Pusher Legit? Does It Pay? 
No, it doesn't! Jackpot Master Pusher won't transfer the funds to PayPal or any other payment platform.
Their business model is pretty clear!

This reward platform is going viral! Cash out via PayPal, Visa, Gift Cards, and in-game currencies - Click here to find out how to generate an extra $10+ per day! 
The developer is using virtual cash as bait to lure players into watching an insane number of commercials.
That's exactly how it generates revenue at the expense of your time and mobile data.

Many people still fall for such games because of their need to earn quick money.
Jackpot Master may never let you collect enough virtual items to cash out. But even if you persist and finally meet the requirement, you will never get paid.
Conclusion  
Thousands of people have been playing Jackpot Master Pusher with high hopes of earning at least $100.
They use the PayPal, Visa and other company's logos to convince players that this is a real opportunity.
Unfortunately, this is nothing more than a coin pusher simulation with no cash rewards.
I urge you to do proper research before installing any application on your phone.
Every game that tries to get your attention with big cash prizes should be avoided at all costs! Learn more about fake money games in this post. 
Earn A Full-Time Income Online
One of the best ways to make money online is by publishing helpful content on the internet.
You can achieve this by creating your own website or by recording YouTube videos.
I make excellent commissions with the first option, but it's possible to succeed with one of both strategies.
If you dream of working from your laptop and achieve time and location freedom, check out this excellent step-by-step program. 
Thanks to this platform, I created a profitable affiliate site that covers all my living and travel expenses. Finally, I can work whenever and wherever I want, which is mind-blowing!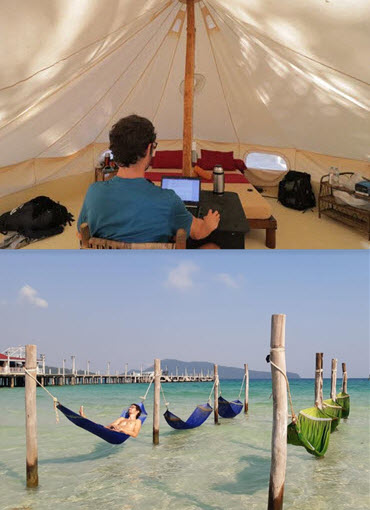 Join for free and start your online business today!
Final Words
Thanks for taking the time to read my Jackpot Master Pusher review. If you have any question about this game, let me know in the comment box below!
Peace!