Welcome to my BloxKing review!
You probably know there are lots of fraudulent apps that promise free money and in-game currency like ROBUX.
They lure people into playing a game for hours and watch countless videos in return for fake rewards.
In the end, only app developers and advertisers benefit from the scheme!
Therefore, many people visit my site in search of a legit platform where they can get rewarded fairly.
Well, I have finally found a site where you can earn free ROBUX just by completing simple tasks from your phone or laptop. It's called BloxKing!
Hopefully, those who join this site will never have to buy ROBUX ever again!
In this post, I am going to explain how BloxKing works and give you my honest opinion. Can you trust this site? Is it legit or scam?
Let's find out!
Before you leave, don't forget to check out my top-rated GPT site. Members are making $200+ on the side by completing simple tasks and referring friends. Cash out via PayPal and gift cards!
BloxKing Review 
Full Name: BloxKing
Payout Threshold: 6000 Robux
Price: Free (no in-app purchases)
Overall Rating: 

1/5
What Is BloxKing? 
BloxKing is a website where you can earn Robux by completing simple tasks, such as installing an app and completing a survey.
For those who don't know, Robux is Roblox's primary currency
The platform is completely free to join and works on your mobile device or desktop.
BloxKing claims to give away thousands of Robux, which you can withdraw to your Player account easily.
How Does BloxKing Work? 
Signing Up
BloxKing is not an app, so you won't find it in the Play Store.
Instead, visit the official website and create a free account by providing your Roblox username.
Right off the bat, you will get 2000 Robux as a welcome bonus.
How to Earn free Robux? 
You can withdraw your Robux to your Roblox account only after completing ALL the requirements below:

1. Refer 5 People  
Share your referral link with friends and family or on social media to get lots of referrals.
You will earn 2000 Robux for every new person who joins using your link or Referral Code.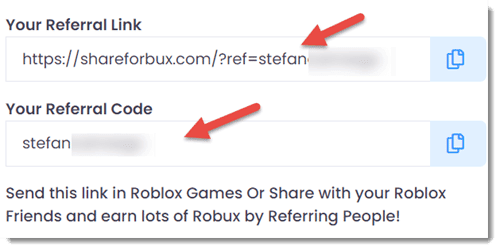 In addition, you will get 30% of the earnings your referrals make from offers for life.
If the person you refer does not complete atleast 1 offer from the offerwall, then you won't get 2000 Robux Bonus.
As soon as your referral completes 1 offer, 2000 Robux Bonus will be credited to your BloxKing account.
You need to refer at least 5 people to be eligible for redemption. If you cannot complete this task, you will be required to complete 20 offers.
2. Complete 8 Offers
You can earn free robux by completing tasks from the offerwall!
Get rewarded for downloading games, completing surveys, subscribing to free-trial offers, answering quizzes and more.
Downloading apps and games are the easiest tasks available, but online surveys usually pay more!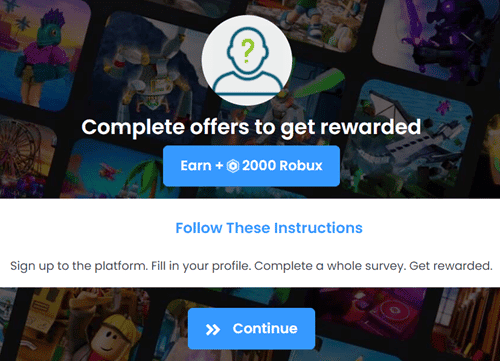 At first, I thought BloxKing would connect users with several offerwalls just like most GPT sites do.

Instead, BloxKing probably works as an affiliate of one of more CPA (cost-per-action) networks.
The company earns commissions whenever you complete their CPA offers.
You should follow all the instructions carefully in order to get credited for each offer. Don't skip any step. 
According to BloxKing, you can earn up to 5000 Robux per survey or app on the Offer Wall.
Just keep in mind your ROBUX can take up to 24 hours to update on your BloxKing account.

This reward platform is going viral! Cash out via PayPal, Visa, Gift Cards, and in-game currencies - Click here to find out how to generate an extra $10+ per day! 
3. Post 10 Times on Social Media
Not only do you earn free Robux from getting referrals, you can also get paid to post on social media.
Earn up to 500 Robux when you post on Tiktok, Robux Rain & YouTube.

Earn More Robux
BloxKing provides more ways to earn Rubux:
Daily Robux Reward: complete daily tasks for bonuses.
Hourly Giveaway: take part in hourly giveaways which rewards 2000 Robux

every hour.

Badges: Complete offers from the offerwall

to Earn Badges. These Badges provide additional free robux for you. 

Redeem Promocodes: BloxKing gives codes regularly to their Subscribers and discord server members. If you find a code in a video, you can redeem it for free Robux.

How to Redeem Robux? 
Once all the status bars reach 100% and you have reached 6000 Robux, you can request your Robux!
Tap withdraw robux, type in the amount that you want and press the withdraw button.
Is BloxKing Legit? Does it Pay? 
It's very unlikely that you will receive your free Robux after completing all the offers on this site.
I am very confident that BloxKing is a complete waste of time. The main reason I think the reward is fake is the unrealistic number of Rebux that each task provides.
For example, they say you will get 2000 Robux when a referral joins BloxKing through your link and completes 1 offer.
The thing is, 1700 robux costs $19.99, which is a lot of money! Not to mention that you will supposedly earn an extra 30% on every Robux that your friend earns.
That's very unrealistic because advertisers cannot afford such high commission rates. Legit GPT sites usually pay less than $1 for similar offers.
Prizerebel features the most lucrative referral program of all GPT sites. Still, they pay up to 32% commission and nothing else!
I found some reports on a YouTube video from members who didn't receive their robux.
Conclusion 
When I first joined BloxKing, I had high hopes that it would be a legit site to earn robux.
But I got very skeptical once I came across the tasks, requirements and the massive rewards.
Earning over $20 worth of Robux for a single referral makes no sense at all!
I thought it would work like most GPT sites that connect users with different offerwalls like OfferToro, PeanutLabs and Adscend.
However, they promote their own offers, probably through a CPA network that pays a commission when someone completes an action.
Although BloxKing seems like a new site, it reminds of old scams like I reviewed in the past such as Duty Times and Money 4 Task.
You will just waste your time completing tasks and promoting this platform on social media.
BloxKing seems more convincing than the fake money games that promise to give in-game currency.

But make no mistake. This is just another platform that only benefits the owner!
Verdict: Not Recommended
Final Words
Thanks for taking the time to read my BloxKing review. I hope this post was helpful.
Have you completed all the required tasks? Did you receive Robux? Please, share your experience with this site in the comment box below.
Peace!