Welcome to my Rewardy app review!
Rewardy claims to be the best app for people who want to make money online.
As a member, you can get paid for sharing your opinions or completing simple tasks on your smartphone.
The problem with reward apps is that many developers and offer providers act on bad faith to increase their own profits.
They use many excuses to justify not paying users, swift blame or simply ignore the user.
That's why it's so important to do proper research before getting your feet wet.
In this post, we will dissect Rewardy and tell you whether it's worth installing this app or not. Is it legit? Does it pay or not?
Let's find out!
Before you leave, don't forget to check out my top-rated GPT site. Members are making $200+ on the side by completing simple tasks and referring friends. Cash out via PayPal and gift cards!
Rewardy App Review 
Full Name: Rewardy – Money Paid Surveys: Your Cash Reward App
Developer: AppsLAB
Payout Threshold: $10
Price: Free to join
Overall Rating: 4/5
What Is Rewardy? 
Reward is a simple app where you earn credits for completing surveys, offers, and missions.
Once you collect enough points, you can redeem for real cash and receive the money via PayPal.
You can also invite your friends and family to join Rewardy and earn additional credits as a team.
The app was created in April 2021 by an American company called AppsLAB. It's been installed over 20k times and has been rated 4.5 on Google Play.
How Does Rewardy App Work? 
Installation and Profiling
Rewardy is available worldwide for Android and iOS users.
After installing the app on your phone or tablet, the company will give you a short briefing.
Next, you must agree with the Privacy Policy and Terms of Service, which says you must be at least 16 years old to join.
You don't need to sign up in order to gain access to the dashboard.
However, it's important to complete your profile by providing your full name, gender, age, and occupation.
You will earn 30 credits as a welcome bonus, plus 100 credits for answering the profiling questions.

Credits and Payout
You request your $10 payment via PayPal as soon as you accumulate 10,000 credits. 
You can also trade in 20,000 and 5000 credits for $20 and $50, respectively.
PayPal is the only payment method available at the moment.
How to Earn Credits? 
Earning coins with the Rewardy app is pretty straightforward.
Once you open the dashboard, you will see a huge list of tasks, including online surveys, offers, quizzes.
Open the task tab and complete all the instructions to receive the reward.
Make sure you have never tried the app or service before and that you are not using VPN.
Download and Play Games
The highest paying offers consist of downloading a mobile game and playing until you achieve a specific level or goal.
Depending on the game, it can take a very long time to get credited, because they will entice you to watch an insane number of videos.
For example, the Monster Hunter app awards 1125 credits if you achieve a depth of 1,400m.
I played this game for over 30 minutes, watched 15+ video and coudn't reach even 500m.

Although it feels great to get paid for playing games, it will encourage you to watch lots of videos that consume lots of internet data.
Not to mention that it's very time-consuming!
Complete Offers
The easiest Rewardy offers are those you have to create an account and sometimes provide your credit card details.
An offer can be an app or a website providing a specific service, such as a freelancing, trading, online shopping, and more!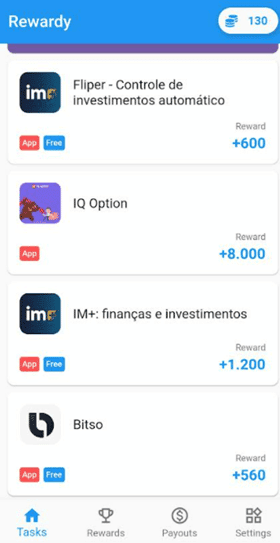 This reward platform is going viral! Cash out via PayPal, Visa, Gift Cards, and in-game currencies - Click here to find out how to generate an extra $10+ per day! 
Usually, you won't be charged if you cancel your subscription before the end of the trial period.
You just have to be careful and don't forget to cancel your account if you are not willing to keep the service.

If it's a free service, then you don't need to worry about canceling your account.
Complete Online Surveys
Rewardy also connects users with marketing research firms such as Yuno, and Opinionlabs.
Companies all over the world are willing to pay you for your thoughts on different subjects and products.
Provide truthful answers and receive your reward instantly!
Online surveys are also very time-consuming because you have to answer a couple of questions only to get qualified.
If you are not a good match for a particular study, the company will screen you out and redirect you to another survey opportunity.
Therefore, you may spend over 30 minutes only to qualify for 1 or 2 surveys.
Offer Walls
Rewardy has partnered with two offer walls called Fyber Rewards and Adgem Rewards. Both of them provide similar opportunities!
Remember that an offer can appear on different platforms, but you can only complete them once.
Answer Quizzes
You can earn a few credits by visiting certain pages and answering interesting quizzes.
I tried a few of them and quickly realized what's all about. Those pages are jam-packed with advertisements!
Invite Friends
Invite friends and get 100 credits for every person who installs the application using your code.
You will also earn 5% of credits for each task they complete.
This is way below the 32% commission rate that I earn with this excellent GPT site.
You can invite friends via Whatsapp, email, Facebook and many other platforms. It's important that the person enters your referral code at the registration process so that Rewardy knows that the new member is your referee.
Is Rewardy Legit? Does it Pay? 
Rewardy is a legit application, but it's important to be aware that the company doesn't guarantee payouts.
Marketing research companies and advertisers shall determine if you have fulfilled the requirements and is entitled to receive the reward.
I have seen many reward apps and sites report that advertisers can just refuse to pay users for no reason.
Sadly, you may not get credited even if you followed all the instructions correctly.

You can find many people on Google Play who said they didn't get the credits after answering surveys and completing offers.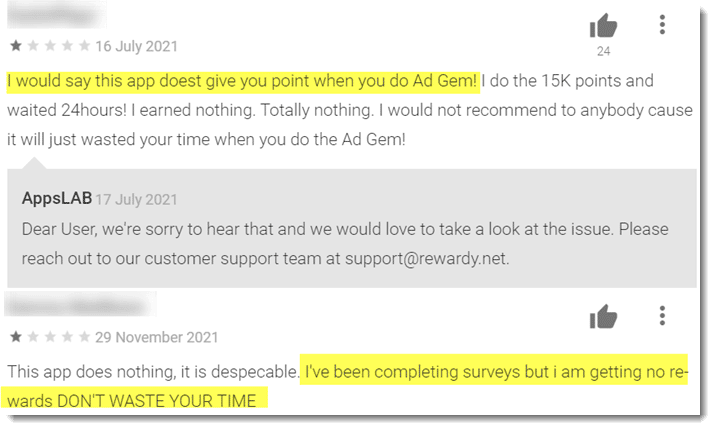 It can be very frustrating, and you never know who is to blame!
If you don't get paid, reach out to the support team at [email protected].
Pros and Cons
Pros
The app is easy to use.
There are lots of opportunities to earn credits.
Withdraw the money via PayPal.
Cons
There are no other payment method.
You need to be patient because it can take a long time to cash out.
You may not get credits for your surveys and offers.
Their referral program falls very short.
Conclusion 
Rewardy is a decent reward app that provides a vast selection of surveys and offers.
What worries me about this app is that many users have left negative reviews about missing points.
I cannot blame Rewardy because it may not be their fault, but the user doesn't really care. He or she deserves to receive the money!
The problem is that this industry is full of greedy companies that will always choose profits over ethics.
That's why it's so important to do proper research to know where you are getting yourself into and avoid being deceived. 
Final Words
Thanks for taking the time to read my Rewardy app review. If you have any question, please get in touch by using the comment box below.
Peace!