Welcome to my Super Knife Master app review!
Ladies and gentlemen, here is another game trying to persuade you to play in return for free game currency!
With Super Knife Master, your job is to eliminate the bubbles by tapping them and purchasing powerful knives.
Once you collect enough gems, you can select any game from the list and redeem the currency to your account.
You can also earn free skins once you collect 100 jigsaws.
Popular games supported include Roblox, Free Fire, League of Legends and more!
You need to be careful because there are thousands of mobile games misleading the public about cash and other types of rewards.
So, is Super Knife Master legit or fake? Will they transfer the credits to your favorite game account?
Keep reading to find out!
Before you leave, don't miss out on this top GPT site to earn free Robux. Members are making $200+ on the side by completing quick surveys and offers. Cash out also via PayPal, crypto and gift cards!
Super Knife Master App Review 
Full Name: Super Knife Master
Developer: anyuserper
Payout Threshold: 100,000 gems
Price: Free
Overall Rating: 4/5
What Is Super Knife Master? 
Super Knife Master is a game where the player collects gems by eliminating numbered balls and big gems.
You can supposedly exchange gems for virtual currency to use on popular games like ROBLOX and Free Fire.
Super Knife Master is similar to Shooting All Virus and Crazy Magic Pinball, except they are offering cash rewards. Check out my Crazy Magic Pinball review here! 
How Does Super Knife Master Work? 
Super Knife Master is available for Android in all countries.
Once you launch the game, it will show you a quick tutorial to help you understand how everything works.
The game is very straightforward! As soon as you eliminate the first ball and collect some gold coins, you can unlock your first weapon, which is a dagger.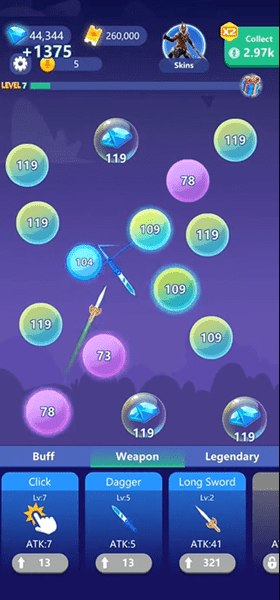 Each knife you purchase will keep bouncing and hitting the all the balls on the screen.
You can always upgrade your weapon and purchase more powerful ones!
Destroy each ball by making its number reach zero. Simply tap the ball consecutively or wait for the knifes to hit them enough times.

Once you eliminate all the balls, you will receive gems and a chance to multiply rewards.
Of course, Super Knife Master will give you more gems only if you select "Claim" and watch teh sponsored video.
There are also bubbles with gems and puzzle pieces among all the other balls.
You can collect more virtual items by eliminating them as well!
The higher your level, the longer it takes to eliminate each ball because they come with larger numbers.
That's why you must upgrade and acquire new weapons to cope with more increasingly resistant balls.
How to Redeem Gems? 
The minimum requirement to redeem gems for in-game currency is 100,000.
Once you accumulate 100,000 gems, open the redeem center and pick your favorite game.
For example, 100,000 gems are worth 6800 Robux or 10,000 FF Diamonds.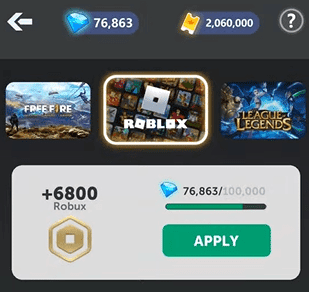 According to the app instructions, your credits will be transferred to your Player ID within 3 – 5 business days.
Is Super Knife Master Legit? Does it Pay?

No, it doesn't! Super Knife Master doesn't transfer real credits to the player's game account.
This app doesn't offer big cash rewards like many fake money games do. However, game credits are worth a lot of money!
For example, you can purchase 4500 Robux for $49.99 on the official site!
So, it's also unrealistic to expect that a game will give you $70 worth of Robux just for playing and watching videos.
Besides, you can also trade in virtual game currency for real money on platforms.
They are basically luring people into watching lots of videos in return for fake rewards. 

This reward platform is going viral! Cash out via PayPal, Visa, Gift Cards, and in-game currencies - Click here to find out how to generate an extra $10+ per day! 
Depending on your country, Super Knife Master doesn't provide the "redemption" page. They may also remove it before you collect enough diamonds.
In that case, you cannot even try to claim your reward.

I checked lots of reviews on Google Play, but very few people reported receiving the currency.
But how can I trust them knowing there are platforms that pay users for writing reviews? Even Amazon is full of fake reviews!
Conclusion 
I really enjoyed playing Super Knife Master because it's a relaxing game!
However, the amount of advertisement is insane and causes the opposite effect when playing for a long time.
It makes me wish to go back to the old days when all games were ad-free!
Don't install Super Knife Master with the expectation to earn free game currency. You will waste your time if you are just playing to redeem Robux, UC and FF Diamonds.
It's a shame that app developers can claim anything they want and leave players empty-handed.
Making people believe they can win something without showing proof of payment is wrong on so many levels.
That's why I cannot recommend it, because I know many people get frustrated with the reward side of it.
Currently, there is no game that provides free currency. If you cannot afford to spend money on your favorite game, join a GPT site, complete simple tasks, and cash out via PayPal.
Then, use the money to buy anything you want!
Final Words
Thanks for taking the time to read my Super Knife Master app review. I hope it was informative and helps to raise awareness about similar applications.
If you want to share your thoughts about this app, leave us a comment below.
Peace!