Welcome to my Crazy Magic Pinball app review!
People in many countries are playing Crazy Magic Pinball with the expectation of winning a decent amount of cash.
This shooting game encourages players to collect as much money as possible to withdraw after 24 hours. 
Your balance grows fast and reaches hundreds of pounds in less than 10 minutes. That's insane!
You are trying to find information about this game because deep down, you know this can't be real!
So, can you make real money with Crazy Magic Pinball? Is it legit or fake? Let's find out!
Top recommendation: This step-by-step program helped me achieve 2,000 US Dollars per month and quit my job in 2019. There is a free membership available! 
Crazy Magic Pinball App Review 
Full Name: Crazy Magic Pinball
Developer: Bojana Marusic
Payout Threshold: N/A
Price: Free (no in-app purchases)
Overall Rating:

 1/5
What is Crazy Magic Pinball? 
Crazy Magic Pinball is a game where you must destroy abnormal organisms by shooting pinballs. It's very similar to Shooting All Virus, Gem Hunter and many others.
The organisms have four different shapes and display the number of times you need to hit them.
By destroying them, you will receive cash coupons frequently after tapping "Get Bonus" and watch a sponsored video.
Then, you will supposedly receive all the money you collect by PayPal and Amazon gift card after 24 hours.
What I noticed is that even though Crazy Magic Pinball has been installed 100,000 times and rated by over 7,000 users, there less than 50 reviews on Google Play.
How Does Crazy Magic Pinball Work? 
After launching Crazy Magic Pinball on your Android device, tap the play button to start the game.
Simply aim at the organisms by swiping left, or right and release your finger to shoot the balls.
Every time the ball hits a creature, its number subtracts one unit. You can only destroy them when that number drops to zero.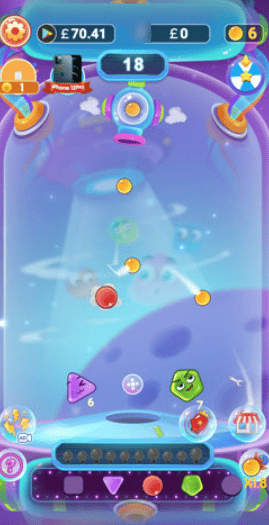 Then balls will bounce and eventually escape the enclosed space. Now, rinse and repeat!
Eliminate the 4 shapes to light up a lamp and receive more generous rewards. Double rewards will gradually decrease with the number of shots used to achieve this goal.

Earning Virtual Money
As you already know, Crazy Magic Pinball will give you virtual pounds or dollars after almost every shot, but with only one condition:
You must click "Get Bonus" and watch the vide ad until the end.
It doesn't matter how you perform! They will always display cash rewards to entice you to watch the ad.
Well, that's why they created the game and invested heavily in advertising in the first place. To make profits!
Even if you select "No, thanks", they will force an ad down your throat regardless.
Winning Prizes
Crazy Magic Pinball claims that you can redeem the amazing iPhone 12 Pro if you meet two requirements:
Your score reaches 1000000
Watch 300 videos.
If all the above wasn't enticing enough, the game also features the Lucky Draw section, where players get the chance to win a Macbook Pro, an Apple iPad Pro and AirPods.
Watch 30 videos to get lucky coin and increase the probability of winning.
How Can You Cash Out? 
If you open either your PayPal or Amazon cash balance, you will find the same sentence:
"Collect as much money as possible and withdraw after 24 hours, but you can withdraw immediately if you collect more than £704.10."
After one of the conditions is met, you can provide your email and request the payment. But, is it there any catch? Will they pay you? That's what we will find next.

Is Crazy Magic Pinball Legit? Does it Pay? 
I knew this would happen, but I went through the process to show you the proof.
After you request the payment, Crazy Magic Pinball will urge you to watch 15 videos within 12 hours to activate the order.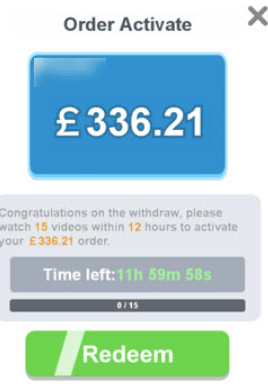 This is a tactic commonly used by countless money-games to postpone the transaction.
Many people feel cheated right away, and uninstall the game… but most players decide to comply and watch the videos.

This reward platform is going viral! Cash out via PayPal, Visa, Gift Cards, and in-game currencies - Click here to find out how to generate an extra $10+ per day! 
After all, they don't want to lose all the time they already invested in the game. But regardless of your commitment, you will never get paid.
It behaves just like hundreds of apps out there. They will probably tell you that the limit of orders has already been reached today, and therefore, you must watch more videos.

Don't waste your time! It's just designed to get you hooked for as long as possible to maximize ad revenue.
Conclusion 
Forget about earning money, iPhones and other Apple products with Crazy Magic Pinball. There are no confirmed reports of players winning anything from it.
On the contrary, I there are some negative reviews confirming that the developer didn't pay.
The gameplay is not too bad, but if you are here just for fun, there are much better alternatives with fewer ads.
Verdict: Not Recommended
Final Words
Thanks for taking the time to read my Crazy Magic Pinball app review.
If you want, feel free to share your thoughts about this application and ask any question you might have.
Peace!