Welcome to my Arcade Hoops app review!
More than 1 million Android users have installed Arcade Hoops with the main goal of making easy money.
It combines basketball, slot machine and plinko, making it one of the most addictive games on the Play Store.
The app dishes out a decent amount of virtual dollars and suggests players can cash out $1,000 via PayPal, Coinbase and many other payment platforms.
It seems like a great opportunity to have fun and, at the same time, solve all your financial problems.
But the million dollar question is: Does Arcade Hoops pay or is it another fake money game? I am sure you won't regret reading this until the end!
Top recommendation: This step-by-step program helped me achieve 2,000 US Dollars per month and quit my job in 2019. There is a free membership available! 
Arcade Hoops App Review 
Full Name: Arcade Hoops (Early Access)
Developer: Nigel Fowler
Payout Threshold: $1000
Price: Free (no in-app purchases)
Overall Rating: 

1/5
What is Arcade Hoops? 
Arcade Hoop is an addictive game in which you throw basketballs to trigger the plinko and slot machine.
It's almost identical to Lucky Hoop, which was also created by Nigel Fowler. The developer also operates other popular money games such as Kitty Town, Dozer Mania, and Monster Drop.
Arcade Hoops has achieved the incredible mark of 1,000,000 installs on Google Play, mostly because of the opportunity to earn real money.
Despite that, the app is still in development mode, which prevents players from leaving their honest review.
I am not a fan of "Early Access" apps because it feels like the developer wants to hide some inconvenient truths about his app.
How Does Arcade Hoops Work? 
Installation
Arcade Hoops is available on Google Play and don't require signing up. Just install the app and start playing after a short tutorial.
How to Play?
The game features a pegboard, a 3-reel slot machine, and a basketball hoop that moves from side to side. It feels like you are in the amusement park playing that classic carnival game!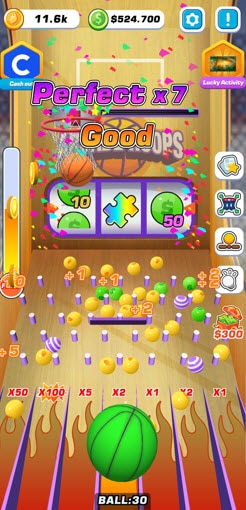 Arcade Hoops is not challenging because you don't even need to aim the hoop. Just tap on the ball to launch the basketball, which will almost always to score the basket.
The number of tokens you will earn is based on your shooting:
Perfect = 5 token balls.
Good = 3 token balls.
Miss = 1 token ball.
Whenever the basketball hits the basket, it will automatically release the small plinko balls into the pegboard.

Each ball will collide with the pegs before falling into one of the 7 slots, which light up with fire.
Yellow balls give you tokens, whereas green balls give you virtual dollars.
By lighting up all fire, you will activate the slot machine for a chance to collect extra balls, puzzles pieces, cash notes, gold and other mystery items.
The progress bar called "Fever" allows you to earn double rewards for a limited time.
In addition, you can use three tools on the right to boost your earnings. They will help you collect more rewards by enlarging the hoop, clearing all obstacles, and light up one slot.
Click the exclamation mark on the top-right cornet to read all the rules of the game. It will also tell you the odds of winning in the slot machine, lucky spin, and Puzzle Bubbles.
Lucky Activity
Arcade Hoops also allows you to collect puzzle pieces used to redeem gifts such as Sony TV, PS5, Samsung Galaxy s20 and more!
You get fragments by activating the slot machine or by watching videos in the Puzzle Bubble and playings Lucky spin game.
How to Cash Out?
Tap the "Cash out button" or either cash balances to open the withdrawal page.
There, you can find many payment methods such as Cash app, PayPal, Tex, Coinbase, Banco Inter, Line Pay, Alipay and more!
Then, you need to make sure you fulfil any of the following requirements:
$1000 (virtual dollars) = Redeem $1,000.
100 Cash notes = Redeem $1,000
100 Gold bars = Redeem $1000
3,000,000 tokens = Redeem $300
and more!
The developer claims he will send your reward within 3 ~ 15 business days, not including weekends.

Is Arcade Hoops Legit? Does it Pay? 
No, it doesn't! I am very confident that it's impossible to earn money from this game.
You will probably get stuck before reaching the minimum cash out requirement. But even if you request the payment, they will never transfer $1,000 to your account.
According to the Terms of Service, tokens are not real currency and do not reflect any stored value. Therefore, the developer has no obligation to transfer any money to your bank or online platform.
That's why I cannot accuse Arcade Hoops of anything because the developer didn't guarantee any winnings from his app.

This reward platform is going viral! Cash out via PayPal, Visa, Gift Cards, and in-game currencies - Click here to find out how to generate an extra $10+ per day! 
Conclusion 

Many players will find Arcade Hoops quite boring because there is no sense of accomplishment. There is no challenge, which is usually represented by levels or phases, like in most games.
The truth is that most people are just playing because they expect to withdraw to money.
Unfortunately, you will watch an insane number videos only to get stuck before reaching the cash out limit.
If you cannot afford to waste time, Avoid Arcade Hoops at all costs because it does not pay.
I know it provides a very frustrating experience because there is no such thing as "Easy money"!
This game lures you into watching as many videos as possible because ad views equal profits for the developer.
Verdict: Not Recommended
Final Words
Thanks for visiting this blog and reading my Arcade Hoops app review. I hope it was helpful!
If you have questions or thought about this game, shoot us a comment below!
Peace!